12.08.2020 » The top 5 cars in Cristiano Ronaldo's collection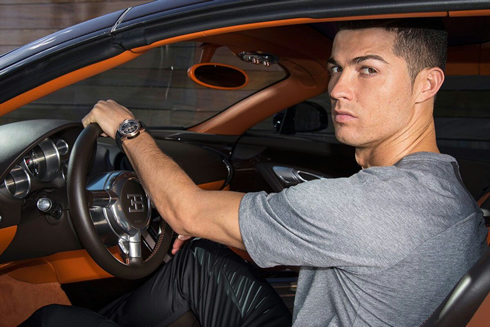 Over the years, Cristiano Ronaldo has bought multiple luxury cars and he doesn't hide the fact that he love getting his hands on brand new models. From Ferraris, to Lamborghinis, or even highly exclusive Bugattis, Ronaldo basically buys every car he wants...


Whether you like him or love him, you won't hesitate to bet on any online casino that Cristiano Ronaldo is one of the greatest footballers this world has ever seen. Other than the FIFA World Cup, the Portugal international has won every other possible honor for his club and country. Forbes magazine has recently announced that Ronaldo is the first footballer to have surpassed the billion-dollar mark in earnings. Ronaldo loves to enjoy a lavish lifestyle, and his glamorous car collection is a testament to that fact. Here are five car models the Juventus superstar currently owns that will blow your mind.
Cristiano Ronaldo - Car collection:
---
#5: Aston Martin DB9
The Aston Martin DB9 is not the most recent model Ronaldo owns. However, it is one of the most beautiful cars ever made and has aged elegantly since its 2004 debut. There has been a plethora of glamour cars that have come after the Aston Martin DB9, but it never went out of style. The DB9 is one of the earliest entries in Cristiano Ronaldo's automobile fleet, but it continues to be one of his prized possessions in the garage.
---
#4: Rolls Royce Phantom
Even though the roar of the engine sounds blissful at times, cars with smooth silence are also a joy to drive. If you want to go on a long drive, enjoy your surroundings around you in utter silence, you can't do much better than choosing a Rolls Royce Phantom. If there's anything called royal isolation, the Rolls Royce Phantom is an embodiment of it.
---
#3: Ferrari 599 GTO
The Ferrari 599 GTO is another car in Ronaldo's garage that is reaching vintage status. You might not have seen this car feature predominantly in his social media posts, but it can rival almost any modern counterparts in terms of performance and design. Boasting a powerful V12 engine, this car was a revolutionary model when it originally launched back in 2010. This was the immediate upgrade to the legendary Ferrari 599. Moreover, it was the fastest non-racing Ferrari car when it came out.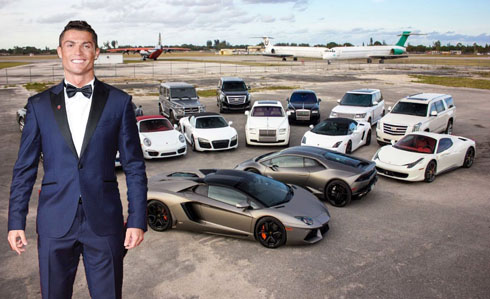 ---
#2: Lamborghini Aventador
The Lamborghini Aventador is some sort of a fan favorite among celebrities. Kanye West owns one, Canadian pop sensation Justin Bieber owns one, and of course, Cristiano Ronaldo owns one. Like the Ferrari 599 GTO we discussed above, this car is also powered by a V-12 engine. The model Ronaldo owns is a LP 700-4, which can reach incredible speed within seconds.
---
#1: Bugatti Chiron
Even if you win millions online, there's no guarantee that you can get your hands on a Bugatti Chiron. We are talking about an exclusive, limited edition model that will cost you a shitload of money. This is the most expensive car in Ronaldo's car collection, and we would go out on a limb, and claim that it's also his favorite.
---
Honorable mentions
Regretfully, we had to disregard a handful of impressive car models to compile this top 5 list. Ronaldo is a great fan of Bugattis. Besides the Bugatti Chiron we mentioned earlier, he is also the proud owner of a Bugatti Centodieci, Bugatti Veyron, and a Bugatti Chiron.
He appeared in a Nike advertisement with a Bugatti Veyron. During his Real Madrid stay, Cristiano Ronaldo received an Audi RS7 from the club sponsor Audi. In fact, he received an Audi car every year he spent in the Spanish capital. But, the RS7 stands out in our consideration. It has a premium V8 engine capable of producing 600HP of power.
We also had to leave out the Mercedes Benz models he has. The Mercedes Benz S65 AMG Coupe is a double sitter model that runs on a 6 liter V12 engine.
The GLE63s AMG is more of a family car, with all the amenities of a monster car. The 577HP engine should give you a pretty good idea about its capabilities.
The Porsche 911 Turbo S was also difficult for us to keep out of selection. It is an exquisite automobile that can reach more than 200mph. The speed transition in this vehicle is unbelievably smooth. You can achieve 60mph from absolute zero in a span of three seconds.
No posh car collection can be complete without a Rolls Royce car and Ronaldo's collection is not an exception either. The Rolls Royce Phantom Drophead that graces his garage was the last car he bought during his Manchester United spell. Shortly before moving to Real Madrid, he bought this car for no less than $500,000 in 2008.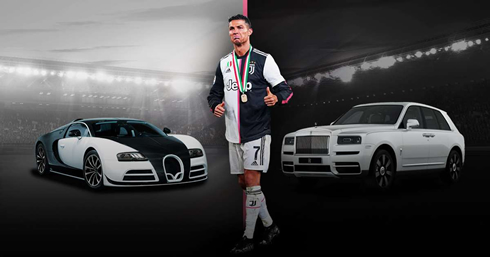 Cristiano Ronaldo next game for Juventus in the Serie A is on September 19, against Torino. You can watch Juventus vs Torino, RB Leipzig vs Atletico Madrid, Barcelona vs Bayern Munich, Manchester City vs Lyon, Brazil vs Venezuela, and Inter vs Bayer Leverkusen, all matches provided from our soccerstreams game pages.
Juventus next game:
Juventus vs Torino kick-off time (19-09-2020):
Beijing (China) | UTC/GMT+8: 03:00
Jakarta (Indonesia) | UTC/GMT+7: 02:00
India (New Delhi) | UTC/GMT+5.30: 00:30
Italy (Turin) | UTC/GMT+2: 21:00
Spain (Madrid) | UTC/GMT+2: 21:00
Portugal and England (Lisbon/London) | UTC/GMT+1: 20:00
Rio de Janeiro (Brazil) | UTC/GMT-3: 16:00
New York (United States) | UTC/GMT-4: 15:00
Los Angeles (United States) | UTC/GMT-7: 12:00
Sources: ronaldo7.net / forbes.com / topgear.com