06.08.2020 » How to train like Ronaldo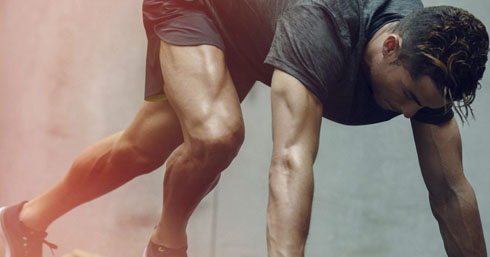 Training like a professional athlete isn't easy from any perspective. However, things get even more difficult when we try to do the same workout routine as Cristiano Ronaldo. The Portuguese legend has been sharing several tips over the years and we'll be looking into some of them below...


Are you ready to train like 6-time UEFA Champions League and 1 Euro Cup winner, Cristiano Ronaldo? Well, it's going to take a lot of heart and effort. Because numbers like that don't come easy, so don't say you haven't been warned, and get ready to learn all about this monster player's training regime. Ronaldo himself has said that he is hyper-focused and pays a lot of attention to "smart details", just like a winner player in a casino; he doesn't let anything escape his planning. Get started on your road to train like Cristiano Ronaldo...
Cristiano Ronaldo - Workout routine:
---
No excuses...
Ronaldo is famous for his intensity, on and off the pitch, and this is the first step for you if you want to train like him. Delete all excuses from your brain before you even step into the gym. You don't get to CR7 level performance if you skip a day of work, so hold yourself accountable for your training and you'll see results.
---
Variety
Think of your training as a game of slots that needs variation and repetition at once. So, what does that do for you?
::: Variation: keeps your agility levels up since you don't know what to expect from any day, and it lets you train differently and advance where you need.
::: Repetition: creates muscle memory and better responses; it also helps to build on the parts where you need the most help.
A balanced combination of these two is just like what Cristiano Ronaldo does in the gym, although he has a few more professionals helping him. You can adapt it to your capacity, using training tools like apps, or going traditional with a calendar and write down fitness plans.
---
Get help from the pros
If you can get advice for experts, it will boost your chances for achieving your goal, prioritize these:
::: A nutritionist that can provide a meal plan to help you get the CR7 stamina.
::: Trainer to create an exercise grid you can use to focus on improving where you lack and strengthen your skills.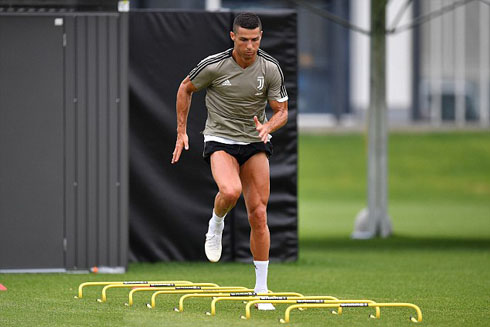 ---
Get rest and recovery
Sleep is one of the fundamentals of muscle growth, performance, and recovery after training. If you want to kill your workouts as Ronaldo does, you'll need to catch at least 7 hours a night and do proper recovery after every session. Good recovery habits can include cooling down movements like light yoga, meditation, massages, ice baths, nutritious meals, and relaxation.
Remember your body can't function at 100% on your workouts if it's not rested and well fueled.
---
Get a solid core
Having a strong core is essential for any high-performance athlete and Cristiano Ronaldo is proof: his abdomen has been the target for admiration for decades.
Ronaldo understands the role of the core muscles as a stabilizer for all his movements and extending his effectiveness as a playmaker. More than just that, including core training can add longevity to your career and excellent health.
---
Suffer today, enjoy tomorrow
Training like Ronaldo can be exhausting, and you might not want to do it every day, but think of it as an investment for the future. Every bit of sweat is an advantage you'll have in the next training session.
That's why it's so important for you to be present at every workout. If you can only do 20 minutes today, then give 100% those 20 minutes.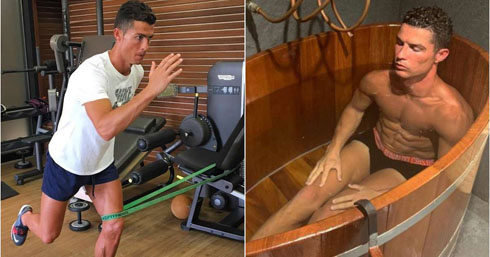 Cristiano Ronaldo next game for Juventus in the UEFA Champions League is on August 7, against Olympique Lyon. You can watch Juventus vs Lyon, Manchester City vs Real Madrid, Sevilla vs AS Roma, Bayern Munich vs Chelsea, Wolverhampton vs Olympiacos, and Bayer Leverkusen vs Rangers, all matches provided from our live football game pages.
Juventus next game:
Juventus vs Lyon kick-off time (07-08-2020):
Beijing (China) | UTC/GMT+8: 03:00
Jakarta (Indonesia) | UTC/GMT+7: 02:00
India (New Delhi) | UTC/GMT+5.30: 00:30
Italy (Turin) | UTC/GMT+2: 21:00
Spain (Madrid) | UTC/GMT+2: 21:00
Portugal and England (Lisbon/London) | UTC/GMT+1: 20:00
Rio de Janeiro (Brazil) | UTC/GMT-3: 16:00
New York (United States) | UTC/GMT-4: 15:00
Los Angeles (United States) | UTC/GMT-7: 12:00
Sources: ronaldo7.net / bbc.co.uk / goal.com