28.07.2020 » The evolution of Cristiano Ronaldo in FIFA games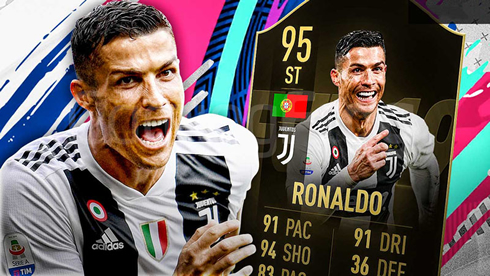 Cristiano Ronaldo has been at the top of world football for more than a decade and during this time, he has naturally left his mark both on and off the pitch. The Portuguese has revolutionized the industry and has been the main attraction in almost every FIFA video game since 2004.


It's the year 2003 and Cristiano Ronaldo arrives at Manchester United, one of the greatest and most popular football clubs in the world. At that moment, he was the most paid teenager in the history of the league. He was talented, but only a few believed that this eighteen-year-old kid would become one of the best players in football history. The Portuguese youngster had only completed his first season as a professional player in Sporting CP and a transfer move to the Premier League and to Man United was one of the first landmarks in his career.
Cristiano Ronaldo - FIFA 20 - Player review:
---
The first steps...
It's not rare to see the young prospects failing to fulfill the expectations, and they are usually overhyped. When the living legend, Sir Alex Ferguson bought Cristiano, there were many doubters. Sir Alex said that Ronaldo is "one of the most talented young boys he ever saw" and that it's Manchester United the club where his path to greatness starts.
Once Man United bought CR7, FIFA decided to include him in the game for the very first time. His debut for Manchester United was against Bolton, Ronaldo entered the game as a substitute for Butt. The rest - is history.
The first time CR7 was included on FIFA 04, they gave him 75 shot accuracy, followed by 77 shot power. Five years later, in FIFA 09 (which was his last season playing for Red Devils), they added his well-known stance, and they improved his free-kick accuracy to 93, followed by the new mechanics. Without any doubt, FIFA 20 is the most realistic of any FIFA games until now, but that's something you could guess. If you haven't tried the game yet, now is the moment. You can find cheap origin cd keys and the best deals on FIFA games and FIFA coins for PC, Playstation or Xbox at Cdkeybay.com including FIFA 21 best deals or pre-orders probably very soon!
---
First FIFA with Cristiano Ronaldo
The first video game, FIFA 04, gave the overall rating 80 to Cristiano Ronaldo, but that season at Old Trafford was quite impressive. He scored in the finale of the FA Cup, and football lovers worldwide started to pay attention to this young prospect. The next year, when FIFA 05 was launched, CR7 already had an overall rating of 88, which was a big improvement compared to the previous year.
In the career mode, it was possible to improve his rating up to 98, which tells us that Cristiano's destiny was greatness, and EA Sports knew that. His progress in real life was amazing; he developed fast, and so did his rating through FIFA. After leading Portugal to the top of Europe, winning the Euro 2016, and managing to win the UEFA Champions League in 2016 and 2017, he got the best overall rating on FIFA - 94.
Since he left Sporting CP (where his career started), he scored over 700 goals in all competitions, playing for three different clubs, Manchester United, Real Madrid, and Juventus. Playing for the national team, he became the best international goalscorer in Portugal's history and 2nd best in football history, with 99 goals and counting.
---
Cristiano Ronaldo in FIFA 2020
It's more than 15 years now since Cristiano Ronaldo appeared in his first FIFA game. Through the years, FIFA developed his game character, and finally, in FIFA 20, you'll get a fantastic experience with CR7. Let's take his standing above the ball, for example, when getting ready for a free-kick. This is something that EA Sports put much effort into, making Ronaldo look like he's alive. They added a few more celebrations and the moves, making him one of the best in the game - like he is in real life. He is one of the most recognizable sportsmen in the world, and he deserves to be recognized in the game, no argument there.
The stadiums now have new features and effects, with technological design enhancements included. Visual upgrades are so realistic that it's easy to confuse the game with reality; it looks like you're actually watching the game on TV. CR7 looks alive more than he did in any previous versions, and his signature moves are amazing.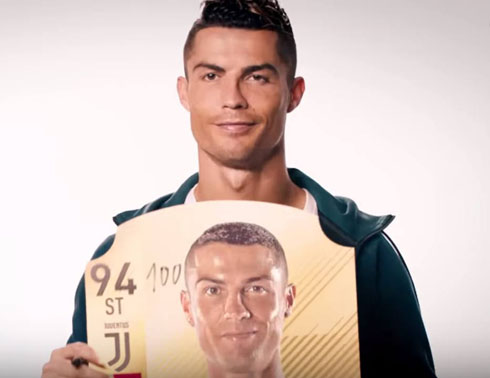 ---
How much does it cost to sign CR7
on FIFA 20?
Ronaldo can move from Serie A in FIFA 20, but how hard will it be to make him do that? As he remained among the top-rated footballers in the game, Lionel Messi got the better rating, having the 94 over Ronaldo's 93. Although he was on the cover of the FIFA 19 game, the EA lost legal rights to Juventus, and maybe that's also why he got a slightly lower overall grade.
CR7 can be purchased at FIFA 20 for even less than 120 million dollars. Its value is set at around 66 million if you play in that currency. In pounds, it's about 53 million, and if you play in Euro currency, it's slightly less than 59 million euros. You can also get him as a part of a swap deal; Juve will ask for another attacker, offensive winger or a full-back.
La Vecchia Signora (the Old Lady in English) will ask for at least 100 million dollars if you want to sign Cristiano Ronaldo. It depends how lucky you are, but usually, the price varies between 100 and 115 million. Ronaldo's salary in Juve is 460,000 dollars a week, but he will accept even less than 380,000 per week if you include the signing bonus.
---
How long do I have to wait until Ronaldo's contract expires?
In FIFA 20, Cristiano has a contract with Juventus that will be active until the season 21/22. Once it expires, you can try to sign him and get him for free.
It's not that great as it sounds; By that time, CR7 will have 37 years, and he may decide to retire by that time. His overall rating will be lower, as he will lose some of his most essential qualities: Speed and dribble.
But, after all, Cristiano Ronaldo is one of the best players ever and even at that age, who wouldn't like to have him in the squad?
---
A few words at the end
In the new FIFA 21 Ultimate Team, it's possible to get a 99-rated Ronaldo card, but we'll talk about it. As for the regular Cristiano, he is still among the two best-rated players in the game, although Messi has a bit higher rating.
Is Cristiano Ronaldo worth signing? That's up to you to decide. He will keep playing for at least three more years, but it's still a lot of money for a 34-year old guy. But if the guy is one of the best players in the history of the game, is it really too much?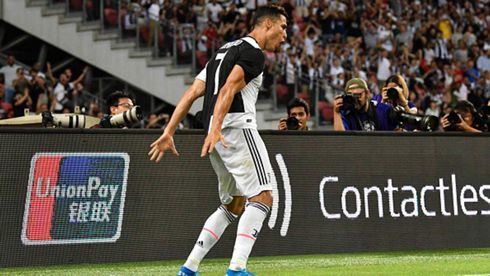 Cristiano Ronaldo next game for Juventus in the Serie A is on July 29, against Cagliari. You can watch Cagliari vs Juventus, Parma vs Atalanta, Internazionale vs Napoli, Man Utd vs LASK, Arsenal vs Chelsea, and Bayern Munich vs Olympique Marseille, all matches provided from our streams live game pages.
Juventus next game:
Cagliari vs Juventus kick-off time (29-07-2020):
Beijing (China) | UTC/GMT+8: 02:45
Jakarta (Indonesia) | UTC/GMT+7: 02:45
India (New Delhi) | UTC/GMT+5.30: 01:15
Italy (Turin) | UTC/GMT+2: 21:45
Spain (Madrid) | UTC/GMT+2: 21:45
Portugal and England (Lisbon/London) | UTC/GMT+1: 20:45
Rio de Janeiro (Brazil) | UTC/GMT-3: 16:45
New York (United States) | UTC/GMT-4: 15:45
Los Angeles (United States) | UTC/GMT-7: 12:45
Sources: ronaldo7.net / theguardian.com / bbc.com / bloomberg.com