01.07.2020 » Is Cristiano Ronaldo a talented poker player?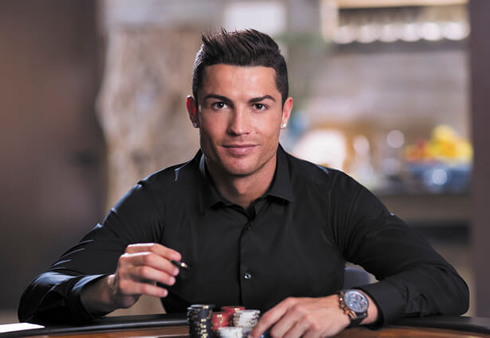 In multiple occasions in the past, Ronaldo has shown us his talent is not restricted to a football pitch. The Portuguese legend is known for being one the best in the game under pressure and that's why many of his fans believe he could also become an extremly good poker player...


As one of the most recognisable sportsmen in the world, Cristiano Ronaldo has achieved fame wherever he goes. Arguably, he is one of the planet's best footballers, but how good is he at poker? Ronaldo isn't the only sports star to have turned to the card tables. In fact, many top-flight professional sportsmen love to try their hand at upping the ante, turning their attention to the world of poker. Ronaldo has been very vocal in the past about how much he enjoys the game and, if you were looking for further proof of his interest, he even promoted the PokerStars.com website a few years ago, where punters can enjoy tournaments and play games with live dealers. So why does he enjoy the game so much, and how good is he really?
Cristiano Ronaldo - Never give up:
---
Poker - Popular with the sports stars
It isn't just Ronaldo who loves to chance his hand at a wager or two. Other well-known sporting professionals like tennis player Rafael Nadal and Australian cricketer Shane Warne have also been open about their enjoyment of live poker games. So, why is poker so popular with sporting legends?
The answer may not lie entirely with the high stakes that these players are able to place due to their impressive earnings. While this is sure to be a contributing factor, it's apparent that many sportsmen take their sporting demeanour to the table, and enjoy the challenge of playing in a different field with more equal competition.
Poker offers a certain level of fairness right across the board. At its heart, it's still a game of chance, although skill does have a part to play. Those who have made their name due to their sporting talent in one field are often keen to compete elsewhere with people of all backgrounds, ages, and levels of fitness, simply to relieve some of the pressure that they experience in their working life.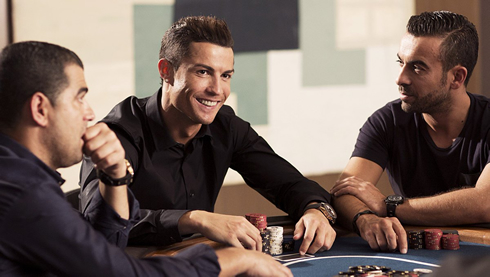 ---
ronaldo's personal stance
Ronaldo has been open about the fact that, although football is his world, his game has always been poker. While he only began playing the game a few years ago, he has expressed his love of the competition together with the fun and strategic element that poker brings.
Any fan of Ronaldo knows that strategy is something that is certainly prominent in his skillset when he is on the pitch. His ability to read a situation at a glance, predict the movement of his opponents, and anticipate the potential outcome of a pass is precisely what makes him the fantastic footballer that he is.
It is these skills that are key to success when playing poker, and this is one of the reasons why top sports stars are able to transfer seamlessly from the field to the poker table. Yet, how successful he can be at the game is a completely different question.
Over the years, Ronaldo has participated in many poker tournaments and games, including charity matches, such as the one he played against Aaron Paul, the star of Breaking Bad – a game that he won to great acclaim.
The soccer star has travelled all over the world, playing poker in some of the top casinos, and finding a seat at the high stakes table is no challenge for him. On the way, he's learned a lot about the game, and he is well on his way to becoming a formidable poker opponent.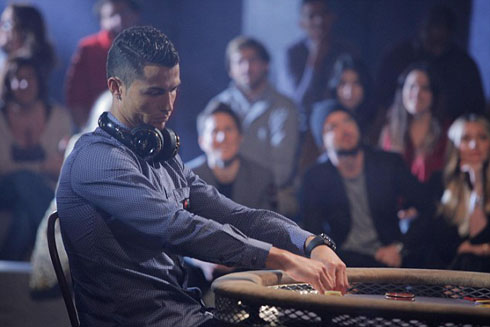 Cristiano Ronaldo next game for Juventus in the Serie A is on July 4, against Torino. You can watch Juve vs Torino, Real Madrid vs Getafe, SPAL vs AC Milan, West Ham vs Chelsea, Arsenal vs Norwich City, and Inter Milan vs Brescia, all matches provided from our live streaming game pages.
Juventus next game:
Juventus vs Torino kick-off time (04-07-2020):
Beijing (China) | UTC/GMT+8: 23:15
Jakarta (Indonesia) | UTC/GMT+7: 22:15
India (New Delhi) | UTC/GMT+5.30: 20:45
Italy (Turin) | UTC/GMT+2: 17:15
Spain (Madrid) | UTC/GMT+2: 17:15
Portugal and England (Lisbon/London) | UTC/GMT+1: 16:15
Rio de Janeiro (Brazil) | UTC/GMT-3: 12:15
New York (United States) | UTC/GMT-4: 11:15
Los Angeles (United States) | UTC/GMT-7: 08:15
Sources: ronaldo7.net / theweek.co.uk / theconversation.com / imdb.com