08.06.2020 » Ronaldo and his unending love for pokers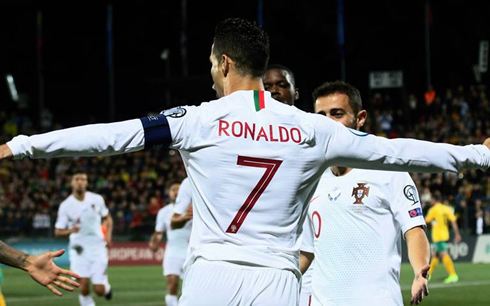 It's almost as if Ronaldo has a special connection with pokers. The Portuguese has already completed many pokers throughout his career and it's no wonder he also tried playing the popular game in a few occasions...


Netting over 700 career goals and counting, Cristiano Ronaldo's first love will always remain football. The Portuguese superstar not only ranks as one of the greatest players of all time but also as the most followed athlete on social media. But there is more to Ronaldo than hat tricks, Ballons d'Or trophies, and golden boots. As it turns out, Ronaldo is also a remarkable poker player. While he plays poker mostly for the excitement that comes with it, he has also gamed against several renowned poker players including the likes of Patrick Antonius. Ronaldo is considered an extremely talented poker player having won over £15,000 gaming Aaron Paul. He seemingly went professional when he became a part of the team of the online casino, PokerStars. The online poker room houses other renowned footballers and poker players like Neymar and Gerald Pique.
Cristiano Ronaldo - Pokers:
---
How did Ronaldo start playing poker?
Ronaldo took off his non-professional poker career by gaming his friends. He would game for hours using every bit of spare time to perfect his strategies. Over the years, he has been able to develop an outstanding gaming skill that has allowed him to match top-level poker players in tournaments.
---
Why is Ronaldo so good at playing poker?
For most people, poker is a game of chance and luck, however, professional players consider it as a game of skill―mostly mental skills. Some skills needed to excel in poker games include patience, focus, discipline and strategy. These skills come easy to footballers as they require it to perform on the pitch. For the 5-time Ballon d'Or winner, it gives him a mental advantage and allows him to easily win over other poker players.
This is why it is not surprising that other pro-footballers, like Neymar and Gerard Pique, are also impressive poker players.
---
Where does Ronaldo find the time to play poker?
A six-seater sit and go poker game could take up to an hour, however, tournaments do take longer depending on the skill level. For someone who spends most of his time training, being with his family, or on the pitch, it is surprising that he finds just enough time to not only develop his poker skills but also feature in tournaments. There are some games with even less time costs, for example, according to bitcoincasinotop.com in classic video poker one game takes only about 10-15 minutes, while if you play for bitcoins, it takes less than a minute to withdraw funds.
Ostensibly, Ronaldo does have a lot of time to spare. He once uploaded a pic of himself enjoying a game of poker on Instagram right after a successful match with Real Madrid.
Over the course of his career, the Juventus player has had several setbacks that have kept him off the pitch and given him enough time to contest as a poker player.
Ronaldo mostly finds enough time to train and appear as a poker player whenever he has an injury on the pitch. While recovering, he spends his time playing with friends or appearing in poker tournaments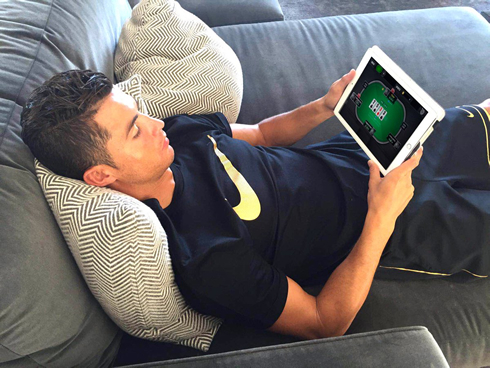 ---
Ronaldo and pokerstars
In 2015, Ronaldo became a part of the PokerStars Team when he signed a contract with the online casino. PokerStars is renowned as the world's best online poker room. The online casino and poker site is not just the best, but a market leader controlling more than two-thirds of the online poker market. Click here to find top online casino sites to play poker games.
---
Ronaldo and Aaron Paul in a Pokerstars duel
Maybe his most audacious feat as a poker player was beating Aaron Paul in a PokerStars Duel in 2016. While Aaron Paul is nowhere near the likes of Justin Bonomo and Daniel Negreanu, he is also considered as an extremely talented poker player. The Breaking Bad star was the favourite option of most, but Ronaldo put on a shocking performance that saw him cart away winnings of £15,000 though the entire amount was donated to children's charity.
Cristiano Ronaldo next game for Juventus in the Coppa Italia is on June 13, against AC Milan. You can watch Juventus vs AC Milan, Real Madrid vs Eibar, Mallorca vs Barça, Tottenham vs Man Utd, Man City vs Arsenal, and Bayern Munich vs Eintracht Frankfurt, all matches provided from our live football game pages.
Juventus next game:
Juventus vs AC Milan kick-off time (13-06-2020):
Beijing (China) | UTC/GMT+8: 03:45
Jakarta (Indonesia) | UTC/GMT+7: 02:45
India (New Delhi) | UTC/GMT+5.30: 01:15
Italy (Turin) | UTC/GMT+2: 21:45
Spain (Madrid) | UTC/GMT+2: 21:45
Portugal and England (Lisbon/London) | UTC/GMT+1: 20:45
Rio de Janeiro (Brazil) | UTC/GMT-3: 16:45
New York (United States) | UTC/GMT-4: 15:45
Los Angeles (United States) | UTC/GMT-7: 12:45
Sources: ronaldo7.net / forbes.com / thesun.co.uk