23.05.2020 » What are Ronaldo fitness secrets?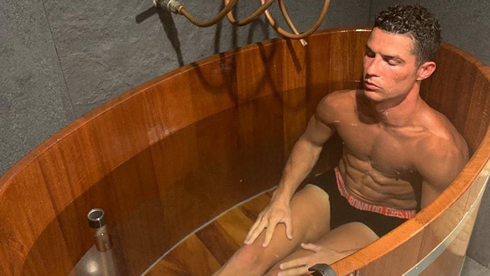 One of Ronaldo's many strengths is his determination in perfecting every ability he can use on a football pitch. In order to achieve that, the Portuguese legend is extremely disciplined in his daily life routines...


In February 2020, Cristiano Ronaldo celebrated his 35th birthday. That makes him one of football's elder statesmen, and at this age, most pro footballers are forced to admit their peak years are behind them as speed and agility wane and recovery from injury takes longer. However, Ronaldo is not "most pro footballers". A little like Roger Federer in tennis or Tom Brady in American football, age seems to bring only increased experience and guile. In short, Ronaldo can still out-perform football stars who are 10 years his junior. What are the secrets behind Ronaldo's phenomenal fitness?
Cristiano Ronaldo - Fitness secrets:
---
Diet
Ronaldo knows that the key to a healthy body is the right food. A good diet contributes directly to health, but also means he is able to get the optimum benefit from his fitness and workout regimes. He has a personal dietician who has been with him since his time at Real Madrid, to help him with nutrition and meal planning.
One of his most important tips is to eat little and often. Ronaldo typically has six meals a day, and focuses on protein and whole grain carbs. He is particularly fond of fish, citing sea bream and swordfish as his favorites. He also eats plenty of fruit and vegetables.
---
Clean living
Life in the public eye with a salary that most of us can only dream of brings with it plenty of temptation. We've seen far too many examples over the years of footballers whose careers have been cut short by drink, drugs and partying.
Ronaldo has always had the personality, focus and work ethic to avoid these dangerous paths. Even in this age where marijuana products are becoming more socially acceptable, it's something Ronaldo has always stayed away from. In addition, he has a well-known aversion to alcohol. This is partly for professional reasons, but also because of the tragic loss of his father, who died of liver failure when Ronaldo was just 20, after a long battle with alcoholism.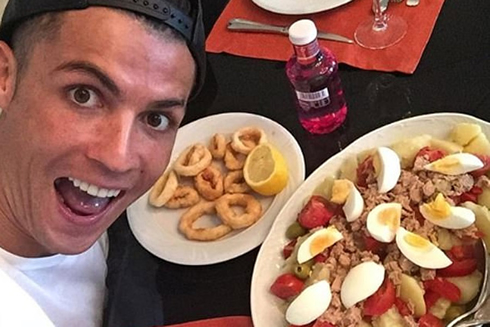 ---
Working out
With the above conditions in place, Ronaldo has been able to develop a world-class fitness regime to stay in tip-top shape. He starts each session with stretches, a few laps of the pitch and some cardio exercises to reduce the risk of injury. After that, his training focus is on drills that reflect the sorts of situations that arise in a real match, such as sprints or dodging between obstacles.
In the gym, Ronaldo splits his time between weights and cardiovascular training, which uses equipment such as a treadmill or running machine. He avoids a set routine and prefers to mix things up to keep it interesting. He says the important thing is to focus equally on strength and stamina.
Perhaps the most important secret, though, is that Ronaldo does not restrict workouts to time at the gym or training ground. He tries to fit in exercise at every available opportunity. He says: "You can do an abs workout when you wake up in the morning or before you go to bed. If you get into a routine, then it makes it easier as it will become a habit."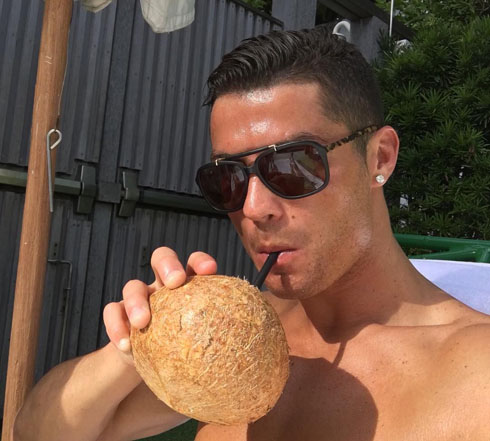 Cristiano Ronaldo next game for Juventus in the Serie A is on June 13, against Sampdoria. You can watch Juventus vs Sampdoria, Real Madrid vs Eibar, Mallorca vs Barça, Tottenham vs Man Utd, Man City vs Arsenal, and Werder Bremen vs Bayern Munich, all matches provided from our live football game pages.
Juventus next game:
Juventus vs Sampdoria kick-off time (13-06-2020):
Beijing (China) | UTC/GMT+8: 23:00
Jakarta (Indonesia) | UTC/GMT+7: 22:00
India (New Delhi) | UTC/GMT+5.30: 20:30
Italy (Turin) | UTC/GMT+2: 17:00
Spain (Madrid) | UTC/GMT+2: 17:00
Portugal and England (Lisbon/London) | UTC/GMT+1: 16:00
Rio de Janeiro (Brazil) | UTC/GMT-3: 12:00
New York (United States) | UTC/GMT-4: 11:00
Los Angeles (United States) | UTC/GMT-7: 08:00
Sources: ronaldo7.net / besoccer.com / thesun.co.uk