16.04.2020 » Philanthropic gestures by Cristiano Ronaldo that you never knew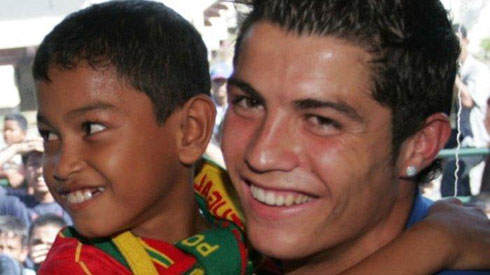 We all know what Ronaldo can do on the pitch, but sometimes, he also surprises with actions off the pitch. The Portuguese star has joined multiple charitable causes over the years and his gestures have already helped many people around the world.


Cristiano Ronaldo may be known for his soccer exploits, but he has also gained a reputation for being one of the most charitable sports personality across the world. The Portuguese legend stretches out his hands every time he can, revealing his true heart and kindness that makes so many millions of fans to adore and idolize him. His generosity off the pitch has led the Juventus player to donate a huge chunk of his wealth to worthy causes – earning him accolades around the world. This article captures some of the most notable acts of charity initiated by Ronaldo throughout his entire career.
Ronaldo - Great gestures:
---
How much does Cristiano Ronaldo earn and donate?
Ronaldo's charitable efforts were first recognized in 2013 when the player was named the Global Artist Ambassador for Save the Children. The following year, Time magazine placed him on the list of the 100 most influential people in the world. As if it was just meant to be, the former Manchester United player was again honored as the winner of dosomething.org in 2015.
With a weekly salary of over £500,000, a long list of endorsements, and sponsorship deals, Ronaldo's acts of social responsibility are admirable. The generosity of the player can be traced back to his Portuguese roots. On his admission, Cristiano Ronaldo claimed that his father brought him up to believe that God's rewards are multiplied when one extends a helping hand. Let's now look at some of his most notable charity contributions:
---
Donation of an European Golden Boot
Cristiano Ronaldo is a recipient of several Golden Boots, having received one for his remarkable 40 goals tally after 2011 Real Madrid's final La Liga game. While many would have kept this prized award as a memento, the soccer player placed the trophy on auction. From this gesture, he raised £1.2 million that was set aside for the construction of schools for children in war-torn Gaza.
---
Aid effort to Nepal after earthquake in 2015
Although some sources claim that the sports star only helped in raising awareness, it was widely reported that Ronaldo donated roughly £5 million as an aid relief to Nepal following a deadly earthquake. The money was channeled through the "Save the Children" program to assist the victims, especially children, to cope with the aftermath of the devastating tragedy.
---
Raised 60,000 EUR for brain operation
A barely one-year-old boy was a beneficiary of a generous gesture in 2014 when the forward striker paid €60,000 to cater for his brain operation. The infant has contacted cortical dysplasia which caused multiple secured every day. In addition to paying for the surgical operation, Ronaldo also gave away all his boots and jerseys to the young boy.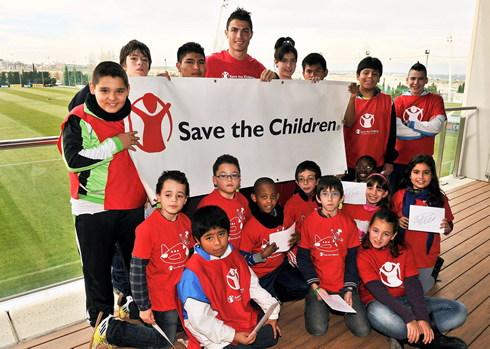 ---
A boy in Indonesia wins Ronaldo's heart of gold
Help can come in many forms. To some people, it can be giving someone a new lease of life, while for others, it can be mentorship or essay help. It was tragic news when a tsunami struck in Indonesia in 2004. But behind the tragedy was an equally sad story of a 7-year-old boy, identified as Martunis, who survived the tsunami that took the lives of his mother and two siblings.
It was a Portugal team jersey worn at the time he was discovered as a survivor of the tragedy that attracted the attention of Cristiano Ronaldo. Apart from meeting Martunis in person, the now Juventus player paid for his education and restoration of their residence. Martunis is currently enrolled at Sporting Lisbon's youth academy in Portugal, where he plays for the under-19 team.
---
Extended help to Indonesia in conservation of the Mangroves
To help highlight the disappearing mangrove forest in Bali, Ronaldo was named the ambassador for The Mangrove Care Forum in Indonesia. The initiative seeks to play part in a large effort of conservation and restoration of a total of 1,373-hectare of mangrove plantation located in Rai People Forest Park, which also bore the brunt of the 2004 tsunami.
---
Disposed a replica of the 2013 FIFA Balon d'or trophy to raise 600,000 GBP for the "Make-A-Wish" foundation
Not many soccer players are lucky to have been conferred with a coveted FIFA Balon d'Or trophy. Thus, it is inspiring that Cristiano Ronaldo, who is a recipient of five Balon d'Or trophy, decided to sell a replica of the 2013 award for a worthy cause. He managed to raise £600,000 that was donated to the "Make-A-Wish" foundation.
---
Initiatives geared towards medical treatment and research
As far back as 2007, Dolores Aveiro, Cristiano Ronaldo's mother, has been fighting cancer. As gratitude to doctors and health facility where she was treated, he funded the construction of a cancer center within the hospital to the tune of $165,000. Ronaldo has also joined hands with a businessman, Alessandro Proto, to provide resources for the construction of a pediatric healthy facility in Chile. Besides, he regularly donates blood, a reason for abstaining from donning a tattoo.
---
Final note
To sum it up, being one of the most talented football superstars, Cristiano Ronaldo has won many hearts having channeled a part of his extensive wealth to charity. His contribution to the general welfare of society has won him global recognition.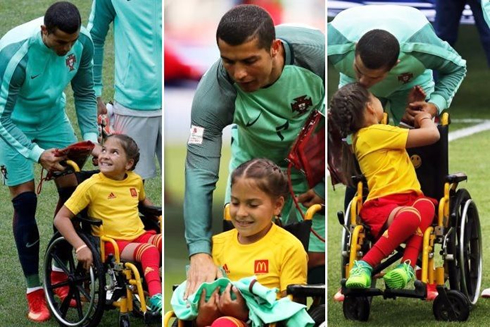 Cristiano Ronaldo next game for Juventus in the Serie A is on May 10, against Torino. You can watch Juventus vs Sampdoria, Real Madrid vs Eibar, Mallorca vs Barcelona, Tottenham vs Manchester United, Manchester City vs Arsenal, and Werder Bremen vs Bayern Munich, all matches provided from our soccer live game pages.
Juventus next game:
Juventus vs Sampdoria kick-off time (10-05-2020):
Beijing (China) | UTC/GMT+8: 23:00
Jakarta (Indonesia) | UTC/GMT+7: 22:00
India (New Delhi) | UTC/GMT+5.30: 20:30
Italy (Turin) | UTC/GMT+2: 17:00
Spain (Madrid) | UTC/GMT+2: 17:00
Portugal and England (Lisbon/London) | UTC/GMT+1: 16:00
Rio de Janeiro (Brazil) | UTC/GMT-3: 12:00
New York (United States) | UTC/GMT-4: 11:00
Los Angeles (United States) | UTC/GMT-7: 08:00
Sources: ronaldo7.net / bbc.co.uk / cnbc.com