21.12.2019 » Ronaldo still reaching new heights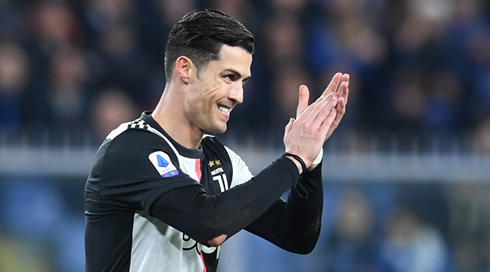 Every time his value is questioned, Cristiano Ronaldo answers his critics with goals and incredible performances. We've seen it happening over and over almost every season throughout his professional career and these last weekends he has done it again...


Cristiano Ronaldo once again defied the laws of gravity in Juventus' 2-1 win over Sampdoria on 18 December. The striker leaped 71cm to meet left-back Alex Sandro's cross with his head at 8.39ft, which is taller than even the crossbar. The Portuguese striker stunned the Sampdoria defence and their manager Claudio Ranieri, who said in his post-match interview: "Ronaldo did something that you see in the NBA, he was up in the air for an hour and a half." At the age of 34 and on the verge of turning 35, the former Real Madrid forward doesn't cease surprising us and who knows until when he'll continue presenting us with moments like these...
Cristiano Ronaldo - Air Ronaldo:
---

Stunning everyone, everyday!
That goal and the subsequent win helped his side go back to the top of the Serie A - will they still be there at the end of the season? Betting experts think so - William Hill have Juventus as favourites to take the title - much of the praise for that has to go to Ronaldo for his scintillating form.
But this isn't the first time the Portugese striker has risen to heights close to this, either. Back in April 2018, Ronaldo scored an incredible bicycle kick in the Champions League for Real Madrid against his current club. This goal was met with equal shock and adulation (and is considered one of the greatest Champions League goals of all time) as Ronaldo catapulted himself to a height of 7ft, 7ins in the air to meet the cross - just shy of what he achieved against Sampdoria.
These are just two accounts of Ronaldo's incredible athleticism, and there are many more. During the 2018 World Cup in Russia - when Ronaldo was 33 years old - he managed to record the fastest top speed of any of the 735 other players at the tournament. Clocking up a speedy 34km/h during Portugal's opening match against Spain - an 80 yard sprint, no less.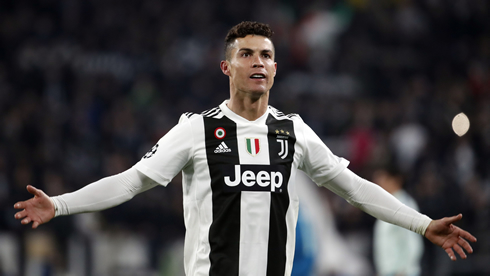 ---

Great DNA, better professionalism
So, how, at the age of 34, can Ronaldo still produce such awe-inspiring performances and physical feats? Well, back in May 2018, he did an interview with Spanish television programme El Chiringuito and revealed he actually had the biological age of a 23-year-old at that time.
When Ronaldo moved to Juventus in July 2018, he went through the medical that every professional player goes through before/when they join a new club. The results supported the striker's biological age claim, and were actually compared to those of someone even younger!
It was revealed that Ronaldo has an incredibly impressive 7% body fat and an amazing 50% muscle mass. In comparison to other professional footballers, these are far superior percentages. The average body fat percentage is 10-11% and muscle mass is 46%.
The Portugal captain and Juventus forward achieves all these incredible physical accomplishments through a strict health and fitness regime - it's little wonder he's able to jump as high as he can. The star has made almost 1000 appearances (988) across his career and scored 712 goals and there's much more to come as he's stated he wants to continue until he's 41 years old.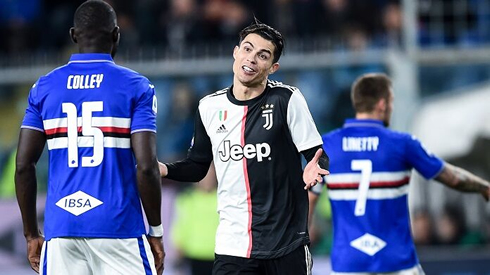 Cristiano Ronaldo next game for Juventus in the Supercoppa is on December 22, against Lazio. You can watch Juventus vs Lazio, Liverpool vs Flamengo, Barcelona vs Alaves, Inter vs Genoa, Everton vs Arsenal, and Bayern Munich vs Wolfsburg, all matches provided from our soccer stream game pages.
Juventus next game:
Juventus vs Lazio kick-off time (22-12-2019):
Beijing (China) | UTC/GMT+8: 00:45
Jakarta (Indonesia) | UTC/GMT+7: 23:45
India (New Delhi) | UTC/GMT+5.30: 22:15
Italy (Turin) | UTC/GMT+1: 17:45
Spain (Madrid) | UTC/GMT+1: 17:45
Portugal and England (Lisbon/London) | UTC/GMT+0: 16:45
Rio de Janeiro (Brazil) | UTC/GMT-3: 13:45
New York (United States) | UTC/GMT-4: 12:45
Los Angeles (United States) | UTC/GMT-7: 09:45
Sources: ronaldo7.net / juventus.com / football-italia.net / ccn.com