15.11.2019 » Ali Daei – The man Ronaldo hopes to beat to set a new world record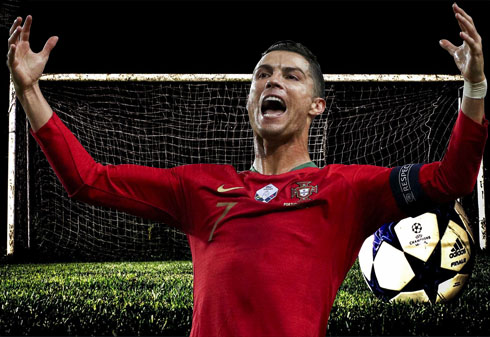 It's only a matter of time until Cristiano Ronaldo becomes the all-time men's top goalscorer at country level. The Portuguese, who already scored 98 goals for Portugal, is on the verge of beating Ali Daei's 109-goal record and many expect that could happen in the upcoming EURO 2020.


Cristiano Ronaldo is, without a doubt, one of the greatest footballers to ever grace the beautiful game. His battle with Lionel Messi for the Ballon d'Or might have captivated fans for a generation, but he's hoping to once again go one better than his adversary. The mark of a great player, a true legend of world football, is being able to win trophies both domestically and internationally. Whilst Messi has struggled to fire Argentina to glory, reigning European and Nations League champions Portugal have provided a platform for CR7 to stake his claim for legendary status. Portugal are likely to be amongst the favourites for the EURO 2020, and Ronaldo is widely expected to be amongst the goals between now and then. His form can be tracked using today's football tips, so punters can keep an eye on how he's progressing as EURO 2020 approaches.
Ali Daei - Iran's goalscoring machine:
---

A record in Ronaldo's sight...
Pelé and Maradona both won trophies internationally, and Ronaldo has ensured his name is likely to be mentioned in the same breath as those all-time greats. In fact, by the time he's finished, he might even hold an international record neither could achieve...
Ali Daei is not a name that holds much significance in world football. He made little impact at Bayern Munich or Hertha Berlin, despite being the first Asian player to feature in a Champions League match whilst with Munich. His goals record in Europe bears no comparison to that of Ronaldo. However, internationally, he holds an important record...
In a career spanning 13 years, he played 149 games for Iran, scoring 109 international goals. That's made him the highest-scoring international player of all time, and in fact, makes him the focus of Ronaldo's current task; to score more and seize yet another piece of history.
Ali Daei appeared in the 2006 FIFA World Cup at the age of 37, capping off a memorable career for Team Melli. His goal haul, boosted by 22 strikes in just 18 games in 1996, looked to be unreachable for European footballers who face tougher opposition.
But Ronaldo is closing in fast...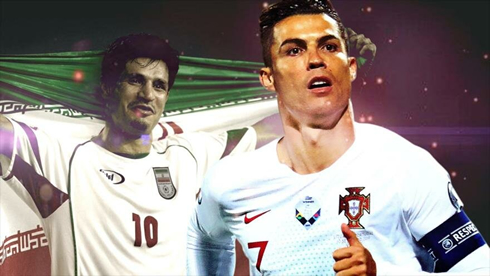 ---

It's not a matter of 'if'
but rather 'When'
Going into the November international break, the Portuguese talisman had bagged 95 goals in 162 appearances, but has shown little signs of slowing for his country. After last night's hat-trick against Lithuania, we can add another 3 to his tally, making it 98 in 163 appearances now. With 11 goals in 11 matches in 2019, including a 4-goal haul in the thrashing of Lithuania, he's got a better record now than during his pomp...
Can he pull Ali Daei down from his perch as the best international goal scorer of all time? There's no reason why not. Ronaldo might be 34, but he's still playing at the very highest level in the Serie A and is perhaps in the best international form of his career. He's gained insight with experience and any loss of energy has been replaced with guile and understanding that the headstrong youngster at Manchester United did not possess.
Going into 2020, Iranian legend Daei might have to content himself with being beaten by the great Cristiano Ronaldo, a position almost every player on the planet has had to settle for...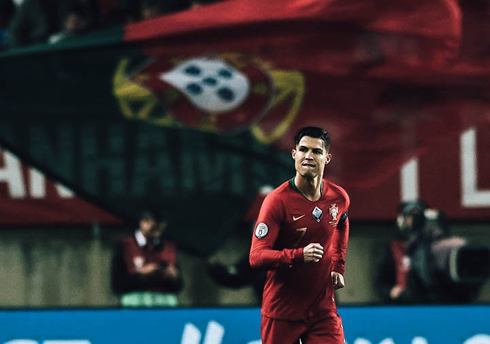 Cristiano Ronaldo next game for Portugal in the EURO 2020 Qualifiers is on November 17, against Luxembourg. You can watch Luxembourg vs Portugal, USA vs Canada, Spain vs Malta, Bosnia vs Italy, Brazil vs Argentina, and Romania vs Sweden, all matches provided from our soccer live game pages.
Portugal next game:
Luxembourg vs Portugal kick-off time (17-11-2019):
Beijing (China) | UTC/GMT+8: 22:00
Jakarta (Indonesia) | UTC/GMT+7: 21:00
India (New Delhi) | UTC/GMT+5.30: 19:30
Italy (Turin) | UTC/GMT+1: 15:00
Spain (Madrid) | UTC/GMT+1: 15:00
Portugal and England (Lisbon/London) | UTC/GMT+0: 14:00
Rio de Janeiro (Brazil) | UTC/GMT-3: 11:00
New York (United States) | UTC/GMT-4: 10:00
Los Angeles (United States) | UTC/GMT-7: 07:00
Sources: ronaldo7.net / miasanrot.com / independent.co.uk