08.11.2019 » How have Juventus and Ronaldo changed under Sarri, and can it last?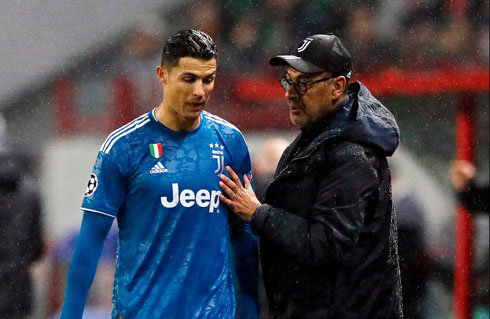 Juventus have swapped managers earlier this summer and despite already being leaders in both the Serie A and their Champions League group, it's clear to everyone that they're not playing up to their full potential yet...


The story of the summer in Serie A was five-year, five Scudetto-winning Juventus head coach Massimiliano Allegri stepping down from his post with Maurizio Sarri coming in to take charge. Given the grossly contrasting styles of play, Allegri's defence-first yet flexible mentality to Sarri's perfect passing football scheme, many wondered if Sarri would be able to hit the ground running, with many expecting the Old Lady squad to need a lot of time to work alongside intensive training sessions.
Allegri's focus on the defensive side of the game made Juventus an undefeatable force in Italian football, with his willingness to be flexible and design strategies to suit his players enabling him to utilise his deep and talented squad. Sarri has become famous for his Sarri-ball style of play, which emphasises high-pressing without the ball and fast-paced perfect passing going forward. The new Juve boss also has a reputation as a manager who doesn't like to rotate his starting XI, which could become troublesome given the volume of top-class players in the squad.
The star man at the Allianz Stadium is, once again, Cristiano Ronaldo, but can Sarri's new system withstand the rigours of a full season?
Juventus - Sarri-Ball:
---

Changes in Turin and across Serie A
Seven games into the new season, Juventus are the favourites to reclaim their crown, sitting at 10/27 in the football betting to win Serie A. However, the man who kick-started this era of Old Lady dominance, Antonio Conte, is back in new colours looking to usurp his former club with Inter Milan. His impact has been immediate, storming to the top of the league with six wins in six, but stand back at 16/5 to win Serie A following their seventh game of the season. Other than Inter and Juve, Napoli are the only other side considered to be a real threat at 6/1.
With Antonio Conte at the helm, Inter have brought in Romelu Lukaku, Diego Godin, Matteo Politano, and Stefano Sensi as well as Alexis Sanchez on loan among others. They were off to a great start, but Sarri was able to quash early aspirations with a hard-fought win at the San Siro on 6 October, winning 2-1 with an 80th-minute winner from his long-trusted striker, Gonzalo Higuain. After the game, Conte said "Juve is in another category... we cannot compare to them."
While Inter played well and had their spells of dominance in the heated match-up atop the Serie A standings, Inter are very much a team building towards a challenge, while Juve appear to have adapted quickly enough to Sarri to return as the heavy favourites. Or, perhaps, it's Sarri who has adapted his hard-nosed methodology to strengthen Sarri-Ball in Turin.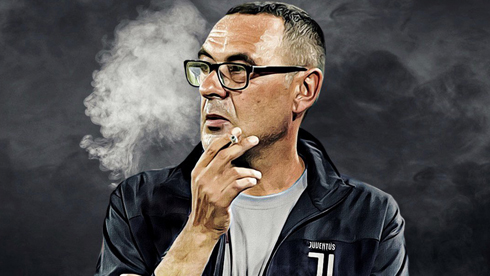 ---

Embracing flexibility
One of the first places to look when seeing if Maurizio Sarri has loosened up on his stance of pushing his ethos is at his best player, Cristiano Ronaldo. Last season, the superstar's first in Italy, Allegri would regularly change Ronaldo from the left wing to the centre-forward position in his starting line-up. It kept defences guessing and enabled him to rotate in his other incredibly talented forwards. Allegri would also allow his star man a lot of freedom to come across the middle or venture out wide, often being more of an inverted winger when positioned out wide. Ronaldo is the best at what he does, so Allegri gave the versatile attacker the reign to do what he does best. This led to Ronaldo scoring 28 goals and teeing up a further nine through 43 games.
Known for his lack of rotation and desire to enter every game with very much the same line-up, the worry was that Ronaldo's all-conquering style of play would be caged by Sarri's strict positional regime. In the opening games of the season, heat maps show that this was, indeed, the case, with Ronaldo strictly being held to the left wing. However, as Sarri has become more familiar with the talents at his disposal, he has been more willing to shake-up his positions, with Ronaldo playing at centre-forward against SPAL, Inter, and Bayer Leverkusen in the Champions League, which led to two goals.
After the win over Inter, Sarri indicated that he has always been open to change, saying that "you have to adapt your tactics to the characteristics of the players". He is making the defence play a higher line and says that there are still improvements to be made in the team, but his move to a model more akin to his time with Empoli, a 4-3-1-2 formation, in recent games from his more-recognised system of 4-3-3, shows that he is embracing the flexibility allowed by having so many talented players per position.
If there was ever a time to topple the Old Lady, this season appeared to be the time to strike. However, with the Juventus squad being so strong that it can still claim wins despite adapting to the new ethos of Maurizio Sarri, which is in stark contrast to that of his predecessor, it seems as though a miracle would be required to see the likes of Inter climb to the top.
The scariest thought for the rest of Serie A is what Juventus could do when the team has fully adjusted to the new tactics, and how many goals the likes of Cristiano Ronaldo could score in such a well-oiled, forward-thinking system.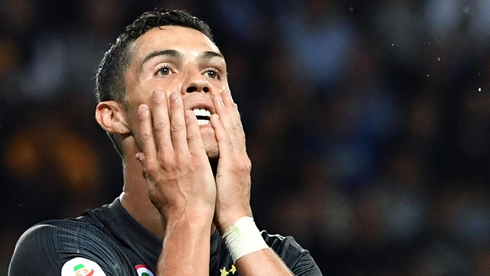 Cristiano Ronaldo next game for Juventus in the Serie A is on November 10, against AC Milan. You can watch Juventus vs AC Milan, Eibar vs Real Madrid, Barcelona vs Celta de Vigo, Chelsea vs Crystal Palace, Norwitch City vs Watford, and Bayern Munich vs Borussia Dortmund, all matches provided from our live footy game pages.
Juventus next game:
Juventus vs AC Milan kick-off time (10-11-2019):
Beijing (China) | UTC/GMT+8: 03:45
Jakarta (Indonesia) | UTC/GMT+7: 02:45
India (New Delhi) | UTC/GMT+5.30: 01:15
Italy (Turin) | UTC/GMT+1: 20:45
Spain (Madrid) | UTC/GMT+1: 20:45
Portugal and England (Lisbon/London) | UTC/GMT+0: 19:45
Rio de Janeiro (Brazil) | UTC/GMT-3: 16:45
New York (United States) | UTC/GMT-4: 15:45
Los Angeles (United States) | UTC/GMT-7: 12:45
Sources: ronaldo7.net / independent.co.uk / flofc.com / football-italia.net