16.09.2019 » The world's top 20 football earners: Where does Ronaldo rank?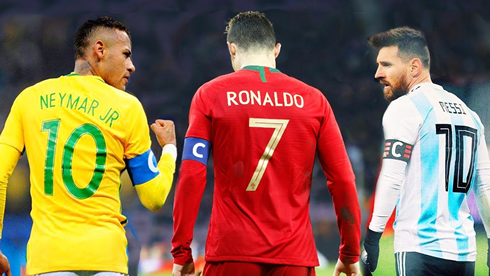 Ronaldo has been on the top of the list of the highest earners in football in the last decade and even now, at the age of 34, he's only second to Barcelona's Lionel Messi. The Portuguese star is believed to be earning around to 109 million US dollars per year...


Having moved from Real Madrid to Juventus in the summer of 2018 has allowed Cristiano Ronaldo to move closer to Barcelona's superstar Lionel Messi in terms of the salary each one earns. The former Manchester United and Real Madrid player is now earning an impressive $12,295.00 an hour according to Find Betting Sites, which, despite being a lesser amount than the one Messi earns, is still over $2,000 more than Paris-Saint Germain's ace Neymar, who is earning a bit less when compared to the Argentine and Portuguese stars: $10,245 an hour. If we keep looking further down on the list, we find Real Madrid's Gareth Bale in 11th place, who earns roughly 4 times less than CR7. Ronaldo's success on the pitch has allowed him to become a global ambassador for multiple big brands and by doing that, he has significantly increased his income on a steady basis.
The world's top football earners: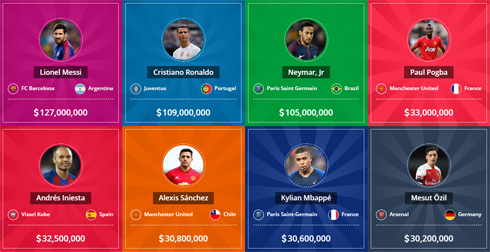 Infographic source: https://www.findbettingsites.co.uk/soccer-earnings/
---

The King of endorsements
Football in general has become a very powerful industry in modern days and if there's anyone who has been a first-person witness in this process, that's Cristiano Ronaldo. The Portuguese legend has built a true empire around his name and that has allowed him not only to generate a lot of money from salary earnings, but also from many endorsements deals.
No one else in this sport makes more money than Ronaldo in endorsement deals. The Juventus forward has made 44 million USD in sponsorship/brand deals last year, comfortably beating Messi (35 million USD), Neymar (30 million USD), or Mohamed Salah (9 million USD). Cristiano Ronaldo's image is worth a lot and he certainly is aware of its true potential...
When it comes to salary earnings however and even though Ronaldo signed a new contract with Juventus back in the summer of 2018, he still comes behind Barcelona's Lionel Messi and PSG's Neymar on that direct comparison. The Argentine had his contract review in 2017, allowing him to earn roughly 92 million USD per year in salary and bonus, while Neymar also reaches the incredible 72-million USD mark. Ronaldo has to settle with 65 million USD, but in his defense, he's also a bit older than his two colleagues.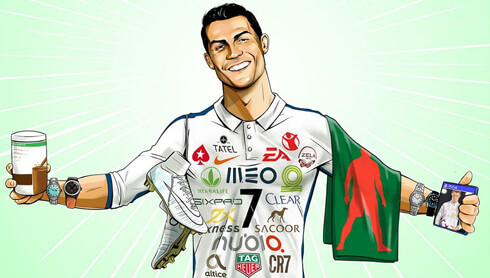 ---

No rivals in Italy...
At this stage, Ronaldo is also by far the best paid footballer in the Serie A and there's not a single player from the Italian league making it to the top 20 in this infographic. The only player coming close it is probably Romelu Lukaku, as Inter Milan signed him from Manchester United this past summer and are reportedly paying him 6.5 million USD in salaries, plus 10 million USD in bonuses. The former Red Devil forward isn't making more than 2 million USD in endorsements though, so that's a 18.5 million USD in his total earnings, still 3 million short of Barcelona's Gerard Piqué, who sits in 20th place.
This infographic also shows us that there's a huge difference in earnings from the top 3 players (Messi, Ronaldo and Neymar) and the rest of the pack. Messi is on the very top with 127 million USD, followed by Cristiano Ronaldo with 109 million USD and Neymar Jr. with 105 million USD. They're all relatively close, but the same can't be said about the rest of the group. Paul Pogba stands in 4th place, but his total earnings are believed to be around 33 million USD, which is roughly 3 times less than Neymar and 4 times less than Messi.
With Ronaldo and Messi approaching the inevitable end of their football careers, it's hard to tell if we'll see anyone reaching their level in the near future. Neymar has definitely got close to it, but several experts also claim that he's already declining. On the other hand, Mbappé is only 20 years old and still has plenty of football to offer, but he may never be able to generate as much money as Ronaldo, Messi and Neymar do in endorsement deals. In any case and whatever the future holds for any of them, they will surely be happy with how rich they got after their football days are over...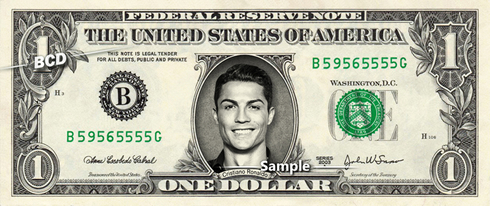 Cristiano Ronaldo next game for Juventus in the UEFA Champions League is against Atletico Madrid. You can watch Atletico Madrid vs Juventus, Real Madrid vs Levante, Barcelona vs Valencia, Manchester United vs Leicester City, Liverpool vs Newcastle, and Wolverhampton vs Chelsea, all matches provided from our soccer streams game pages.
Juventus next game:
Atletico Madrid vs Juventus kick-off time (18-09-2019):
Beijing (China) | UTC/GMT+8: 03:00
Jakarta (Indonesia) | UTC/GMT+7: 02:00
India (New Delhi) | UTC/GMT+5.30: 00:30
Italy (Turin) | UTC/GMT+2: 21:00
Spain (Madrid) | UTC/GMT+2: 21:00
Portugal and England (Lisbon/London) | UTC/GMT+1: 20:00
Rio de Janeiro (Brazil) | UTC/GMT-3: 16:00
New York (United States) | UTC/GMT-4: 15:00
Los Angeles (United States) | UTC/GMT-7: 12:00
Sources: ronaldo7.net / skysports.com / inter.it / foxsportsasia.com