19.03.2019 » The Ronaldo vs Messi debate: What's new in 2019?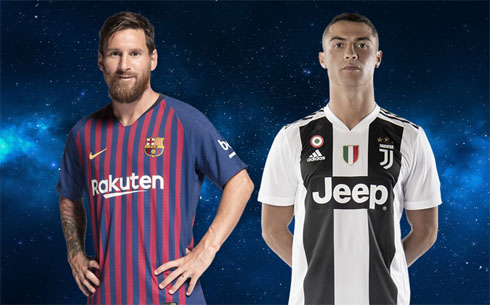 There has never been a rivalry like the one we've been privileged to witness between Cristiano Ronaldo and Lionel Messi. The two superstars have been dominating this sport for the past 10-12 years and it's no different in 2019...


If you are a football fan, then I am sure that you have come across a group of people debating who is the best player when it comes to Ronaldo vs Messi. These two football stars have been having it out for each other, especially when it comes down to the awards. Although they are quite "old" in terms of football years, the two don't seem like they will stop anytime soon giving the world spectacular moves. It's why more Betway fans are betting on their matches than before. Football remains the most popular betting sport on Betway, if you didn't know. If you are torn between choosing who is the best between the two of them, then here are a few facts that will help you.
Messi vs Ronaldo - The epic rivalry:
---

Team Messi
Why do a lot of Lionel Messi's fans consider him the greatest of all time? If you meet any die-hard fan of Barcelona's striker Messi, they will describe him as The God of Football.
Messi joined Barcelona when he was 16 years old, making him the third youngest player to join the club. The other two players who joined Barça at a younger age than Messi are Haruna Babangida and Paulino Alcántara.
Here are fun facts about Messi.
#1
Statistics prove he is a better player
Although statistics prove that both Messi and Ronaldo are perfect, a recent study shows that Messi is a far better player. The Economist rated both these players goals in terms of importance: the winning goal. This means that the winning goal is much more significant than any other purpose in a match. In this case, the statistics favour Messi with 59.5%, while Ronaldo stands at 50.4%.
#2
Messi is a better team player
If you have ever watched any game which has Messi in it, then you have to realise that he makes everyone shine. He might not score the goal, but he did have an input in that goal. The versatility of him being able to score great goals while still keeping his team involved makes him a bit better than Ronaldo.
#3
Messi is a "virtuoso"
You have to admit it, he is magic. Every time he is on the field, he knows how to dribble the ball in ways that most people wish they could live in their dreams. He is a natural talent that many people love to watch. This starts from the way he passes, possess and shoots the ball. Messi is an explosive player.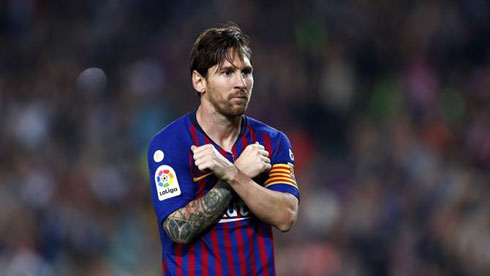 ---

Team Ronaldo
Cristiano Ronaldo, famously known for his accomplishments with Manchester United, Real Madrid and now Juventus, is still one of the best players in the world even at the age of 34. With so many years in his legs, he has built a career which many fellow players wish they could have had. If you are a dying fan of Ronaldo, then I am sure that you are going to love these facts about him.
#1
He is athletic
Cristiano Ronaldo is made out of pure Portuguese muscle. He describes himself as a 34-year-old player with the body of a 24-year-old. One of his most significant threats are the headers because he really can jump like an NBA player. Cristiano has the abilities of the most complete athlete ever seen in football.
#2
Advanced career
Messi fans are going to hate this one, but even though Ronaldo is a bit older than the Argentine (roughly a year and a half), he'll probably hang up his boots later than his rival. Not only that, but Ronaldo will make sure that his goalscoring vein will continue making headlines regardless of how old he is...
#3
Strong mentality and drive to succeed
When it comes to being strong mentally and always be motivated to win trophies, there is no other player in this sport who even comes close to Cristiano Ronaldo. The Portuguese legend has won it all in England and Spain and is now trying to do the same in Italy. If he ends up trying a new country in the next years, he'll certainly put his heart out to keep beating records...
Let us know what you think, who do you think is the GOAT? Messi or Ronaldo?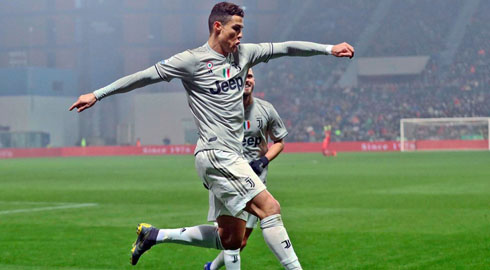 Cristiano Ronaldo next game for Portugal is an European qualifier on March 22 of 2019, against Ukraine. You can watch Portugal vs Ukraine, Netherlands vs Belarus, Belgium vs Russia, Wales vs Trinidad and Tobago, Kazakhstan vs Scotland, and Germany vs Serbia, all matches provided from our football live game pages.
Juventus next game:
Portugal vs Ukraine kick-off time (22-03-2019):
Beijing (China) | UTC/GMT+8: 04:45
Jakarta (Indonesia) | UTC/GMT+7: 03:45
India (New Delhi) | UTC/GMT+5.30: 02:15
Italy (Turin) | UTC/GMT+1: 21:45
Spain (Madrid) | UTC/GMT+1: 20:45
Portugal and England (Lisbon/London) | UTC/GMT+0: 19:45
Rio de Janeiro (Brazil) | UTC/GMT-3: 16:45
New York (United States) | UTC/GMT-4: 15:45
Los Angeles (United States) | UTC/GMT-7: 12:45
Sources: ronaldo7.net / economist.com / marca.com