04.02.2019 » Cristiano Ronaldo's family life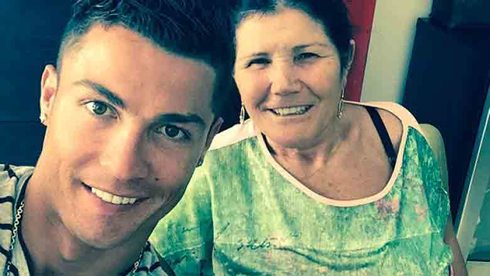 Cristiano Ronaldo may have developped into a total different player than he was in his early years in Manchester United, but he certainly didn't change the way he cares and treats his loved ones. The Portuguese superstar is a true family man.


Cristiano Ronaldo dos Santos Aveiro or simply, Cristiano Ronaldo, is arguably one of the most popular football players of his generation. With record-breaking performances, achievements, million dollar contracts and endorsements, many are wondering how did this popular football player molded to what he is now today. Looking back at his roots and during his early life growing up in a small town in Portugal, his status was described as full of hardships and challenges with his family. This is probably the main reason that shaped the football superstar to what he is now today...
Cristiano Ronaldo and his family life
Already an accomplished, sportsman, celebrity and philanthropist, Cristiano has already captured the imagination of many football fanatics and the entire sports fan in general. He is so popular that every game he's on is broadcasted around the world through regular channels and live streaming sites with betting features. Even his recent move from Real Madrid to the Italian side Juventus was in the middle of a big controversy where football fanatics from every corner in this world shared different opinions and views regarding his transfer.
---

Cristiano Ronaldo family, siblings
and his early life
The football superstar was born on February 5, 1985, in São Pedro, Funchal in the Island of Madeira, from the western coast of Portugal. Cristiano Ronaldo's parents were José Diniz Aveiro, his father and Maria Dolores dos Santos Aveiro, his mother. He is the youngest of four children and has an older brother and two sisters. It was said that his father named him after Ronald Reagan, the former U.S. President and his favorite actor.
The life of Cristiano Ronaldo during his early years was never easy. His father only earned a meager income that was not enough to support his family. To make the matter worst, he was addicted to alcoholic drinks that eventually led to him passing away with a liver disease in 2005. Nevertheless, it was his father who introduced him to the beautiful game when he was working as an equipment manager of a local football club and as other people say, the rest is history.
His mother used to work as a cleaner and a cook to additionally support the family during those hard times. She was later diagnosed with cancer in 2007, but has since recovered from her health problems.
Cristiano Ronaldo said that he does not drink alcohol and will never do it for the rest of his life. An online article by the Daily Mirror that made the headlines in July of 2008, reported that he was engaged in a heavy drinking activity in a night club, while recovering from an injury. He later filed a libel case against the online publication and was paid a hefty amount as a result of the libel damages he has incurred.
The success of Cristiano Ronaldo as a football player has helped his family improve their own personal lives. Today, his elder brother, Hugo Aveiro, is the director of Museu CR7 and also owns a construction business back home. The popular football player has also helped his brother to get away from his addiction to drugs and he currently shares a good relationship with him. Elma Alveiro, his oldest sister, runs a clothing business that was supported by the accomplished football player.
Liliana Katia Aveiro, his other sister, launched her musical career in 2005 and was highly supported by the international football star. She is making her own name in the music scene with a stage name La Ronalda. His sister is also a celebrity in her own right, with about 90,000 Instagram followers and has joined the highly popular reality show "Survivor" in Spain.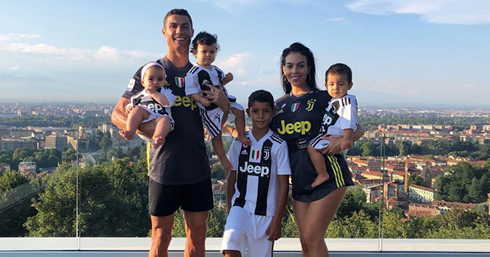 ---

Cristiano Ronaldo personal life
and family
Cristiano Ronaldo's personal life and his family are as colorful as his football career.  The football superstar possesses God-given good looks that can be a magnet to the most beautiful women in the entertainment and modeling industry. Among the notable and high-profile celebrities he reportedly dated we could list names like Paris Hilton, Irina Shayk, Paula Suarez, Kim Kardashian. Since 2016, Ronaldo has started dating the Spanish model Georgina Rodriguez. He was fondly called "the superstar playboy", but he has never been married nor proposed any woman he dated.
On June 17, 2010, the football superstar became a father when Cristiano Ronaldo Jr was born in the United States. The identity of the mother was never known, but the football superstar later revealed he has the full custody of his son as per the agreement he made with the mother of his son. It was never clear if the child was a result of a relationship or due to a surrogacy process. The then Real Madrid footballer told the media that he will disclose his mother's name to only his son and whenever he believes it's the right time for that to happen.
Last June 8, 2017, it was reported that Cristiano Ronaldo became a father to twins, a daughter named Eva and a son named Mateo. It was later disclosed that the twins were born through a surrogate mother in the United States. Later that year, on November 12, 2017, the popular football superstar became the father of his fourth child when his model-girlfriend Georgina Rodriguez gave birth to their daughter named Alana Martin Ronaldo.
---

Who was the mother of Cristiano firstborn son?
Days after it was reported that Cristiano Ronaldo became a father with an unidentified mother in 2010, a number of unverified reports claimed that it was the result of a one-night stand. It was said that the mother was an American waitress whom she met in an exclusive restaurant in the United States. That was in Los Angeles during a trip where he met the American waitress and reportedly spent the night together in his hotel.
Cristiano Ronaldo, according to reports, later discovered that the woman became pregnant as a result of their one night together. It was reported that the woman decided to locate and find him through his agent Jorge Mendes. The then Real Madrid star later agreed to have a DNA test as assurance while he was playing for Portugal in the 2010 World Cup in South Africa. When the result of the test came out, it was the football superstar who decided to take the child under his custody.
On July 3, 2010 and to the surprise of a lot of football fans, Cristiano Ronaldo announced in his official website and other social media platforms that he has that he had become a father for the first time. He later revealed that the mother wanted her identity to be kept secret and remain confidential. He also said that his son would be under his exclusive guardianship. Other reports in Portugal claimed that the football player was desperate to be a father and paid a surrogate mother to bore his son, but he never commented on the authenticity of the reports. 
There were other reports that said that it was his mother, Maria Dolores, who insisted and convinced the popular football star to take the baby with him. After the DNA results came out, Cristiano took the boy to his home and later named him after himself.
---

Conclusion
Cristiano Ronaldo's family life is full of events. The Portuguese superstar never forgot his roots and has always helped his loved ones in every way he could. He's a man of principles and no money or fame will ever change that!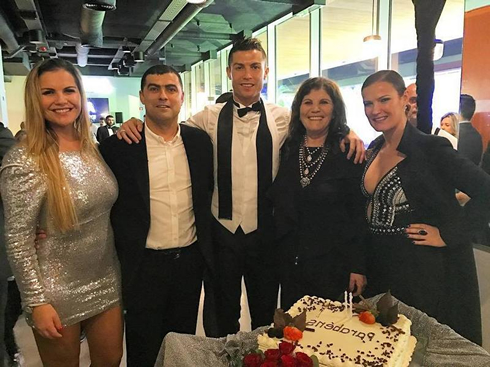 Cristiano Ronaldo next game for Juventus is on February 10 of 2019 against Sassuolo. You can watch Sassuolo vs Juventus, Real Madrid vs Alaves, Betis vs Atletico Madrid, Leicester City vs Manchester United, Manchester City vs Arsenal, and AS Roma vs AC Milan, all matches provided from our live football game pages.
Juventus next game:
Sassuolo vs Juventus kick-off time (10-02-2019):
Beijing (China) | UTC/GMT+8: 01:00
Jakarta (Indonesia) | UTC/GMT+7: 00:00
India (New Delhi) | UTC/GMT+5.30: 22:30
Italy (Turin) | UTC/GMT+1: 18:00
Spain (Madrid) | UTC/GMT+1: 18:00
Portugal and England (Lisbon/London) | UTC/GMT+0: 17:00
Rio de Janeiro (Brazil) | UTC/GMT-3: 14:00
New York (United States) | UTC/GMT-4: 13:00
Los Angeles (United States) | UTC/GMT-7: 10:00
Sources: ronaldo7.net / itv.com / forbes.com / dailymail.co.uk