22.12.2017 » Would you bet on Ronaldo's 7-year-old son to become the next star?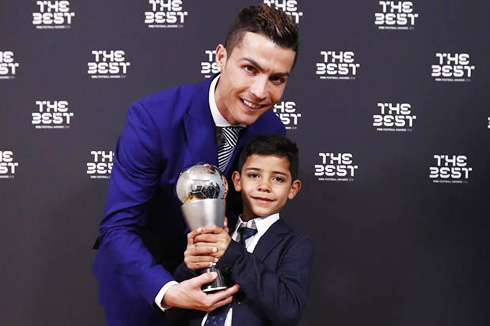 Being the son of a popular footballer and trying to follow his father's footsteps is usually a bumpy road. Cristiano Ronaldo's 7-year old son seems to have a big passion football just like his father and many have already started speculating about his future in the big stages...


Cristiano Ronaldo, one of the most famous football players of all time is widely known for his vigor and urge for a perfect result. When it comes to his children, he's even more careful. He already cultivated the love for football in his first son, Cristiano Jr., and we can see his progress on multiple video-shots of his goals in matches of his neighborhood football team. It is a bit strange that children of famous sport-stars seldom choose to follow their parents' footsteps. We all truly hope that in Ronaldo family's case it will be different. Who knows, maybe we'll even see a whole team of Cristiano Juniors competing with the best football clubs the planet. It's actually possible, as Ronaldo once said that he wants seven children, which is more than half of a team...
Cristiano Ronaldo Junior - Skills 2017:
A few months ago, William Hill opened odds for Ronaldo's seven-year-old son to become a professional football player. The odds are 100/1 that Cristiano Jr. will play a competitive match for either Manchester United or Real Madrid. Similar odds appeared for Ronaldo's twins, Eva and Mateo, but the bookies might have rushed too much to make this statement. A few days later, it turned out that the twins are not two boys, but rather a boy and a girl. We suppose that the chances for both twins to feature in one lineup are too feeble now.
Even though we can't say anything about the twins, Cristiano Jr. already shows great success and it looks like he's going to surpass his dad within ten years at max. If you're thinking about making a bet - you better do it now, when Cristiano Jr's progress can't be easily predicted, and the odds are still fat.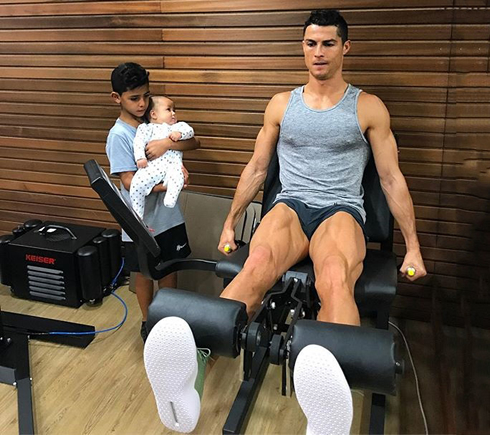 Cristiano Jr's famous dad said that his son just can't sit still and have a dinner sometimes, as he's always about being outdoors and playing football. With such family history and great experience of his father, Cristiano Junior will soon become a rising star on the world football horizon. The question is: is it his dad's influence that drives him to the football field, or he's just a naturally talented boy? We will find it out in few years...
«He's a very affectionate boy, attentive, friendly, respectful and very open with people. Everyone who meets him is surprised at how confident he is. That makes me feel very proud as a dad...», stated Cristiano Ronaldo recently.
It looks like those qualities are not the only things his dad is proud of. Ronaldo occasionally posts videos on social media with his son scoring stunning goals. While it is clear that Cristiano Jr already has skills, his professional career is not a sure thing at all. Being a good dad, Ronaldo said that he's not going to force the decision upon his son, as he has all opportunities of the world, ready to take.
«He will be whatever he wants to be, I am not going to push him at all. But obviously I want Cristiano to be a player. A top one, like his dad."
Whatever Cristiano Junior chooses as his life path, we wish him luck, and secretly wish it to be footballer after all. A dynasty of ingenious players surpassing achievements of predecessors would be a wonderful thing to witness...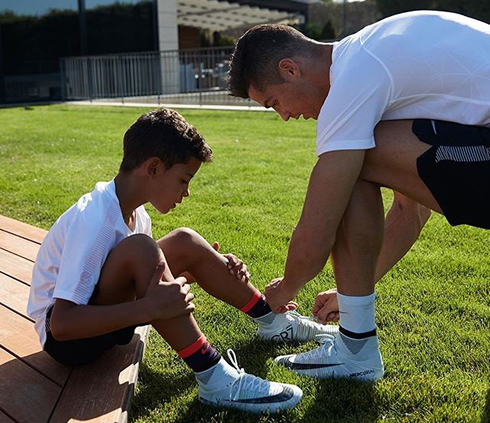 Cristiano Ronaldo next game for Real Madrid is on December 23 of 2017 against Barcelona. You can watch Juventus live stream, Real Madrid vs Barça, Everton vs Chelsea, Leicester City vs Manchester United, Arsenal vs Liverpool, and Manchester City vs AFC Bournemouth, all matches provided from our football streaming game pages.
Real Madrid next game:
Real Madrid vs Barcelona kick-off time (23-12-2017):
Beijing (China) | UTC/GMT+8: 19:00
Jakarta (Indonesia) | UTC/GMT+7: 18:00
India (New Delhi) | UTC/GMT+4.30: 16:30
Spain (Madrid) | UTC/GMT+1: 13:00
Portugal and England (Lisbon/London) | UTC/GMT+0: 12:00
Rio de Janeiro (Brazil) | UTC/GMT-2: 10:00
New York (United States) | UTC/GMT-4: 08:00
Los Angeles (United States) | UTC/GMT-7: 05:00
Sources: ronaldo7.net / rollingstone.com / instagram.com