10.07.2017 » Ronaldo is smashing betting odds after becoming a father of twins!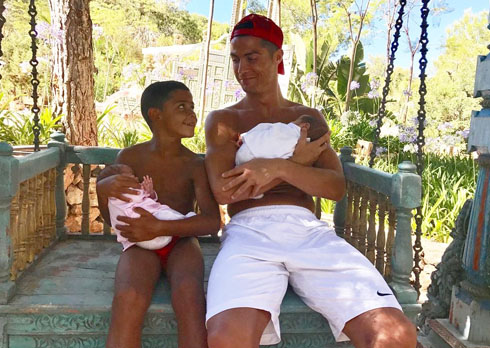 Following another successful season on the pitch, few were expecting the rumors that broke out a few months ago, reporting that Ronaldo was about to become father via surrogacy. It turns out the rumors were true and Ronaldo has already welcomed the twins Eva and Mateo into the family.


At this stage of his career, Cristiano Ronaldo is already rated as one of the best footballer players the world has ever seen. He's also a philanthropist, heartthrob, an all round good guy and very recently, a father of twins as well. Ronaldo was already father to one son, Cristiano Ronaldo Junior, who he welcomed to this world back in 2010, but news broke this week that he had become a father via surrogate again, but this time to twins, a girl and a boy. The names chosen for the twins were Eva for the girl and Mateo for the boy.
Cristiano Ronaldo - Father of twins:
Twins? What are the odds?
The odds of having twins is around 3/100, making it rather unlikely that you would be blessed with them. That makes of Ronaldo a very lucky man, not just on the pitch, but apparently off it as well. What are the chances of a celebrity having twins, or how many goals Ronaldo will score in his next match? You have access to all of the world's markets at the tip of your fingers and you can place a wager on pretty much anything, as long as the odds are right!
Most popular betting sites will offer you free bets and bonuses as an incentive to bet with them, as well as offering features like enhanced odds because their overheads are so low! Whether you want to bet on the results of the next Real Madrid match, or on who is going to win the latest series of Big Brother, you can easily find a popular betting site to give you an opportunity to do so! They're simply everywhere these days...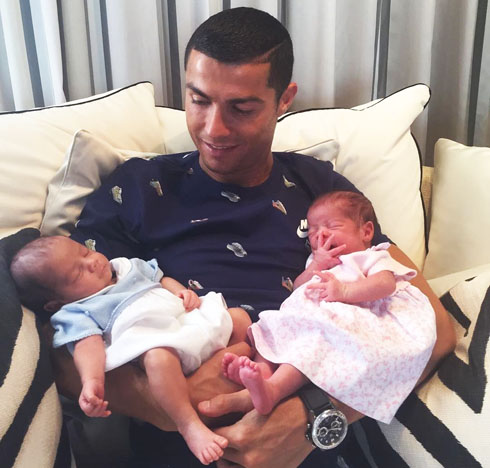 So what makes Ronaldo so great?
Cristiano was born in 1985 in Madeira, Portugal. As a youngster, he played for a local and amateur team called Andorinha, before moving to another local club in the island, called Nacional. Then, aged 12, he had a 3-day trial with Sporting CP, who then ended up paying £1.500 for him to come aboard. By the age of 14, the spark for professional football was well and truly alight and he moved to play for the Lions (Sporting's nickname in Portugal) and joined the youth players in Alcochete, at the club's academy.
It wasn't until 2003 when he caught the attention of Manchester United manager, Sir Alex Ferguson, due to the fact that other players had noticed his exceptional talent on the field and urged the Scottish to sign him. Ferguson was quoted as saying that the young 18 year old Ronaldo was "one of the most exciting young players" he had ever come across.

Award winning player
Since his time at Man Utd and during the span of his career, Ronaldo has racked up an impressive amount of awards. Not only he ended up being on the winning team many times for events such as the Premier League, FA Cup, Champions League, and the FIFA Club World Cup, he has also won his fair share of solo ones. These include, the Ballon d'Or (4 times), the FIFA Player of the Year 2008, the FIFPro World Player of the Year, the UEFA Best Player in Europe, the World Soccer Player of the Year and the BBC Sports Personality of the year. The list obviously doesn't stop here but you it's just too long to include every single trophy in this text...
Ronaldo career is still far from being over, so it remains to be seen how his career will continue to develop and improve! Looking forward for the next chapters!
Cristiano Ronaldo next game is a friendly game for the International Champions Cup on July 23 of 2017 against Manchester United. You can watch Juventus live stream, Real Madrid vs Man United, Juventus vs Barcelona, Tranmere Rovers vs Liverpool, Sydney FC vs Arsenal, and Bayern Munich vs Hoffenheim, all matches provided from our soccer live game pages.
Real Madrid next game:
Real Madrid vs Manchester United kick-off time (23-07-2017):
Beijing (China) | UTC/GMT+8: 05:00
Jakarta (Indonesia) | UTC/GMT+7: 04:00
India (New Delhi) | UTC/GMT+5.30: 02:30
Spain (Madrid) | UTC/GMT+2: 23:00
Portugal and England (Lisbon/London) | UTC/GMT+1: 22:00
Rio de Janeiro (Brazil) | UTC/GMT-3: 18:00
New York (United States) | UTC/GMT-4: 17:00
Los Angeles (United States) | UTC/GMT-7: 14:00
Sources: ronaldo7.net / time.com / sportskeeda.com / bbc.co.uk