12.02.2017 » How is Cristiano Ronaldo changing role at Real Madrid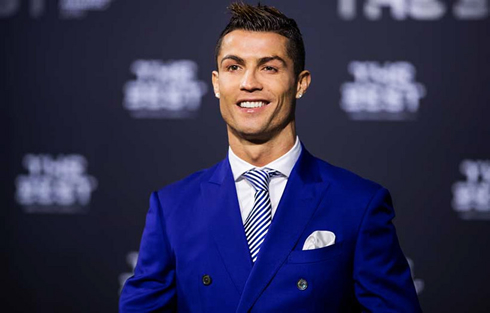 As he grows old, Ronaldo has been changing into a different type of player. That's no secret to anyone. The 32 years old superstar started his career playing as a classic winger, dribbling opponents left and right and trying new tricks in each game. Over the years, though, his playing style changed a lot...


Cristiano Ronaldo celebrated his 32nd birthday on the 5th of February along with his mother and son. This professional football player, who is the captain of the Portuguese National Team, has been a pioneer for Real Madrid for a very long time. But how is his increasing age affecting his role in his team? Why don't we see him dribbling as much as he used to when he played for Manchester United years ago? His obsession with dribbling seems to have switched into an obsession with scoring and like most things in life, that has its pros and cons...
Cristiano Ronaldo - Goals and highlights:
Without any doubts, 2016 was a special year for Cristiano Ronaldo. He won the Champions League alongside Real Madrid and the European Championship with Portugal. He also won his fourth Balloon d'Or in December for his achievements through the year. Real Madrid fans surely remember his hat-trick at Real Madrid's Club World Cup Final. However and despite being one of the finest goal scorer this game has ever seen, his role has changed at Real Madrid...
His scoring record for the last three years show that he is still a vital pawn to Real Madrid, having scored 11 goals more than anyone else since the beginning of the 2014/15 season. But his age has diminished his physical capabilities. There's has been a decline in his dribbling from an average of 6.5 dribbles per 90 minutes, to only 2. He also plays closer to the opposition goal, while his area of influence has gone down.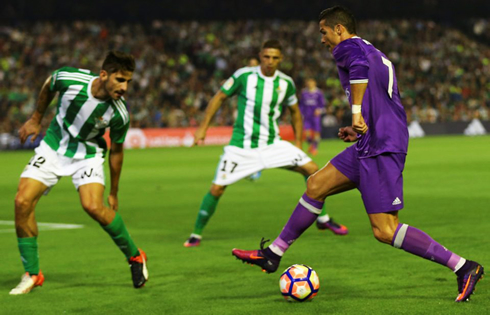 When Ronaldo shifted from Manchester United F.C to Real Madrid F.C, he had already been awarded once with the Best Player in the World award. There were even two movies inspired by him: Golden Shoes and Ronaldo. The movie Ronaldo shows the life of the football player and was released in 2015, after his shift to Real Madrid F.C. The movie includes his family and Cristiano Jr. Do you love movies and football?
Somehow, Cristiano Ronaldo, became victim of his own success by setting such high standards. His fans always want more, but increasing age only means lower capabilities. In the 2016/17 season, CR7 has scored an average of 0.87 goals, and is currently below Lionel Messi. His dominance has gone down amidst his team, and he has now become a special player who completes one or two touches to help his team.
But nevertheless, he remains one of the most influential players of all time. He deserves this title as he holds one La Liga, two Copas del Rey, two Champions League titles and two Club World Cups. He is also the only player so far to have scored more than 50 goals in one season. CR7 is also the sole player to have won the league title, domestic cup, domestic Supercup, Champions League, Club World Cup, League Player of the Year, Golden Shoe and Ballon d'Or at two different clubs. In 2015, he won the Guinness World Record for the most liked person on Facebook.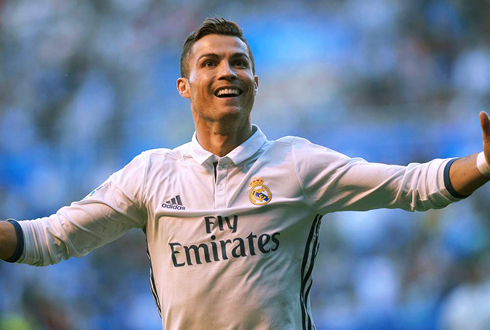 Cristiano Ronaldo next game is a Champions League fixture, on February 15 of 2017 against Napoli. You can watch Juventus live stream, Real Madrid vs Napoli, PSG vs Barça, Manchester United vs Saint-Étienne, Bayern Munich vs Arsenal, and Benfica vs Borussia Dortmund, all matches provided from our live soccer game pages.
Real Madrid next game:
Real Madrid vs Napoli kick-off time (15-02-2017):
Beijing (China) | UTC/GMT+8: 03:45
Jakarta (Indonesia) | UTC/GMT+7: 02:45
India (New Delhi) | UTC/GMT+5.30: 01:15
Spain (Madrid) | UTC/GMT+1: 20:45
Portugal and England (Lisbon/London) | UTC/GMT+0: 19:45
Rio de Janeiro (Brazil) | UTC/GMT-2: 17:45
New York (United States) | UTC/GMT-4: 15:45
Los Angeles (United States) | UTC/GMT-7: 12:45
Sources: ronaldo7.net / skysports.com / wikipedia.org