06.06.2015 » A preview of the UEFA Champions League final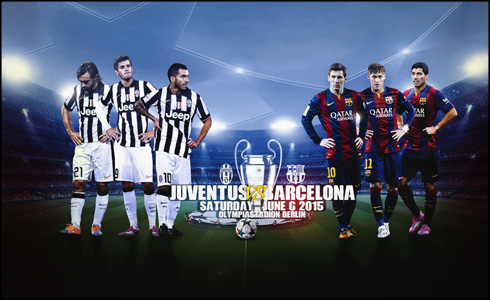 No one has won back-to-back Champions League titles since this competition adopted its new format in 1992 and with Real Madrid's elimination in the semi-finals, this year won't be any different. Juventus and Barcelona will go head to head for their final game of the season and as usual, the winner will take all the glory.


The 2014-2015 season of club football ends this Saturday, June 6th, with the Champions League final being held at the Olympiastadion in Berlin, Germany. After last year's final between Madrid's two biggest rivals ending up with the Merengues winning "La Décima", it's now time for Luis Enrique's Barcelona to take on Massimiliano Allegri's Juventus. Regardless of which side wins, the outcome will be historic. Juventus, having won the Serie A title and Coppa Italia, could acquire the first treble in their club's history. On the other hand, Barcelona, having already won a treble in the 2008-2009 season, could become the first club to complete two trebles. Either way, a Barcelona vs Juventus clash is surely one of those games that no football fan around the world should dare to miss, regardless of what's at stake...
Trailer of the UEFA Champions League final - Barcelona vs Juventus:
There would be no better way for 17-season veteran midfielder Xavi Hernandez to finally hang up his Barça boots than by lifting the Champions League trophy. The departure of Xavi marks a turning point in Barcelona (and Spain), and a shift of power in Barcelona's midfield. We hope that analyzing Enriques' tactics can shed some light on what Real Madrid needs to do next season in order to combat this new Barça.
The former Napoli manager Rafa Benitez has been officially introduced as the new coach for Real Madrid earlier this week. No doubt he will be closely studying his greatest rivals, FC Barcelona, in order to bring his squad back to the top of European football. Benitez will be working hard to develop an understanding of his enemy. Here are a few things that, if he notices them, may provide a key to opening the lock Barcelona is currently holding...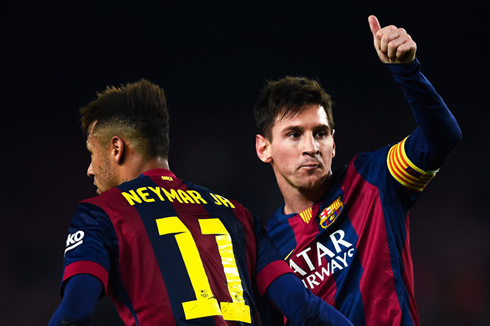 Luis Enrique has added a 12th player to the Barcelona starting team: a midfielder named Lionel Messi. The Argentinian role in the squad has become even more important in the success of Barcelona, just as Xavi's has diminished. Sensing the necessity of this shift in power, Enrique made the brilliant tactical decision to ask Messi to lay deeper and more to the right of the pitch, allowing the Uruguayan Luis Suarez more space and freedom in center field. Messi has taken over Xavi's duties of distribution. Even though Messi's average passing accuracy for this season is below Xavi's (83% compared to 93%), Messi is Barça's top goal scorer and top assister.
Messi's new found role has altered the standard Barça XI in a big way. In seasons past, it was incumbent upon midfielders such as Andres Iniesta, Cesc Fabregas and Xavi Hernandez to provide the assists for Barcelona's forwards. In fact, some have criticized the statistical absence of Andrés Iniesta this season, without recognizing that he has humbly and effectively accepted a different role within the starting XI. What has happened this season is that, with the midfield being able to rely on Messi's superb judgment, the trio composed by Iniesta, Ivan Rakitic and Sergio Busquets can focus on the core value of Barcelona's style: possession.
Iniesta has resorted to a style of play that holds up the ball when necessary and that, above all else, maintains possession. Iniesta has been defending and chasing the ball to regain possession much more this season than he has in the previous couple seasons. Rakitic has covered more ground than any other Barça midfielder by playing box-to-box, and has been fantastic in winning back the ball when it's lost on his side. The change in roles for Iniesta and Rakitic, neither of which are racking up the assist or goal stats like they have in previous seasons, is allowing Busquets to do what he does best: sit on top of defense and dictate the pace of every match. Essentially, Messi's versatility has added a 12th man to the starting XI and in doing so, he has allowed a greater freedom to the rest of the squad.
Throughout the season, players like Mathieu and Pique have been involved in the attack, because the fluidity of a player of Messi's skill has opened up the rest of the team and allowed each teammate to cover for the other when appropriate. Sometimes it's Rakitic who is the furthest forward on the pitch, and in other occasions we can see Neymar tracking back and defending next to Jordi Alba just outside the box...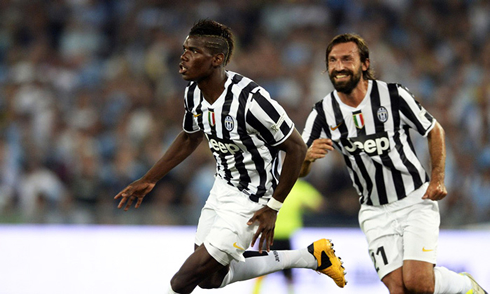 These are important things that Real Madrid needs to take note of, if they hope to challenge for La Liga's title next season. It's a problem Madrid has often been accused of: playing as individuals rather than as a team. When Madrid loses a key player to injury, like they did with Luka Modric this season and with Xabi Alonso the previous season, they can't seem to maintain the same level of synergy. It's clear that Modric's absence had a devastating impact on Madrid's form.
Despite an impressive debut season with the Merengues, the young and extremely talented James Rodriguez wasn't quite able to fill Modric's shoes. Likewise, World Cup winner Toni Kroos seemed absent or aimless in many of the season's most important matches. As for Cristiano Ronaldo, it's safe to state the he did his job this season, providing an incredible 61 goals and 22 assists in total across all competitions. Unfortunately, his team seemed to lack identity and ambition in the latter half of the season.
It would be unfair to completely condemn a player of Kroos's caliber in his debut at a club as big as Real Madrid, and indeed a second season will better tell whether his signing is a success or not, but if Rafa Benitez wants anything more than one season at the helm of Florentino Perez's Real Madrid, he must unite his starting XI and come up with a formation that will exploit all his players' best qualities, just like Luis Enrique seems to have done in Barcelona. Judging by the statistics, the problem does not lie on Ronaldo's side of the pitch. After a disappointing season for Gareth Bale on the right flank, for Karim Benzema as center forward, for goalkeeper Casillas and for defenders Sergio Ramos and Pepe, Benitez will need to find a more cohesive system in order to utilize the wonderful talents at his disposal.
In the mean time, we are headed for a new champion of Europe. Juventus has exemplified teamwork in their campaign to reach the Champions League final, but will be the massive underdog on the day. Their manager, Massimilliano Allegri, has beautifully mixed the old and the new into a cohesive unit, with Italian legends Andrea Pirlo and Gianluigi Buffon leading the club to a possible treble. The impressive 22-year-old Spanish forward Alvaro Morata, a product of Real Madrid's youth squad, has also been fearlessly impressive this season. Mixing the youthful skills of Morata and the French midfield sensation Paul Pogba with experienced players like Pirlo, Buffon and the Argentine striker Carlos Tevez has made for some very exciting and entertaining football.
Barcelona may be the favorites to win on Saturday because of the impeccable form of their front three, but Juventus clearly have the talent, the experience and the drive to pull off an upset. Anything can happen on a game like this, and that's what keeps this game so beautiful...
Author: Malachi Constant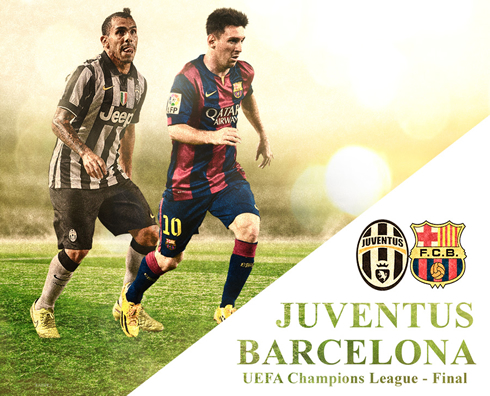 Cristiano Ronaldo next game will be for the Portuguese National Team, on the 13th of June of 2015. You can watch Juventus live stream, Armenia vs Portugal, Juventus vs Barcelona, Ireland vs England, Brazil vs Mexico, and Germany vs USA, all matches provided from our live football section.
Portugal next game:
Armenia vs Portugal kick-off time (13-06-2015):
Beijing (China) | UTC/GMT+8: 00:00
Jakarta (Indonesia) | UTC/GMT+7: 23:00
India (New Delhi) | UTC/GMT+5.30: 21:30
Spain (Madrid) | UTC/GMT+2: 18:00
Portugal and England (Lisbon/London) | UTC/GMT+1: 17:00
Rio de Janeiro (Brazil) | UTC/GMT-3: 13:00
New York (United States) | UTC/GMT-4: 12:00
Los Angeles (United States) | UTC/GMT-7: 09:00
Sources: ronaldo7.net / uefa.com / realmadrid.com / fcbarcelona.com / goal.com