16.05.2015 » Memphis Depay: "Cristiano Ronaldo is my idol"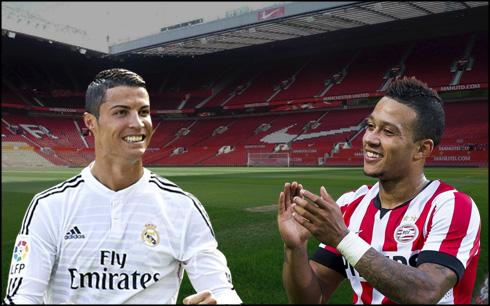 The new Manchester United signing Memphis Depay, has recently granted an interview to De Telegraaf and BBC, in which he admitted that the player he looks up to more than anyone else is the Real Madrid forward Cristiano Ronaldo. The Dutch winger will now try to follow Ronaldo's footsteps in England, after having played the last 4 seasons for PSV.


There have been a lot of players compared to Cristiano Ronaldo over the past few years, but the truth is that most of the times, they never quite live up to the expectations. The last name joining this long list of very talented youngsters was Memphis Depay, the PSV winger who will be joining Manchester United later this summer. The Dutchman, who completed 21 years of age last February, is coming off a season in the Netherlands where he scored 22 league goals out of 29 appearances, playing a vital role in PSV's campaign to the title in the Eredivise. In a brief talk with the media from both England and the Netherlands, Depay revealed that he's very excited about joining Manchester United and that he has always admired Cristiano Ronaldo, ever since the Portuguese ace started playing for the Red Devils.
Memphis Depay - Welcome to Manchester United:
Memphis Depay: "It's a great honor to have a name such as Cristiano Ronaldo associated to mine, especially in those comparisons people make. However, you have to keep it real and I know I am very down to earth when it comes to that...", started by admitting the 21-year old.
Depay: "Cristiano Ronaldo is my idol and he's obviously a very big player, perhaps the best in the world", commented the Dutch international, for whom Manchester United had to pay 25 million pounds to PSV in order to sign him and count with him right in the beginning of next season.
In football and pretty much as it happens in any other sport, at this level it's all about presenting results and winning games. The Dutch midfielder is well aware of that reality and he knows how important his goalscoring vein can turn out to be in order to be sucessful. Depay: "In my business, the most important thing is to win. And to win, you always have to score. If I can do that regularly, our chances to win trophies will increase."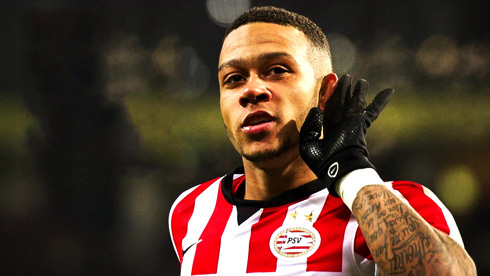 It's quite common to see these new generations of players looking up to players like Ronaldo and in most cases that also includes watching and studying videos from their football idols. Just like Chelsea's Eden Hazard admitted once, Depay also revealed that he watches a lot of footage from Ronaldo.
Depay: "I watched him a lot. I spent plenty of time studying his free-kicks, the way he moves and all that. But at the end of the day, I'm still Memphis and I want to have my own style. I won't try to imitate him, even though I did learn a lot from studying his technique and how he plays", confessed the 21-year old, who is likely to become the main free-kick taker at United when he joins the club during the summer.
Memphis Depay: "I can play from either the left, right or through the middle. I already know my new coach [Louis Van Gaal] from the time we had together in the Dutch National Team and I know he is a very strict manager. That's actually one of the things I like the most in him. Being so young, I really believe he can make me a better player and hopefully, one of the best in the game in the upcoming years", spoke the new Red Devil.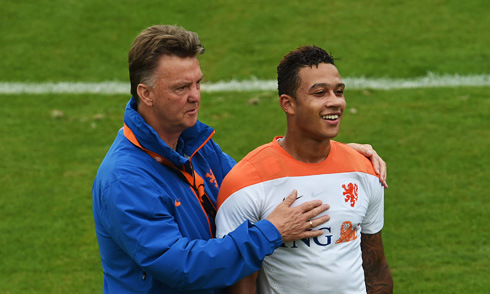 Cristiano Ronaldo next game will be for La Liga against Espanyol, on the 17th of May of 2015. You can watch Juventus live stream, Espanyol vs Real Madrid, Atletico Madrid vs Barça, Manchester United vs Arsenal, Swansea vs Manchester City, and Roma vs Udinese, all matches provided from our football live section.
Real Madrid next game:
Espanyol vs Real Madrid kick-off time (17-05-2015):
Beijing (China) | UTC/GMT+8: 01:00
Jakarta (Indonesia) | UTC/GMT+7: 00:00
India (New Delhi) | UTC/GMT+5.30: 22:30
Spain (Madrid) | UTC/GMT+2: 19:00
Portugal and England (Lisbon/London) | UTC/GMT+1: 18:00
Rio de Janeiro (Brazil) | UTC/GMT-3: 14:00
New York (United States) | UTC/GMT-4: 13:00
Los Angeles (United States) | UTC/GMT-7: 10:00
Sources: ronaldo7.net / goal.com / telegraaf.nl / bt.com