11.05.2015 » The Champions League semi-finals preview: The fight for the final
The Champions League final will be held on the 6th of June this year, at the Olympiastadion in Berlin. Real Madrid, Barcelona, Bayern Munich and Juventus made it all the way to the semi-finals, but only two of them will keep their hopes alive after this week's clashes...


The penultimate week of Champions League action is here. On Tuesday May 12th, Bayern Munich will take on Barcelona at the Allianz Arena. Then on Wednesday May 13th, current champions of the competition Real Madrid will take on Juventus at the Santiago Bernabéu. After that, we will know who will be in the 2015 Champions League final to be played on June 6, at the Olympiastadion in Berlin, Germany. If the final should end up as another "El Clasico" to cap the 2014/2015 season, there is no doubt that it will be one of the most highly anticipated and heavily watched matches in the competition's history. However, the road to the final is not determined for any side yet, and taking a look at the current form and position of each team can help explain why the ties are not quite decided yet...
Champions League semi-finals preview:
Even though there isn't a perfect correlation between money invested and success in a competition such as the Champions League, the truth is that this has always been a crown only at the reach of the biggest football clubs across Europe. As exhibited in a recent report by Ticketbis and when it comes to generate revenues, all semifinalists this year (except Juventus) split honors with Manchester United for the top 4 spots. Real Madrid leads the charts with a total income believed to be around the 549.5 million euros. Not only that, but Ronaldo (Real Madrid), Messi and Neymar (Barcelona) are also the 3 players earning the highest paychecks in this sport.
The tie between Barcelona and Bayern Munich is one that many claim is already over, as Barcelona hosted the German powerhouse last week and put in a masterful shift that ended 3-0 in favor of the Catalonian club. But it was only two seasons ago that Bayern traveled to the Camp Nou and defeated Barça with the same scoreline, in the second leg of their infamous 7-0 aggregate dismantling of the Blaugrana. Of course, a lot has changed since then, and Barcelona and Bayern seemed to have switched places. Back in 2013, Barcelona was hampered by injuries to some of their integral players, such as Lionel Messi and Gerard Pique.
This time around, Barcelona manager Luis Enrique's early season rotation policies seems to be paying dividends, as he has a fully fit squad to choose from. It's Bayern Munich who is suffering on the injury list, with key players David Alaba, Holger Badstuber, Franck Ribery and Arjen Robben all essentially out for the season, and it's safe to say they are not at full strength. However, Bayern is a squad with depth and it's worth noting that during the full 90 minutes of the first match with Barcelona, there were five players from Germany's World Cup winning squad on the pitch at all times, including Mario Gotze, the player who scored the winning goal in the World Cup final against Argentina.
But Bayern Munich has been in a downward spiral as of late, despite having clinched the Bundesliga title some time ago. They've now lost four matches in a row. Those four losses include being knocked out of the German Cup semifinals by their rival Borussia Dortmund, a team that not long ago was battling relegation in the Bundesliga. On Saturday, Bayern lost a league match 0-1 at home to 5th place FC Augsburg, a team that arrives this stage of the season with a goal difference of -1.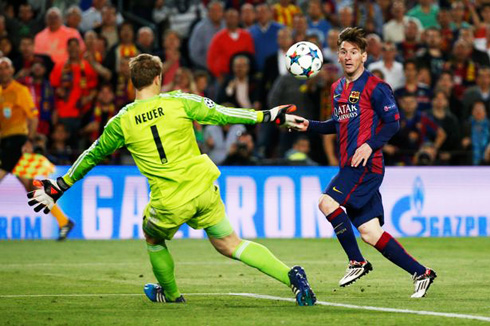 That's right, the team in 5th place in the Bundesliga has a -1 goal difference. Based on their recent form, Bayern Munich are in terrible shape, but they couldn't ask for a better opportunity to turn it all around than Tuesday, at the Camp Nou. Bayern's manager (and Barcelona legend) Pep Guardiola, has a tremendous task set before him. After having been knocked out at the semifinal stage last season by Real Madrid with a 5-0 aggregate, it may be that Pep has gone from the puppet-master to the punching bag for the attacking Spanish football that he himself helped usher into the modern game...
After a trophy-less season last campaign, Barcelona seems like a team revived. Firing on all cylinders, they have won seven matches in a row. On Saturday, they defeated David Moyes's Real Sociedad 2-0, a team that earlier in the season had defeated a Messi and Neymar-less Barcelona. That matched proved to be a turning point in the season for Barça. Rumors of a falling out between manager Luis Enrique and his stars surfaced after the defeat.
But whatever the issues that arised, they seem to have been resolved. Barcelona and Juventus are the only two teams in Europe still capable of winning the highly coveted treble of domestic league, domestic cup and Champions League crown. In their last seven matches, Barcelona has scored 25 goals. The frightening front trio formed by the Brazilian Neymar da Silva, the Uruguayan Luis Suarez and the Argentinean Lionel Messi, has scored 109 goals so far this season in all competitions. While Lionel Messi trails Cristiano Ronaldo by two goals in the race for the Pichichi, he is in second place for top goal scorer in La Liga, and Neymar is tied for third place with Atletico Madrid's Antoine Greizmann. Luis Suarez, despite having missed the opening months of the season due to suspension, has surpassed Real Madrid stars Karim Benzema and Gareth Bale in number of goals scored and sits in sixth place on the goal scorer's table with 16.
Barcelona's defense, previously their weakest area, has been a revelation this season. Both new signings Claudio Bravo and Ter Stegen have displayed fantastic performances as goalkeepers, while Gerard Pique has returned to his best form. Barça's defense has been so effective this season, that in the streak of seven wins they are on, they haven't conceded a single goal. On Tuesday, Bayern will not only have to crack this defense at least 3 times, they will also have to keep Barcelona's attack from getting through. While anything is possible in football, it's not likely that they will be able to own both ends of the pitch and Barcelona are clearly the better positioned team to reach the final.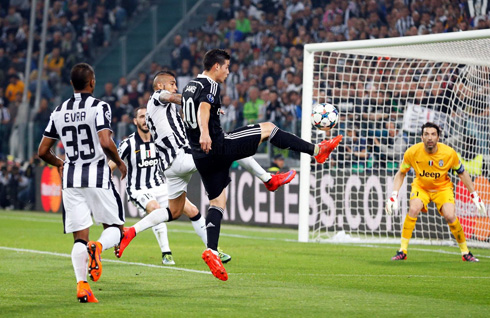 Elsewhere in Spain and in the capital city of Madrid, some pessimists already believe Real Madrid to be knocked out of the competition after a 2-1 away loss to Juventus. But the truth is a 2-1 away loss for the Merengues is far from a knockout. Juve have already won their domestic league in Serie A, they are in the Coppa Italia final, and now they are fighting hard for the chance to reach a Champions League final as well.
Their performance against Real Madrid at their home stadium in Turin, was fast-paced and superb. Once again, the Merengues manager Carlo Ancelotti decided to field Sergio Ramos in the defensive midfield position, opting for a 4-4-2 formation in the absence of the injured center forward Karim Benzema. Javier Chicharito Hernandez and Cristiano Ronaldo led the attack, but without a middleman drawing defenders and allowing the outside runners to create space, the attackers didn't see as much of the ball or create as many opportunities as usual.
Right wing Gareth Bale seems to bare the brunt of Real Madrid's criticisms, sometimes fairly and sometimes not. He was largely absent, having recently returned from injury himself, and it was up to Colombian midfielder James Rodriguez to provide the beautifully lobbed assist from the right for Ronaldo to head in a crucial away goal. The goal brought Ronaldo to a total of 76 in the Champions League, making him the second highest goal scorer in the competition's history, just one behind Messi's 77.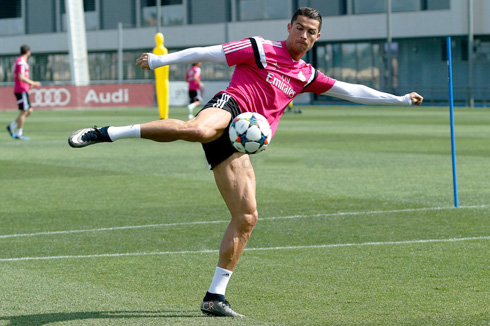 The biggest problem for Real Madrid this season has been their defense. Clean sheets have been an uncommon occurrence. A week ago, they managed a hard-fought 2-3 away win against 5th place Sevilla. Last Saturday, they were only able to draw 4th place Valencia 2-2, essentially handing Barcelona the La Liga title this season, while in between those two matches, losing the 2-1 match to Juventus. That's 6 goals conceded in 3 games, and they've conceded a total of 9 goals in their last 10 matches.
In the match against Juventus, the Bianconeri's first goal came inside the 10-minute mark from former Real Madrid striker Alvaro Morata. The Merengues went into half time 1-1, seemingly confident. But just 10 minutes into the second half, Spanish right-back Dani Carvajal gave away a penalty to Juventus after a poor challenge on Carlos Tevez in the box. The former Manchester United striker buried the penalty kick and gave Juventus the win, but only a slight advantage considering the away goal Real Madrid was able to get.
On Wednesday, Real Madrid needs to work heavily on defense, because the experienced Carlos Tevez and the youthful Alvaro Morata will be out for more blood. A 1-0 win would see the Spanish club through to the final, which they are more than capable of pulling off if all the players are as committed to defending as they are to attacking. This tie belongs to whoever wants it more, because while Juventus may be in better form at the moment, if there is one thing that both old and recent history has shown us, is that Real Madrid always face adversity head on and that the Champions League is their favorite time to shine.
Author: Malachi Constant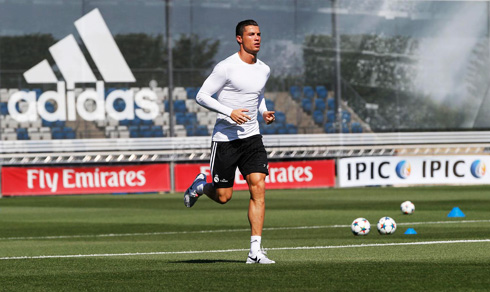 Cristiano Ronaldo next game will be for the UEFA Champions League semi-finals second leg against Juventus, on the 13th of May of 2015. You can watch Juventus live stream, Real Madrid vs Juventus, Bayern Munich vs Barça, Fiorentina vs Sevilla, Arsenal vs Swansea, and Dnipro vs Napoli, all matches provided from our sports live streaming game pages.
Real Madrid next game:
Real Madrid vs Juventus kick-off time (13-05-2015):
Beijing (China) | UTC/GMT+8: 02:45
Jakarta (Indonesia) | UTC/GMT+7: 01:45
India (New Delhi) | UTC/GMT+5.30: 00:15
Spain (Madrid) | UTC/GMT+2: 20:45
Portugal and England (Lisbon/London) | UTC/GMT+1: 19:45
Rio de Janeiro (Brazil) | UTC/GMT-3: 15:45
New York (United States) | UTC/GMT-4: 14:45
Los Angeles (United States) | UTC/GMT-7: 11:45
Sources: ronaldo7.net / uefa.com / fcbarcelona.com / cnn.com / juventus.com