26.03.2015 » Varane: "Cristiano Ronaldo is an example to everyone"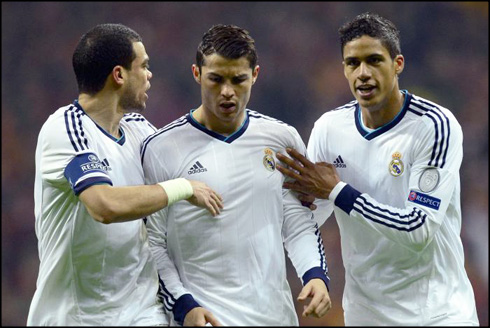 One of Cristiano Ronaldo's biggest admirers has been apparently training right next to him in Madrid. While in France, the Frenchman Raphael Varane spoke a few words to "La Voix Des Sports" and lauded his Portuguese teammate by highlighting his impressive work ethics.


After last Sunday's "Clasico" at the Camp Nou, pretty much every Real Madrid player joined their national team's camp in order to prepare either a few international friendlies and/or the qualifiers for next year's EURO 2016. That's been the case for both Raphael Varane and Cristiano Ronaldo, with the first one committed to help his side in a 2-friendly journey against Brazil and Denmark (France lost 1-3 to Brazil earlier this Thursday), while the Portuguese forward hopes to lead his fellow countrymen to a victory in the EURO 2016 qualifier against Serbia, scheduled for this Sunday night.
Raphael Varane - Real Madrid defender:
It's been during the current international break that Raphael Varane decided to speak about his current role in Real Madrid and what he thinks of Cristiano Ronaldo in terms of his importance to the rest of the team.
Varane: "When we talk about Cristiano Ronaldo we must first understand we're talking about a true superstar. He's a tremendously professional athlete and one of the things he does like few is to listen to his body in order to always be at his best physically.
Raphael Varane: "Ronaldo is a true competitor and he always give 200% in everything he does, may that be in practice or during a game. He's a very cool person, very kind and in my opinion he's definitely setting a great example for everyone to follow...", stated the French center defender as he praised Cristiano Ronaldo, who has been under fire over the past few months.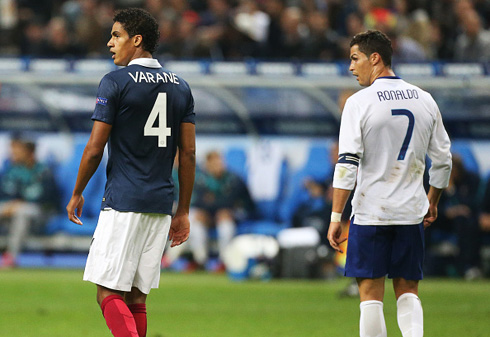 Varane arrived to Real Madrid back in 2011, when the club still had José Mourinho as the first team coach. Even though his 10-million euros price tag didn't put much pressure on his shoulders, it took him only a few months to start proving his value and showing how a 18-year old could earn his place in a squad full of superstars like Real Madird has at their disposal, year after year.
Now aged 21, the Frenchman already has 105 appearances for the Merengues in all competitions. Despite the impressive numbers for such a young player playing in Madrid, he's naturally hoping to gain even more influence in the team over the next few years...
Varane: "I think I improved a lot, especially from a mental perspective. What I would like the most now is to start becoming a more regular choice in the first team. I'm well aware of the challenge I have in hands, since that's something very common in all the players who come to this club", affirmed the 21-year old, who over the last seasons has been competing with Pepe and Sergio Ramos for a starting spot in the team.
Even though most of the critics appear to agree on the fact that Real Madrid have gotten a bit more vulnerable and significantly worse this season, the French defender prefers to think otherwise. Varane: "I really feel we progressed this season, especially because we had to go through a rough patch. I believe that's one of those circumstances in football where we get to learn the most!", convincingly affirmed the former RC Lens football player.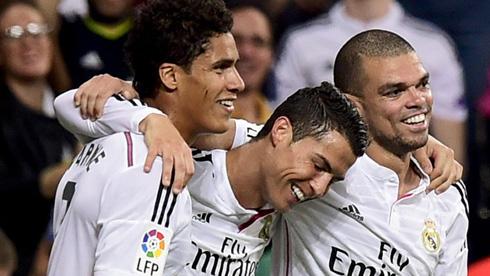 Cristiano Ronaldo next game will be for the Portuguese National Team against Serbia, on March 29 of 2015. You can watch Juventus live stream, Portugal vs Serbia, Spain vs Ukraine, England vs Lithuania, El Salvador vs Argentina, and Netherlands vs Turkey, all matches provided from our football streaming section.
Portugal next game:
Portugal vs Serbia kick-off time (29-03-2015):
Jakarta (Indonesia) | GMT+6: 02:45
Spain (Madrid) | GMT+1: 21:45
Portugal and England (Lisbon/London) | GMT+0: 20:45
Rio de Janeiro (Brazil) | GMT-4: 16:45
New York (United States) | GMT-5: 15:45
Los Angeles (United States) | GMT-8 12:45
Beijing (China) | GMT+7: 03:45
Sources: ronaldo7.net / goal.com / espnfc.com / sports.fr / kickoff.com