05.03.2015 » Cristiano Ronaldo is still the world's richest football player in 2015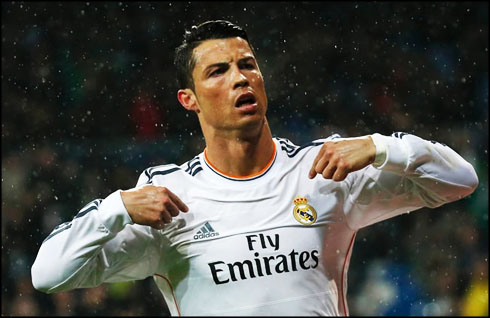 Without much surprise, it was Cristiano Ronaldo who ended up topping the list for the richest football player in the World, in a yearly ranking published by Goal.com earlier this Thursday. Barcelona's Lionel Messi and Neymar Jr were left a few millions behind CR7 and had to settle with the remaining places of the podium.


For the second year in a row, Cristiano Ronaldo was ranked the richest footballer in the World according to Goal.com's Rich List. The Real Madrid and Portuguese star has a personal wealth estimated at 210 million euros, while his Barcelona's archrival Lionel Messi has a personal fortune slightly smaller and believed to be worth something around the 200 million euros. Just like it happens in pretty much every award they're eligible to win on the pitch, Ronaldo and Messi are also miles away from their competition in this Goal Rich List rankings. A good way to atest that is to simply look at the wealth's measurement made for the 3rd place athlete Neymar Jr, who had his personal fortune valued at 135 million euros (75 million euros less than Ronaldo's and 65 million euros less than Messi's).
Cristiano Ronaldo - I'm not finished yet:
Let's start by taking a quick look at the following table, which contains Goal Rich List's for the top 10 wealthiest footballers in 2015.
#1

Cristiano Ronaldo

Real Madrid

€210 M

#2

Lionel Messi

Barcelona

€200 M

#3

Neymar Jr

Barcelona

€135 M

#4

Zlatan Ibrahimovic

PSG

€105 M

#5

Wayne Rooney

Manchester United

€103 M

#6

Kaká

Orlando City SC

€96 M

#7

Samuel Eto'o

Sampdoria

€87 M

#8

Raúl

Al Sadd SC

€85 M

#9

Ronaldinho

Querétaro

€83 M

#10

Frank Lampard

Manchester City

€80 M
Two things that are important to bear in mind when looking at these rankings is that the list only comprises footballers who are still playing and that the wealth level of each player results of an estimation based not only on the fortune they may have accumulated in the last 12 months, but instead on the wealth they have generated since the beginning of their careers.
The wealth measurement was made by several industry specialists together with multiple finance professionals, who then worked thoroughly in order to come up with estimations that naturally intended to be very as close to reality as possible. Some of the variables taken into consideration in these calculations were the player's salary, the length of his contract, any special bonuses, endorsement and sponsorship deals, properties owned and all sort of businesses interests they may be involved in.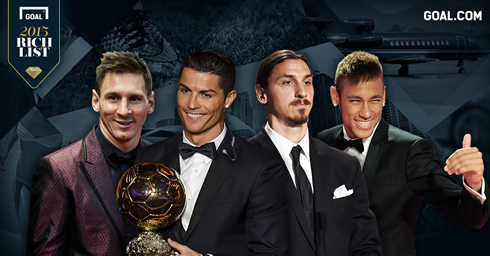 Now let's briefly go through some of the names on the list and highlight what assets may have contributed the most for these players to have had the chance of being featured in this top 10 ranking list.
We'll start right on the top of this year's 2015 Goal Rich List, where Cristiano Ronaldo and Lionel Messi clearly outperformed all the other athletes. If the two were to combine their fortunes, their wealth would represent 35% of the total amount coming from all the 10 players in this list. Ronaldo's current contract allows him to cash-in close to 18.2 million euros per year, while Messi is allegedly the player under the largest pre-tax contract in the world these days. They both hold a wide range of investments outside football and they'll certainly keep these 2 top spots on the list for as long as they keep playing...
If we put aside Ronaldo and Messi, it's interesting to note that there's only one player on this list who is still closer to his 20's than his 30's. We're talking about Neymar Jr, who, at 23-years old age, already has a fortune believed to be around the 135-million euros mark. He's definitely one of the most marketable footballers in the world and even though he's still earning a somewhat modest salary of 8.8 million euros per year in Barcelona, he's expected to get a significant raise at the end of the current season.
The other two names featuring on the first half of this top 10 list and who are still holding a fortune above the 100-million mark are PSG's Zlatan Ibrahimovic and Manchester United's Wayne Rooney. The first has experienced diferent contracts in many different top clubs in Europe throughout his career, while Rooney has preferred to remain loyal to the Red Devils ever since he joined them in 2004 and he's now reportedly earning 18.9 million euros a year from his salary. Zlatan also represents several popular brands such as Nivea, Xbox or Volvo, whilst Rooney has strategically teamed up with Nike and Samsung.
All image rights belong to Goal.com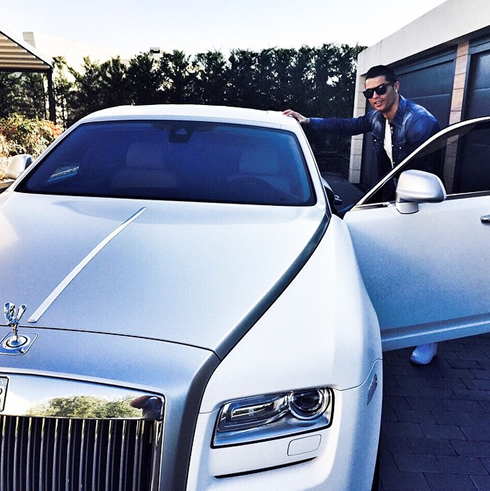 Cristiano Ronaldo next game will be in La Liga against Athletic Bilbao, on March 7 of 2015. You can watch Juventus live stream, Athletic Bilbao vs Real Madrid, Barcelona vs Rayo Vallecano, QPR vs Tottenham, Bradford City vs Reading, and Stuttgart vs Hertha Berlin, all matches provided from our soccer live game pages.
Real Madrid next game:
Athletic Bilbao vs Real Madrid kick-off time (07-03-2015):
Jakarta (Indonesia) | GMT+6: 23:00
Spain (Madrid) | GMT+1: 18:00
Portugal and England (Lisbon/London) | GMT+0: 17:00
Rio de Janeiro (Brazil) | GMT-4: 13:00
New York (United States) | GMT-5: 12:00
Los Angeles (United States) | GMT-8 09:00
Beijing (China) | GMT+7: 00:00
Sources: ronaldo7.net / goal.com / forbes.com / dailymail.co.uk / manutd.com