03.02.2015 » Jorge Mendes: "Cristiano Ronaldo buyout clause is 1 billion euros"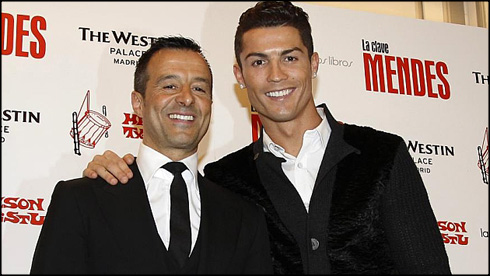 How much is Cristiano Ronaldo really worth these days? Can an athlete be priced according to his buyout clause? His agent Jorge Mendes, recently talked with BBC in England and claimed that Ronaldo is worth the 1 billion euros fee that were set as his buyout clause in his last contract signed with Real Madrid.


The 2015 winter transfer window in Europe is now closed and who better than Jorge Mendes, the world's most powerful football agent, to talk through some of the most trending topics in the sport and also share his view on what could happen in Cristiano Ronaldo's future? The Portuguese "special agent" granted an interview to BBC and even though he started by defending the idea that Cristiano Ronaldo's market value can indeed be determined by his buyout clause of 1 billion euros, he also admitted that if Real Madrid ever decides to sell him for 300 million euros in a near future, someone will certainly step up to pay for that transfer fee.
Jorge Mendes - The BBC interview:
Before talking to BBC, the 50-year old businessman launched his book "Jorge Mendes, the special agent" this past Monday, in Lisbon. The book's preface was written by Cristiano Ronaldo, the player who ended up propelling him to stardom back in 2003. In his ceremonial speech, Mendes started by commenting on FIFA's controversial decision of prohibiting the involvement of investment funds in football players' transfers...
Mendes: "No one should be allowed to forbid a player to find a better club and a better job because of a decision like this. It simply shouldn't be possible and it's definitely illegal. An investment fund represents the need that a football club has to find cash", pointed out the Portuguese football agent.
The conversation quickly turned to topics more related about Cristiano Ronaldo though, with the first one being his alleged knee problems.
Jorge Mendes: "He's totally fine today and he has no problem related to his previous injury. What he wants the most is to play as soon as possible and I'm sure that whenever he returns, he'll do it in the same determined way that he has always used us to."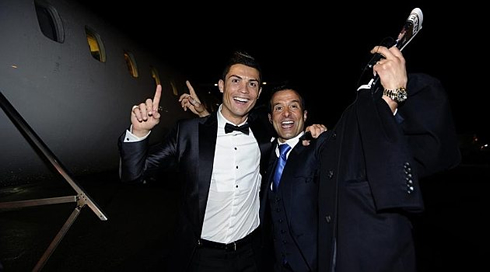 The Portuguese agent then went a bit further and admitted that his "protégé" has already forced himself to play through injuries in several occasions in the past, and he has done that because he always puts his teams' interests first.
Mendes: "If Ronaldo wasn't the professional he is, he probably would have stopped and taken a break a lot more times than he did. It happened in last summer's World Cup with the Portuguese National Team for example, where I'm sure that most of the other players out there would have simply stepped back under those conditions. Ronaldo will always want to play, even if that means getting to the World Cup very limited as he did...", revealed the 50-year old agent.
When asked to express his view on Cristiano Ronaldo's real value and how much would it cost for some other club to snatch him from Real Madrid, Jorge Mendes started by stating that it will be almost impossible for Ronaldo to leave Spain, unless Florentino Pérez ends up deciding to put him on the market.
Jorge Mendes: "Cristiano Ronaldo is the best football player in the world and we simply can't compare him with anyone else. He's worth 1 billion euros because that's precisely the buyout clause that is stated in his contract with Real Madrid and therefore, I don't think it's possible for anyone to pay that kind of value. However and if Florentino Pérez ever decides to sell him, I can see other clubs willing to step up if the transfer fee is set at around 300 million euros. I don't think Ronaldo will leave Real Madrid anytime soon though...", commented Mendes.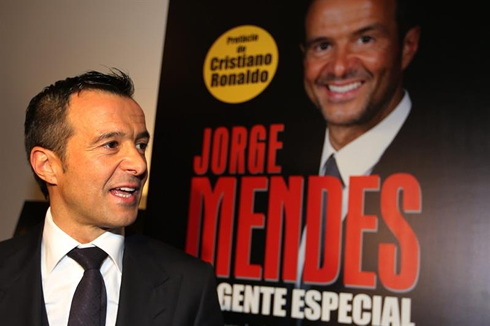 Cristiano Ronaldo next game will be for the Spanish League against Atletico Madrid, on the 7th of February of 2015. In the meanwhile, you can watch Real Madrid vs Sevilla, Bolton vs Liverpool, Manchester United vs Cambridge United, Roma vs Fiorentina, and Bayern Munich vs Schalke, all matches provided from our football streaming game pages.
Real Madrid next game:
Real Madrid vs Sevilla kick-off time (04-02-2015):
Jakarta (Indonesia) | GMT+6: 01:45
Spain (Madrid) | GMT+1: 20:45
Portugal and England (Lisbon/London) | GMT+0: 19:45
Rio de Janeiro (Brazil) | GMT-4: 16:45
New York (United States) | GMT-5: 14:45
Los Angeles (United States) | GMT-8 11:45
Beijing (China) | GMT+7: 02:45
Sources: ronaldo7.net / bbc.com / maisfutebol.iol.pt / record.pt / abola.pt / goal.com