28.01.2015 » Cristiano Ronaldo is handed a 2-game ban in La Liga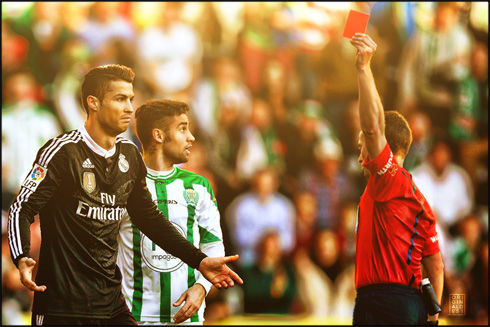 The Spanish Football Disciplinary Committee have announced their decision on Cristiano Ronaldo's punishment following the red card he has seen against Cordoba last weekend, handing the Real Madrid forward a two game ban "effective immediately". Ronaldo will miss the upcoming games against Real Sociedad and Sevilla, but he will be available for the derby against Atletico, on February 7.


Cristiano Ronaldo is certainly happy to know that he escaped a more severe punishment from the Spanish Football Discplinary Committee, after hearing today's announcement that his suspension has been set in the conventional 2-game ban. The Portuguese star was sent off with a straight red card against Cordoba last weekend and there were concerns that the league's disciplnary committee wasn't going to be soft on him this time around (the ban could have gone up to a 12-match ban, had his conduct been considered as violent). Fortunately, that hasn't been the case and Ronaldo will now have to serve his suspension in Real Madrid's fixtures against Real Sociedad (Jan 30) and Sevilla (Feb 4). The 2014 FIFA Ballon d'Or winner will be back just in time for the crucial league derby against Atletico Madrid in the Vicente Calderón, scheduled for February 7.
Cristiano Ronaldo - All the red cards he has seen in his career:
The 2-game ban announcement was made earlier this Wednesday and it basically means that the Spanish Football Disciplinary Committee decided not to aggravate the conventional punishment for when a player is shown a straight red card in Spain, which is a 2-game ban.
Since Cristiano Ronaldo arrived to Real Madrid in the summer of 2009, this was the 5th time the Portuguese forward got sent off from a game in Spain. This season however, it was the first time the 29-year old got involved in delicate situations like these, which may have in fact helped him making a case with the Disciplinary Committee. Moreover and shortly after last Saturday's incident against Cordoba, the Real Madrid forward also didn't lose time in presenting his apologies in public, which is something that is always taken into consideration by the Disciplinary Committee.
Cristiano Ronaldo: "I want to apologize everyone and especially Edimar, for my thoughtless action in today's game", stated the Portuguese striker in his social media pages, just a couple hours after the match between Cordoba and Real Madrid was over.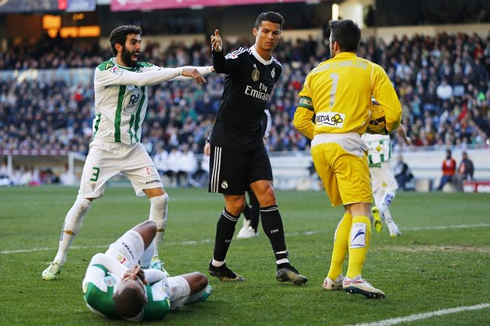 Cristiano Ronaldo's suspension will rule him out from Real Madrid's upcoming games against Real Sociedad and Sevilla. Both games will take place at the Santiago Bernabéu and the first one is already agended to this Saturday afternoon (Jan 31). The league match against Sevilla will be played on next week's Wednesday (Feb 4) and it actually concerns a postponed fixture from late December, which Real Madrid couldn't attend due to their participation in the FIFA Club World Cup in Morocco.
Nevertheless and without Cristiano Ronaldo for the next two La Liga fixtures, it's up to the likes of James Rodríguez, Isco, Karim Benzema or Gareth Bale to step up and deliver the goals that are usually scored by CR7. One of the players who has already commented on Ronaldo's absence was precisely Bale...
Gareth Bale: "I already had an agreement with Ronaldo where we determined that whenever a free-kick is on the left it's for him to take it, and whenever it's on the right it's mine. However and now that we know that Cristiano Ronaldo won't be playing in the next few games, I hope to have a few more opportunities myself to score more goals for the team", stated the former Tottenham winger in an interview granted to "Cadena Ser".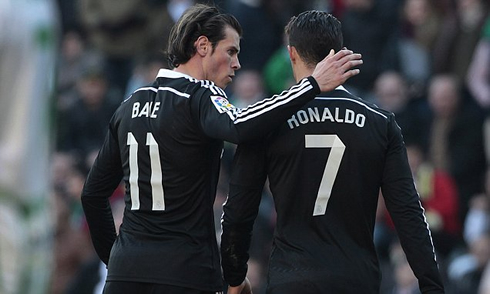 Cristiano Ronaldo next game will be for La Liga against Real Sociedad, on the 31st of January of 2015. You can watch Juventus live stream, the Real Madrid vs Real Sociedad, Atletico Madrid vs Barcelona, Chelsea vs Manchester City, Hull vs Newcastle, and Wolfsburg vs Bayern Munich, all matches provided from our soccer live game pages.
Real Madrid next game:
Real Madrid vs Real Sociedad kick-off time (31-01-2015):
Jakarta (Indonesia) | GMT+6: 21:00
Spain (Madrid) | GMT+1: 16:00
Portugal and England (Lisbon/London) | GMT+0: 15:00
Rio de Janeiro (Brazil) | GMT-4: 12:00
New York (United States) | GMT-5: 10:00
Los Angeles (United States) | GMT-8 07:00
Beijing (China) | GMT+7: 22:00
Sources: ronaldo7.net / goal.com / marca.com / as.com / espnfc.com