12.01.2015 » Cristiano Ronaldo wins the 2014 FIFA Ballon d'Or!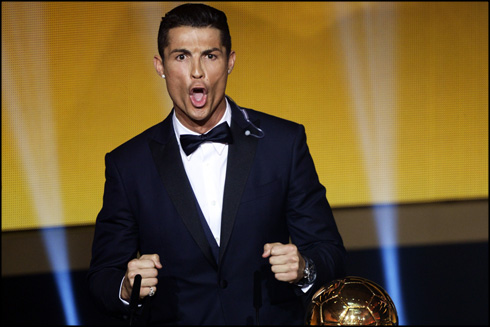 Cristiano Ronaldo won the 2014 FIFA Ballon d'Or, after finishing ahead of Lionel Messi (2nd) and Manuel Neuer (3rd). The Portuguese star collected his third trophy of his kind and didn't hesitate in promising that he'll keep going after more in the upcoming years.


All eyes were on Zurich this Monday evening, as the 2014 FIFA Ballon d'Or gala was held at the Kongresshaus, in Switzerland soil. The event crowned Cristiano Ronaldo as the best player in the world in 2014, allowing the Real Madrid forward to retain the award he had already won last year (2013) and which he first won in 2008, while still playing for Manchester United. With tonight's hat-trick completion of FIFA Ballon d'Ors, Cristiano Ronaldo is now only one short of Lionel Messi 4 straight trophies (2009-2012). Despite his somewhat struggling year, the Barcelona star finished second in the voting, in front of Bayern Munich's goalkeeper Manuel Neuer, who despite having won the FIFA World Cup with Germany, failed to go beyond a still honorable 3rd place.
The 2014 FIFA Ballon d'Or award announcement:
Just like in previous years, Cristiano Ronaldo attended the 2014 FIFA Ballon d'Or ceremony next to his son, mother, a few family members and a couple of his close friends. The only person missing at the event was his girlfriend Irina Shayk, for still unknown reasons.
The 29-year old received his 3rd career FIFA Ballon d'Or (2008, 2013 and 2014), after beating Barcelona's Lionel Messi and Bayern Munich's Manuel Neuer on the finish line.
2014 FIFA Ballon d'Or voting results:
1st place: Cristiano Ronaldo (Real Madrid/Portugal)
37,66% of the votes
2nd place: Lionel Messi (Barcelona/Argentina)
15,76% of the votes
3rd place: Manuel Neuer (Bayern Munich/Germany)
15,72% of the votes
You can take a look at the full voting list in .PDF here: FIFA Ballon d'Or votes.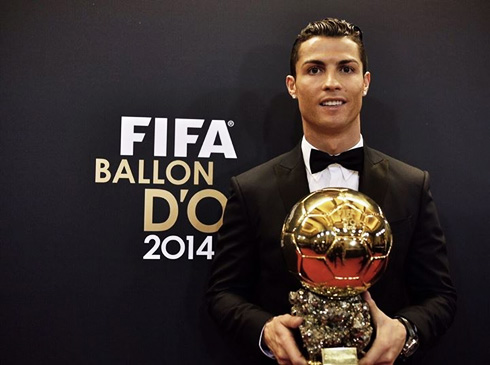 A few moments after the former Arsenal legend Thierry Henry had announced Cristiano Ronaldo as the 2014 FIFA Ballon d'Or winner, the Portuguese ace took the stage and granted the usual speech to thank everyone who helped getting there. This time though and unlike what happened last year, there weren't tears coming down his face, but there was still time for a quite unusual shouting at the end, which certainly caught everyone by surprise.
Cristiano Ronaldo: "I'm trying to spot my son, my family or my mother... I have to thank everyone, especially those who voted for me, but also my coach, my teammates, my president and all the Real Madrid fans. Last year was unforgettable for me, both on an team and personal level and as you can imagine, winning a trophy of this dimension is really something unique. I'm very happy and I'm sure this will give me even more motivation to keep working as I've been doing until now and eventually win more collective and individual titles in the future", started by remarking the 29-year old forward, who finished last year with 61 goals scored for both Real Madrid and Portugal.
Ronaldo: "Thank you mother, son and siblings, as well as my father who I'm sure is looking at me from up there. Thank you to everyone who help me getting better day after day, the Portuguese National Team and the Portuguese people in particular. It's a real special moment for me and I never thought I would be winning this Ballon d'Or 3 times as I've done now. However, I hope not to slow down from now on and I'm counting on catching up with Messi already next year. It's not something that takes my sleep away, but it's my ambition to become the best football player of all-time. Day after day, I'll keep giving my best and with the team and individual titles that will hopefully come along, I'm confident I'll accomplish that feat. Thank you everyone and have a good night", concluded Ronaldo, before shouting out loud some sort of a war roar, similar to the one he does when he scores goals for Real Madrid and Portugal.
Below, you can find the results for the other main awards of the night.
2014 Men's World Coach voting results:
1st place: Joachim Loew, German National Team (36,23% of the votes)
2nd place: Carlo Ancelotti, Real Madrid (22,06% of the votes)
3rd place: Diego Simeone, Atletico Madrid (19,02% of the votes)
2014 Puskás voting results:
1st place: James Rodríguez (Real Madrid/Colombia)
2nd place: Stephanie Roche (Asptt Albi/Republic of Ireland)
3rd place: Robin van Persie (Manchester United/Netherlands)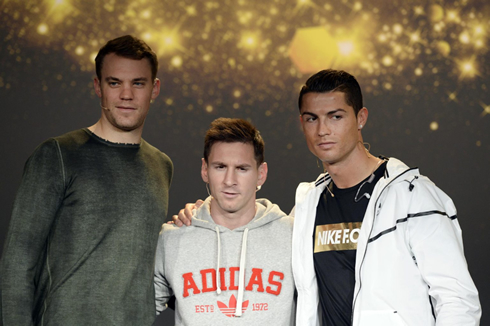 Cristiano Ronaldo next game will be the Copa del Rey second leg against Atletico Madrid, scheduled for the 15th of January of 2015. You can watch Juventus live stream, the Real Madrid vs Atletico Madrid, Elche vs Barcelona, West Ham vs Everton, Ipswich Town vs Southampton, and Newcastle vs Southampton, all matches provided from our soccer live streaming game pages.
Real Madrid next game:
Real Madrid vs Atletico Madrid kick-off time (15-01-2015):
Jakarta (Indonesia) | GMT+6: 01:00
Spain (Madrid) | GMT+1: 20:00
Portugal and England (Lisbon/London) | GMT+0: 19:00
Rio de Janeiro (Brazil) | GMT-4: 15:00
New York (United States) | GMT-5: 14:00
Los Angeles (United States) | GMT-8 11:00
Beijing (China) | GMT+7: 02:00
Sources: ronaldo7.net / fifa.com / realmadrid.com / goal.com / time.com