11.12.2014 » The pure brilliance of Real Madrid's record-breaking winning streak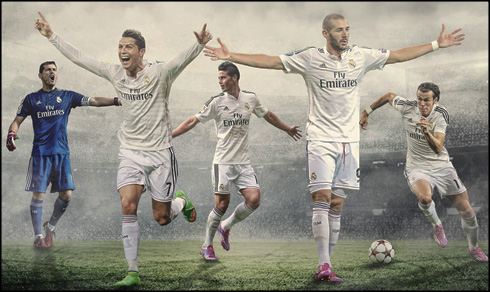 This Real Madrid team never cease to surprise us and their latest achievement was to break the all-time record of consecutive wins in Spain, raising the bar to an outstanding mark of 19 victories in a row. The Merengues will now be chasing a 24-win Guinness World Record currently held by a Brazilian football team called Coritiba, but with players like Cristiano Ronaldo in their ranks, it's safe to say that the sky is the limit...


It's almost impossible to explain in words the difficulty of winning 19 straight matchesin top-level football. We aren't talking about lower-level football where the competition can sometimes be quite lackluster. No, we're talking about the top division in Spanish football and the top competitions that football has to offer. Real Madrid's incredible winning streak has now reached the 19-game mark, surpassing Barcelona's Spanish record of 18 straight victories. While everyone realizes the impressive nature of the streak, we all may still be underestimating the sheer brilliance of such a run. Curiously, this streak has started on September 16 of 2014, when Real Madrid was coming from two consecutive losses, first against Real Sociedad and then against Atletico Madrid...
Real Madrid - Counter-attacks experts:
It has been apparent for a while now, that Real Madrid has assembled perhaps the most talented side in all of football. Cristiano Ronaldo, Karim Benzema, Gareth Bale, James Rodriguez, and the list goes on, and on. The amount of talent on this team almost seems unfair. If one player goes out, there's another right there to step in and allow the team to not miss a beat.
But talent alone doesn't always get you the desired results. There are plenty of talented teams in the world of football that are struggling to find a chemistry on the pitch. Not Real Madrid though... This squad's overall chemistry is increasing game by game, and that must be a scary thought if you're the opposition. This team has outscored their opponents 71-9 during the streak, a statistic that simply boggles the mind. 71-9? Is that even possible? It most certainly is with this team...
It's also important to keep in mind the target that is on this team's back each and every time it takes the pitch. Real Madrid are the defending European champions, which was reason enough for everyone to be aiming at them this season. But now with a 19-game winning streak as well? The target has gotten even larger and the room for error has gotten even smaller.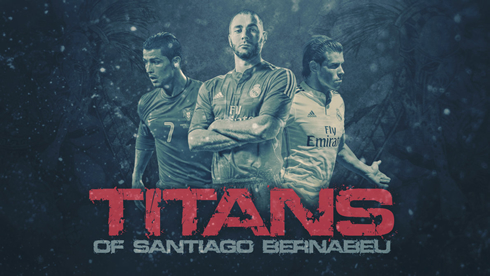 However, somehow, this team continues to face all challengers head-on. There have been few times throughout this streak where you sensed that this team would lose. That's how good they've been. Doubt can always set in on a team, especially when the stakes are at their highest and pressure is mounting, but this particular team seems unfazed so far...
Cristiano Ronaldo continues to show why he is the best player in the world and the likely winner of the 2014 FIFA Ballon d'Or. While his goal-scoring ability obviously has helped, it's his overall leadership on the pitch that has been flying under the radar. He is making his teammates better every single game and that is resulting in convincing win after convincing win. When you're the best player in the world, that's what you should be doing. It's not just about the scoring, it's about the overall package. If there has ever been any doubt that he is the most phenomenal player in the sport, this winning streak is helping silence the critics.
The question is, how long will the streak continue? The easy answer is that there just isn't any way of knowing. But, should Real Madrid continue to play at the level that they've been playing at, they could be on pace to accomplish a streak the likes of which we've never seen before in football.
And that possibility in and of itself, should tell you just how special this team is.
Author: Blake Lovell / Football.com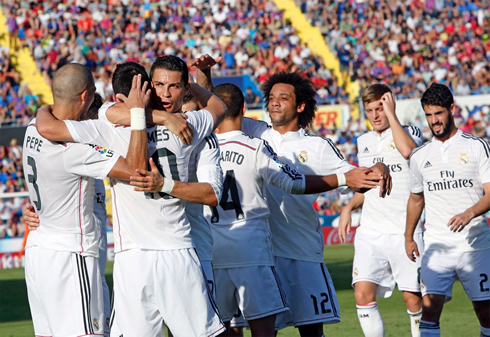 Cristiano Ronaldo next game will be a La Liga fixture against Almeria, scheduled for next Friday, the 12th of December. You can watch Juventus live stream, Almeria vs Real Madrid, Getafe vs Barcelona, Leicester vs Manchester City, Arsenal vs Newcastle, and Augsburg vs Bayern Munich, all matches provided from our football streaming game pages.
Real Madrid next game:
Almeria vs Real Madrid kick-off time (12-12-2014):
Jakarta (Indonesia) | GMT+6: 01:45
Spain (Madrid) | GMT+1: 20:45
Portugal and England (Lisbon/London) | GMT+0: 19:45
Rio de Janeiro (Brazil) | GMT-4: 15:45
New York (United States) | GMT-5: 14:45
Los Angeles (United States) | GMT-8 11:45
Beijing (China) | GMT+7: 02:45
Sources: ronaldo7.net / football.com / espnfc.com / fifa.com / supersport.com