08.12.2014 » James: "Ronaldo should win the Ballon d'Or with 99% of the votes"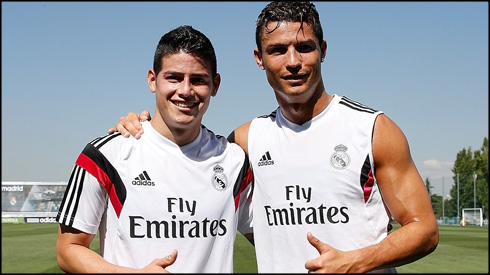 It didn't take very long for James Rodríguez to convince most of Real Madrid fans that he had resulted in a good investment for the club. The 23-year old midfielder granted an interview to MARCA in Spain, and at a point of his talk he didn't hesitate in claiming that the upcoming FIFA Ballon d'Or award must go to his teammate in Madrid, Cristiano Ronaldo.


We're one month away from knowing who wins the FIFA Ballon d'Or 2014, but in James Rodríguez's mind, there are already no doubts at all about who deserves it the most. In a long talk with the Spanish newspaper MARCA, the Colombian and Real Madrid playmaker defended the thesis that no one else in this game has done more than Cristiano Ronaldo in 2014, and that, for that reason alone, he should be the one winning the Ballon d'Or. The ceremony will be hosted in Zurich next January 12 and Ronaldo is currently the main favorite in a final shortlist that gets completed by Barcelona's Lionel Messi and Bayern Munich's Manuel Neuer.
Cristiano Ronaldo and James Rodríguez - Real Madrid special duo:
Real Madrid are on the verge of reaching their 19th straight win, as they now prepare to host Ludogorets Razgrad this Tuesday night, for the UEFA Champions League Matchday 6. Even though this feat has already allowed them to set a new club record and getting only one victory away from beating Frank Rijkaard and Barcelona's memorable 18-game winning streak, James revealed that there haven't been many talks about it within the dressing room.
James Rodríguez: "First and foremost, we all feel very proud for having won so many games lately, regardless of that allowing us to set a new record or not. The players haven't been talking much about it though, since we've been trying to only focus at one game at a time, which naturally is always the next game we have in our schedule", stated the former FC Porto and AS Monaco player, who ended up being transferred to Real Madrid this last summer, after the Spanish club agreed to pay a reported fee of 80-million euros for his services.
James Rodríguez: "I never felt an exaggerated pressure for playing in a big club like Real Madrid. I try not overthink these kind of things and just concentrate in what I do best, which is playing football. Fortunately, I've already had the chance of dealing with situations similar to these during my time in Portugal (FC Porto) and France (AS Monaco), and that's definitely helped me. However, I'm now in the best football club in the World and indeed, there's still a significant difference in terms of pressure and in what people expect from me...", noted the Merengues number 10, who already scored 9 goals in his first 24 appearances for the club.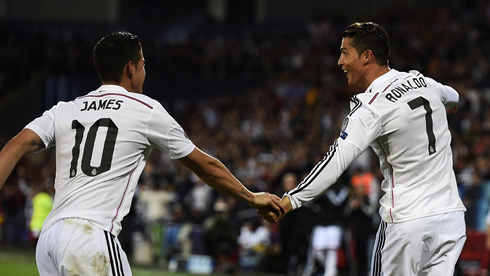 Last weekend didn't bring only good news for both James Rodríguez and Real Madrid. The Spanish powerhouse got to beat Celta de Vigo at the Santiago Bernabéu by a 3-0 scoreline, but they also ended up losing James to injury right in the beginning of the second half. The club issued a medical report about the Colombian star earlier this Monday, where they confirmed a muscular injury in right leg calf. Depending on how his recovery process goes, it seems very likely that he may have to miss the next few weeks of competition, including the FIFA Club World Cup games, scheduled for later in the month.
Nevertheless, the 23-year old player remains optimistic about his future and even though he prefers not to talk about his chances of winning the FIFA Ballon d'Or at least once in the years he still has ahead of him, he has a very clear idea on who should win it this year.
James Rodríguez: "Winning the FIFA Ballon d'Or is any football player's dream, but right now, it's an award that belongs to Cristiano Ronaldo. This year he'll win it again, quite simply because he deserves it more than anyone else. In my opinion, he should win it with 99% of the votes. Just like our coach [Carlo Ancelotti] has recently said, there's an abysmal difference between what Ronaldo has done throughout 2014 and what the others players in this list have shown", remarked the Real Madrid midfielder.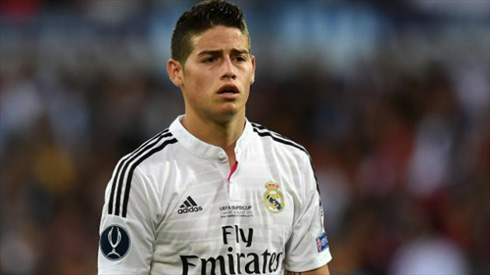 Cristiano Ronaldo next game will be a UEFA Champions League fixture against Ludogorets Razgrad, scheduled for this Tuesday, December 9th. You can watch Juventus live stream, Real Madrid vs Ludogorets, Juventus vs Atletico Madrid, Liverpool vs Basel, Galatasaray vs Arsenal, and Borussia Dortmund vs Anderlecht, all matches provided from our sports streaming game pages.
Real Madrid next game:
Real Madrid vs Ludogorets Razgrad kick-off time (09-12-2014):
Jakarta (Indonesia) | GMT+6: 01:45
Spain (Madrid) | GMT+1: 20:45
Portugal and England (Lisbon/London) | GMT+0: 19:45
Rio de Janeiro (Brazil) | GMT-4: 15:45
New York (United States) | GMT-5: 14:45
Los Angeles (United States) | GMT-8 11:45
Beijing (China) | GMT+7: 02:45
Sources: ronaldo7.net / realmadrid.com / marca.com / bbc.com / eurosport.com