26.07.2014 » Real Madrid 1-1 (3-4 APK) Inter Milan. Not a bad first test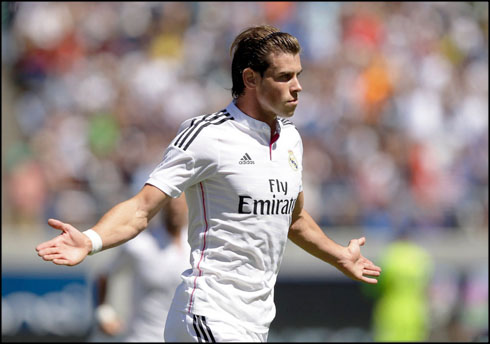 Real Madrid have gone through their first 2014-15 pre-season friendly this Saturday night, but they failed to get past a competitive Inter Milan side, after tying 1-1 at the end of the 90 minutes and then losing 3-4 in a penalty shootout decision. The Merengues play again game right this Tuesday (July 30), as they take on AS Roma at the Cotton Bowl, in Dallas.


It was an unusual Real Madrid side that lined up tonight against Inter Milan in California, as the Merengues completed their first friendly of the 2014-15 pre-season without most of their prime-time stars. The two teams didn't go beyond a 1-1 draw when the referee whistled at the end of the regular time, but the Italians proved to be stronger in the penalty shootout that took place right after, beating Carlo Ancelotti's men by 3-4. One of the highlights of the night goes to Gareth Bale and his incredible goal in the first half from well outside the box, but then, the more than natural inexperience from many of Real Madrid's youngsters on the pitch ended up allowing for Inter Milan to draw things level deep in the second half. However and all things considered, Ancelotti has plenty of positive notes to take from this friendly and he's certainly a happy man for knowing he'll already be able to count with a few more key players in the next game against AS Roma, scheduled for July 29.
Real Madrid 1-1 (3-4 in pk) Inter Milan goals and highlights video:
Real Madrid presented themselves at the California Memorial Stadium in Berkeley (California) with 4 "Canteranos" in their line-up. Diego López was in the goal, shielded by a back-four formed by Llorente on the left, Carvajal on the right and Pepe together with Nacho in the center. In midfield, Medrán and Illarramendi backed up Isco's more creative role, while the attack was left to Lucas Vásquez, Gareth Bale and Raúl de Tomás.
The opener arrived early in the first half and who else but Gareth Bale to draw the first blood for the Merengues. The Welshman seems determined to do better this year than he did in last season's campaign that ended with Real Madrid lifting the UEFA Champions League in Lisbon and what a great way of showing that by broking the deadlock in great style near the 10th minute of the game. Bale picked up the ball close to the half line and after advancing a bit further on the pitch, he got to strike the ball very hard and in a way that ended up swerving out of Handanovic's reach. 1-0 for Real Madrid and what a terrific strike from Gareth Bale to kickoff with the Merengues' goal count this season.
With Carlo Ancelotti's men on the lead, Inter Milan had no other option but to open up as they started chasing the equalizer. However and without the usual firepower upfront provided by men like Cristiano Ronaldo, Di María, Benzema or even Gareth Bale (who got substituted at half-time), the European champions were not as threatening as they usually are in these situations and Inter Milan managed to capitalize precisely on that.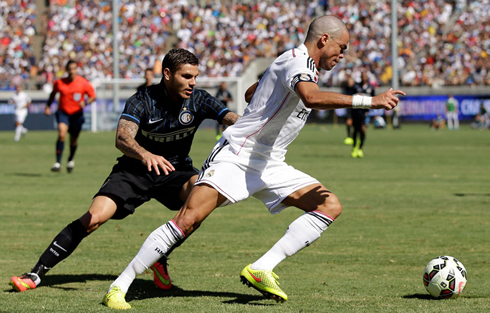 The Italian side reached the equalizer in the 69th minute of the game, when they earned a penalty-kick following a truly needless foul from Real Madrid's Sobrino on Manchester United's former player, Nemanja Vidic. It all started on a long cross made by M'Villa, which dropped near the far post and wasn't apparently leading to any dangerous occasion. Sobrino didn't read the situation as he should though and naively pushed Vidic on the back, leaving no choice to the referee but to point to the penalty-kick spot. As a consequence of his reckless decision, Mauro Icardi was given the opportunity to step up to to the mark and he got to beat Jesús with a "panenka" penalty-kick.
No more goals were to be scored until the end of regular time and the match went straight into a penalty shootout decision, in order to decide who would come out as the winner of this game. Fortune seems to have been more on Inter Milan's side though, and with both Isco and Illarramendi's missing their kicks from the 12-yard mark, the Italians were granted enough of an advantage to stay in front after the traditional 5-penalties round. Real Madrid will now face AS Roma in Dallas next Tuesday and according to several sources in Spain, even though Cristiano Ronaldo has already joined the team's camp in Los Angeles earlier this Saturday, it's not likely that he'll get any playing minutes before the friendly against Manchester United in Michigan, which is another pre-season match that got scheduled for August 2.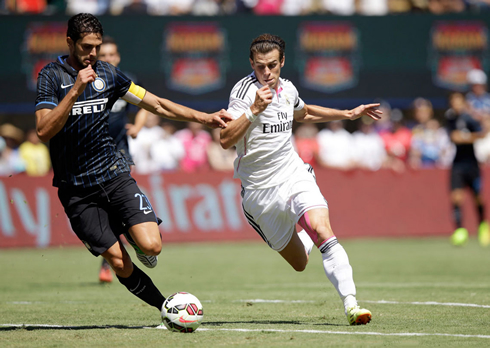 Real Madrid line-up vs Inter Milan:
Goalkeeper: Diego López
Defenders: Llorente, Pepe, Nacho, Carvajal
Midfielders: Medrán, Illarramendi, Isco
Attackers: Lucas Vásquez, Gareth Bale, Raúl de Tomás.
Match stats provided by www.ronaldo7.net

1

Goals

1

-

Shots

-

-

Shots on goal

-

-

Corner kicks

-

-

Fouls commited

-

-

Yellow cards

-

-

Red cards

-

-

Ball possession

-
Cristiano Ronaldo has already joined his teammates in the United States, and he might have his first opportunity to play this season against Manchester United, on August 2. In the meanwhile, you can watch Real Madrid vs AS Roma, Nice vs Barcelona, Manchester City vs AC Milan, and Liverpool vs Olympiacos, all matches provided from our live match streaming pages.
Real Madrid next game:
Real Madrid vs AS Roma kick-off time (29-07-2014):
Jakarta (Indonesia) | GMT+7: 08:15
Spain (Madrid) | GMT+2: 03:15
Portugal and England (Lisbon/London) | GMT+1: 02:15
Rio de Janeiro (Brazil) | GMT-3: 22:15
New York (United States) | GMT-4: 21:15
Los Angeles (United States) | GMT-7 18:15
Beijing (China) | GMT+8: 09:15
Sources: ronaldo7.net / realmadrid.com / dailymail.co.uk