24.07.2014 » Cristiano Ronaldo comes back from vacation this Saturday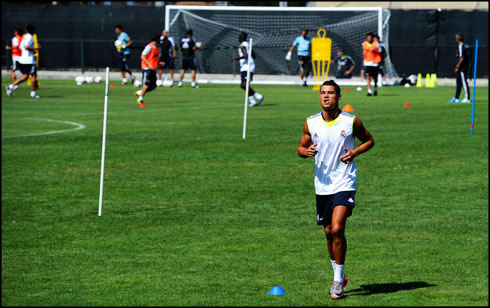 Real Madrid already kicked off their US pre-season tour earlier this week, but only this Saturday they'll get to be joined by the team's best player, Cristiano Ronaldo. The 29-year old superstar returns from a short period of vacation after his disappointing World Cup campaign for Portugal and he's expected to already be given a few playing minutes, at least in the beginning of August against Manchester United.


Cristiano Ronaldo will meet with his Real Madrid teammates in the Merengues US tour this next Saturday, as he returns from vacation ready to start training and prepare the new season. The Portuguese ace has spent the last weeks in several different locations like Mykonos and Creta, enjoying the sunny weather and the quietness that one can find in these paradisiacal Greek islands. It will all come to an end this Saturday with Ronaldo's arrival to Los Angeles, as he marks his return to training precisely on the same day when Real Madrid goes into their first friendly of this pre-season, by taking Inter Milan in California later that evening. The 2013 FIFA Ballon d'Or winner will naturally miss out this first match, but rumors are that he might get his first playing minutes against Manchester United (3rd pre-season game), in a match that will be held in Michigan as part of the ICC tournament (International Champions Cup) and which is scheduled for August 2.
Cristiano Ronaldo - Fighter 2014-15:
Carlo Ancelotti started this year's Real Madrid pre-season works on July 14, but he obviously didn't start the team practices with a good share of his first team players. A lot of athletes were still in the middle of their vacation following their involvement in the last FIFA World Cup and only recently the group finally managed to start becoming more complete.
The likes of Luka Modric (Croatia), Iker Casillas (Spain) and Sergio Ramos (Spain) have all joined the team's pre-season works this past Wednesday, while the Portuguese centre defender Pepe has landed in American soil this Thursday. The controversial 31-year old made sure his return wouldn't be overlooked, as he presented his new and bold haircut through a look full of rastas and stand-up dreads that immediately resembled a style once used by Coolio, an American musician and rapper artist.
Cristiano Ronaldo joins the group right this Saturday (July 26), but as the club already announced last week, he'll be going through a special training plan during his first pre-season days. This of course, all in order to make sure he doesn't relapse from his previous knee injury, which has troubled him so much over the past few months.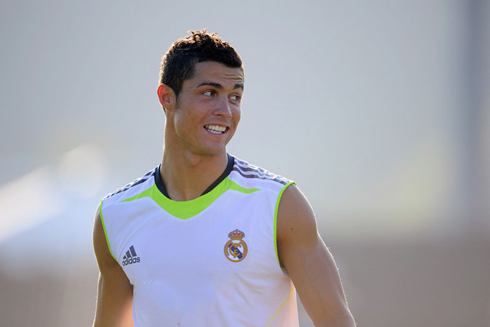 With Real Madrid's friendlies agenda filled for the next few days, when the cub announced their roster for the ICC tournament and didn't include Ronaldo's name, it didn't take long for several rumors to come out and suggesting that the Portuguese star could not even get a single playing minute in any of the matches the Merengues had planned for this US tour. However, Real Madrid have made a change to the roster list earlier this week and in this latest update the good news are that Cristiano Ronaldo's name has already been included.
Even though it's not likely at all that Ronaldo will play against either Inter Milan this Saturday in California (July 26) nor AS Roma the Tuesday after (July 29) in Dallas, it might be a totally different story on August 2. On that day, Real Madrid faces Manchester United in Michigan and having in mind not only that Ronaldo will already have a full week of training sessions behind him by then, but also the fact that the opponent that day will be his beloved Man United, it's not that unreasonable to think that we may see him in action for the first time this season on that very special night.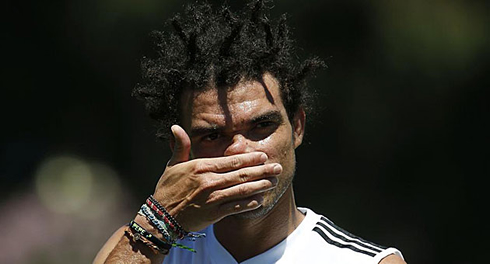 Cristiano Ronaldo's next game for Real Madrid will be during the club's pre-season, either on July or August. You can watch Juventus live stream, Real Madrid vs Inter Milan, Nice vs Barcelona, Manchester United vs AS Roma, and New York Red Bulls vs Arsenal, all matches provided from our live streaming pages.
Real Madrid next game:
Real Madrid vs Inter Milan kick-off time (26-07-2014):
Jakarta (Indonesia) | GMT+7: 05:00
Spain (Madrid) | GMT+2: 00:00
Portugal and England (Lisbon/London) | GMT+1: 23:00
Rio de Janeiro (Brazil) | GMT-3: 19:00
New York (United States) | GMT-4: 18:00
Los Angeles (United States) | GMT-7 15:00
Beijing (China) | GMT+8: 06:00
Sources: ronaldo7.net / si.com / marketwatch.com