24.06.2014 » Ronaldo: "It's almost impossible to go through, but we'll do our best"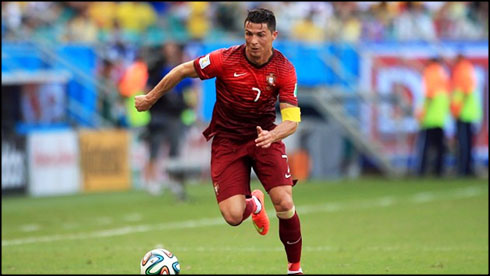 This World Cup has definitely not been going Portugal's way thus far and even though there are still a few chances for the "Selecção" to progress into the next stage of the competition, few are the ones who still believe in that scenario. Portugal faces Ghana this Thursday evening and the team's captain, Cristiano Ronaldo, made sure to outline that the players will give their heart out until the referee blows the final whistle.


Portugal is on the verge of elimination in the 2014 FIFA World Cup in Brazil, as they go into the third and final round of Group G needing a true miracle to keep alive in the tournament. With only 1 point earned after the first two games, simply winning the match against Ghana this Thursday evening may end up not being enough to send the Portuguese Team into the next round of the competition, since they'll still need the USA to lose against Germany and also to turn around the goal-average difference against the Americans, which is currently set in 5 goals. When analyzing what went wrong so far and what can still be done in this Portugal vs Ghana encounter that is left in Group G, Cristiano Ronaldo had a few curious statements and remarks to share with the public...
Cristiano Ronaldo - Portuguese attacker:
Shortly after the disappointing 2-2 draw against the USA, Cristiano Ronaldo showed up in front of a few journalists to answer several questions that had been prepared for him, but also to draw some quick conclusions about Portugal and the illusion that many seemed to have that they were anywhere close to being favorites of winning this World Cup. However and according to experts, the Portuguese Team were never actually included in the top contenders' shortlist to lift the WC trophy on July 13, a list which prior to the tournament's kickoff was formed by Brazil, Argentina, Spain and Germany.
Cristiano Ronaldo: "Rather than sending a message to the Portuguese people, I prefer to address to this team's players, since they are first and foremost the ones who are suffering the most with these negative results. We obviously wanted to win these games, but unfortunately it hasn't been possible to accomplish it. Quite simply, we couldn't win any of our two games so far and when something like this happens, it's hard to find a good explanation. That's football and we just have to keep working and believing...", started by pointing out the 29-year old forward who, despite his physical struggle, has managed to play the whole 90 minutes in both Portugal games so far.
One of the most puzzling issues that the Portuguese Team has had to deal with since they've started their 2014 FIFA World Cup campaign earlier this month is related to the muscular injuries that have been sweeping away from action many of the players that have traveled to Brazil.
Ronaldo: "I'm not the better person to be answering those questions and to be honest, I'm also not in a very good position to comment on that because I haven't been able to be at my best over the last weeks. However, I can assure you that everyone in this team is here in Brazil fighting to deliver good results to our nation and we always give our best when we step onto the field. It's important that we now manage to lift our heads, even though it's almost impossible for us to still go through to the last-16 stage", stated the Real Madrid forward on a more realistic note.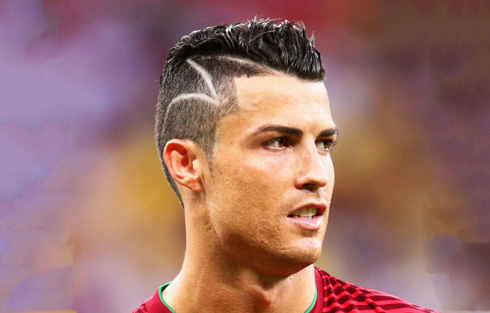 When trying to find the possible reasons for the poor performances from Portugal in this World Cup, the former Sporting and Manchester United winger clearly rejected the idea that it could be something related to the players' attitude. Instead, CR7 pointed out a few other factors that may sound a bit controversial to be spoken of, at least at this stage of the World Cup where they still have some slim chances of advancing into the knockout rounds.
Ronaldo: "There are many possible reasons that help explaining our campaign so far. It's been a long season, but almost every other nation that is here in this tournament has also had players that have been involved in the Champions League latter stages, domestic cups and leagues. Therefore, this one at least shouldn't be a valid excuse. I also refuse to accept that the problem might be in the players' attitude. Everyone is doing their best here and if we didn't win any of the games so far it's surely not because we didn't apply ourselves."
Ronaldo: "We knew all along that we aren't the favorites to win the World Cup... We never were! We already struggled a lot to qualify to this tournament after beating Sweden just a few months ago, so we surely couldn't be deluded about the true possibilities of Portugal winning the FIFA World Cup. Everything is possible in football, but perhaps there are other teams who are stronger than us here in Brazil", surprisingly stated the Portuguese captain.
Another possible reason for the lack of results so far that was immediately discarded by the 29-year old player was his own knee injury. Ronaldo: "I don't want to use that as an excuse, because I think it's not important anymore. What matters is that I am here, I'm not hiding myself, I run and I fight for this team. Every single day something new about my physical condition comes out in the newspapers, but all that matters is that I'm here and I'm fully available to help the team. Things didn't go our way so far, but let's wait and see what happens on Thursday...", commented the 2013 FIFA Ballon d'Or winner, as Portugal gets ready to face Ghana in what could very well be their final game in this World Cup.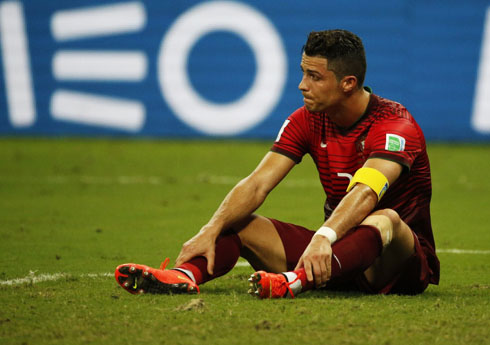 Cristiano Ronaldo's next game will be his third and probably last fixture in the FIFA World Cup, in a match between Portugal and Ghana, scheduled for June 26 of 2014, in Brasília (Brazil). You can watch Juventus live stream, Portugal vs Ghana, Algeria vs Russia, France vs Ecuador, and Argentina vs Nigeria, all matches provided from our FIFA World Cup live game pages.
Portugal next game:
Portugal vs Ghana kick-off time (26-06-2014):
Jakarta (Indonesia) | GMT+7: 23:00
Spain (Madrid) | GMT+2: 18:00
Portugal and England (Lisbon/London) | GMT+1: 17:00
Rio de Janeiro (Brazil) | GMT-3: 13:00
New York (United States) | GMT-4: 12:00
Los Angeles (United States) | GMT-7 09:00
Beijing (China) | GMT+8: 00:00
Sources: ronaldo7.net / usatoday.com / sports.yahoo.com / washingtonpost.com