03.06.2014 » Real Madrid new jerseys for the 2014-15 season: White and Pink kits!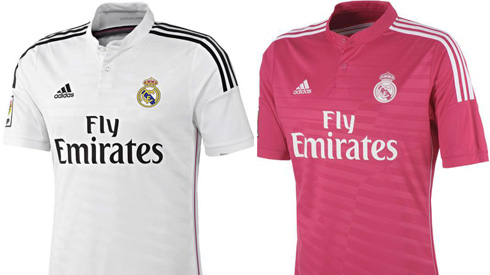 In the dawn of the 2014 FIFA World Cup in Brazil, Real Madrid seized the moment to present their new jerseys for the 2014-2015 season. The main kit will have the classic and prevalent white all over its design as well as some black stripes, while the big surprise was brought in when the away kit was shown... Real Madrid will be wearing pink shirts and shorts next season, in a marketing move that promises to generate a lot of controversy in the months we have ahead...


This past Monday night, Real Madrid and Adidas presented the club's new jerseys for 2014-15, through a spectacular "mapping" show delivered at the main facade of the Santiago Bernabéu, right in front of the Plaza Castellana. The main jersey will be very similar to what we've seen in past years, but it's the away jersey that is sure to leave no one indifferent. Real Madrid's marketing team made a bold decision by picking pink as the color tone for the secondary shirts next season and it didn't take long for several people in Spain to start criticizing the change. In 112 years of club history, this will be the first time that Real Madrid will wear pink when they step on to the pitch in order to literally defend the club's colors. The whole marketing campaign was curiously called "Wear it or fear it!"
Real Madrid new jerseys for 2014-15 - Mapping video at the Santiago Bernabéu:
With the pink color usually being more associated with female trends in most societies, it's more than natural to still encounter a lot of skepticism coming by both fans and marketing analysts at such an early stage of the product/kit launch in the market. The two jerseys (home and away version) are available for the public to buy since last Monday night, and with roughly only 24 hours passed since they started being sold, it's obviously still too soon to judge if it's already being a huge hit or a big disappointment...
The magnitude of the ceremony and event where these new kits were presented this Monday (June 2), somehow suggest us that Real Madrid and Adidas are highly confident in the success of this strategical marketing play. The two brands are currently linked together through a sponsorship contract until 2020, in a deal that entitles Real Madrid to earn close to 32 million euros per year (43.5 million US dollars). With the sports market becoming more competitive year after year, the Merengues are certainly aware that they are one of Adidas' most valuable and esteemed clients in the football industry.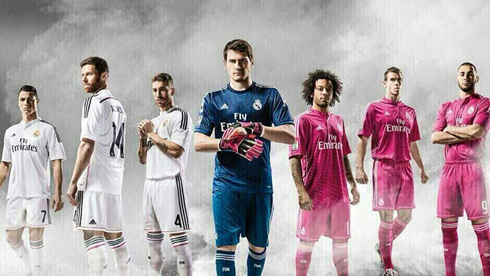 The new Real Madrid main white jersey won't change much from the version we've had this season and the versions we've had in previous years. The orange stripes that were located around the neck, on the end of the slieves and on the sides of the jersey are completely stripped off and only these last ones are actually replaced by a dark pink line, which appears again on the back of the shirt. Apart from that, the new Real Madrid main jersey for 2014-15 will be filled only with black stripes and a prevalent white color tone.
As for the Real Madrid away jersey for 2014-15, it basically didn't keep many details from the last season's version. It's now filled with a vibrant and living pink color tone, only interrupted by white stripes and the mandatory text inscriptions. One more detail that stands out in both these new Real Madrid home and away jerseys is that both kits were now given a button-down collar design, which is also quite unusual in previous seasons' Real Madrid shirts.
For those of you thinking about where to order/buy any of these Real Madrid new jerseys online, you can purchase them through our trusted partners from SoccerBox.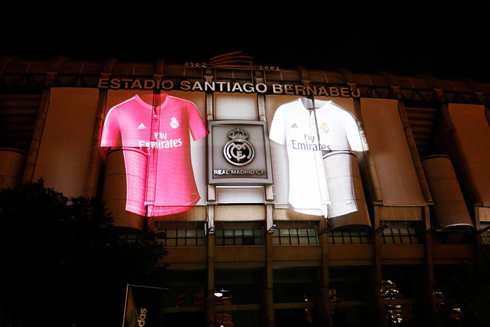 Cristiano Ronaldo next game will be an international friendly for Portugal against Mexico, scheduled for June 6 of 2014, in Boston. You can watch Juventus live stream, Mexico vs Portugal, Italy vs Luxembourg, Ecuador vs England, and Argentina vs Trinidad and Tobago, all matches provided from our soccer streaming pages.
Portugal next game:
Mexico vs Portugal kick-off time (06-06-2014):
Jakarta (Indonesia) | GMT+7: 07:30
Spain (Madrid) | GMT+2: 02:30
Portugal and England (Lisbon/London) | GMT+1: 01:30
Rio de Janeiro (Brazil) | GMT-3: 21:30
New York (United States) | GMT-4: 20:30
Los Angeles (United States) | GMT-7 17:30
Beijing (China) | GMT+8: 08:30
Sources: ronaldo7.net / realmadrid.com / lainformacion.com / sportspromedia.com