20.05.2014 » Cristiano Ronaldo: "I hope to be at 100% against Atletico Madrid"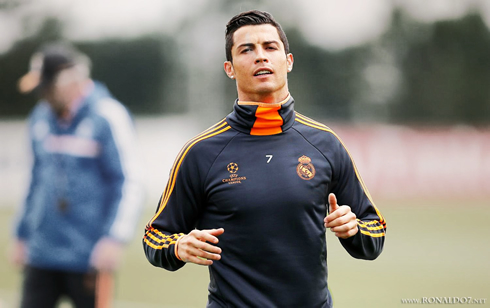 The UEFA Champions League final will take place this Saturday in Lisbon, with Real Madrid and Atletico Madrid chasing the ultimate glory after a very disputed season in both Spain and Europe. The competition's top scorer, Cristiano Ronaldo, is still going through a special training plan to fully recover his fitness and he has stated today that he hopes to be at 100% on the day of the final.


Lisbon is about to host the first Champions League final in history between two clubs coming from the city and neither Real Madrid nor Atletico Madrid are willing to spare any efforts in accomplishing their final goal of the season. The Merengues already won the Copa del Rey this year, after having beaten Barcelona by 2-1 in the final, but it's Atletico who will come into this game with the highest "momentum". Diego Simeone's men were crowned Spanish champions last Saturday, after pulling off a precious but more than deserved 1-1 draw in the Camp Nou and finishing the league on top of both Barcelona and Real Madrid. None of those trophies will matter much next Saturday though and there's one player in this Real Madrid vs Atletico Madrid clash who will surely be particularly motivated to step into the "Estádio da Luz" in Lisbon and steal the show. We're obviously talking about Cristiano Ronaldo, who had a quick chat with the journalists after today's training session and had no problems in revealing his optimism for the upcoming Champions League final.
UEFA Champions League Final: Real Madrid vs Atletico Madrid trailer:
The Portuguese star has missed the last few games for Real Madrid due to an injury on his left knee and has only returned to the pitches to train this Tuesday morning. Real Madrid already announced that they have put Ronaldo on a special training plan in order to maximize his chances of reaching next Saturday's final in his best possible shape and this will involve leaving him training alone and performing individual drills until next Thursday.
Cristiano Ronaldo: "This is my first day on the pitch and I can tell you I feel very well and optimistic. My body has been responding well to the treatments but I'm still not at 100%. I hope to be at my best on Saturday though. We've been playing games both in mid-week and during the weekends for almost a year now, so I think it's perfectly normal for players to pick up these kind of injuries sometimes. I've had the misfortune of having a few physical problems lately, but it's something we've seen happening to a lot of other players across Europe. The important now is that I'm feeling fine...", stated the former Manchester United winger, who is preparing to play his 3rd UEFA Champions League final (the previous two were disputed as a Man Utd player, in 2008 and 2009).
After being pulled off from the team list during the warm-ups against Celta de Vigo on May 11 and getting substituted in the 9th minute against Valladolid on May 7, there's not a single Real Madrid supporter who realistically doesn't fear that Ronaldo might struggle with an injury relapse during the day of the final against Atletico Madrid. The 29-year old prefers to play down those concerns and assures that these are the games where it's worth risking his physical condition, if it does come to that...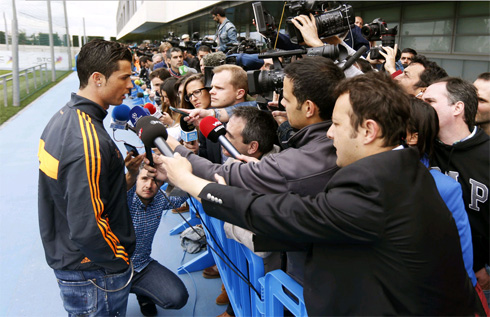 Cristiano Ronaldo: "I didn't have a good feeling about my physical condition when we were playing against Valladolid and that's why I asked to come off. However and in such important games as this Real Madrid vs Atletico Madrid will be, we always come to the conclusion that it's in times like these where it's worth taking risks. It's mostly a psychological effect, as I usually feel a small pain and I immediately fear that it can easily get worse. I basically didn't have confidence and when that happens, the best thing to do is to simply come out", revealed this season's Champions League top scorer, who already netted 16 goals in 10 appearances for Real Madrid.
Ronaldo: "This is the game for which we've all been working so hard in the past years. I'm very happy to make it to my first UEFA Champions League final as a Real Madrid player. I hope that the whole team may have a great game, that the supporters stay behind us, support us throughout the whole match and that the Portuguese spectators in the stadium may also give us a little push because of me, Pepe and Coentrão. Real Madrid deserves to win the Champions League!", stated the Merengues forward.
The Champions League final starts at 19:45 (GMT+1) in Lisbon (Portugal) and this game will be broadcasted to the entire World through several TV networks. We'll list a few of those TV stations below:
- United States: FOX Sports
- United Kingdom: Sky Sports 1
- Portugal: TVI
- Spain: TVE
- Germany: ZDF
- Indonesia: SCTV
- India: Ten Sports
- Nigeria: Astro Super Sport 3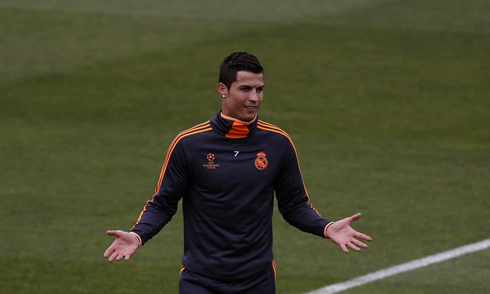 Cristiano Ronaldo next game for Real Madrid will be against Atletico Madrid, in the UEFA Champions League final, scheduled for next Saturday, the 24th of May. You can watch Juventus live stream, Real Madrid vs Atletico Madrid, Spain vs Bolivia, Derby County vs QPR, and Miami Heat vs Indiana Pacers, all matches provided from our sports live streaming section.
Real Madrid next game:
Real Madrid vs Atletico Madrid kick-off time (24-05-2014):
Jakarta (Indonesia) | GMT+7: 01:45
Spain (Madrid) | GMT+2: 20:45
Portugal and England (Lisbon/London) | GMT+1: 19:45
Rio de Janeiro (Brazil) | GMT-3: 14:45
New York (United States) | GMT-4: 13:45
Los Angeles (United States) | GMT-7 10:45
Beijing (China) | GMT+8: 02:45
Sources: ronaldo7.net / realmadrid.com / smh.com.au / mirror.co.uk