10.05.2014 » The Social World Cup 2014: What if Twitter dictated the winner?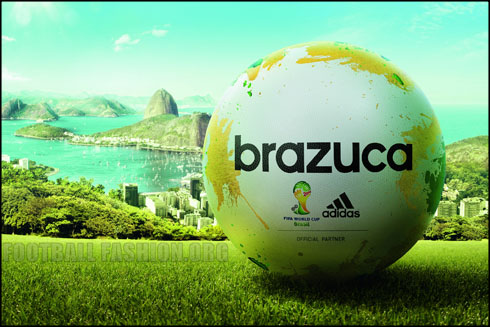 The 2014 FIFA World Cup is coming and with most of the European leagues about to see their end, soon all eyes will be set in Brazil. In a study recently published by "Stay Sourced", we take a look at this exciting tournament from a social media perspective and deliver you the results through a quite interesting infographic.


If the outcome of all matches was to be determined by the combined Twitter followers that each team possesses, who would win this year's FIFA World Cup? In other words, which team starring in this summer's biggest tournament aggregates the biggest Twitter followers fan base? Promotional item experts from Stay Sourcedundertook research to figure that out and presented us with a Social World Cup 2014 simulation event. In order to check out the entire Social World Cup rankings and the team line-ups you may click here. Even though it didn't come as a very big surprise to us seeing Cristiano Ronaldo leading the charts as the football player who has the most followers on Twitter, Portugal's campaign in this simulated World Cup might still astonish some of you...
Cristiano Ronaldo / Portugal - World Cup 2014:
With so many football global stars set to travel to Brazil for the upcoming 2014 FIFA World Cup, not a single fan will surely want to miss a bit of the action. Nowadays and unlike what used to happen a few years ago, most of the players already have a significant social media presence on popular networks such as Twitter. However, it's still interesting to note that Cristiano Ronaldo, who is by far the most popular football player on Twitter, has more followers on his own account than France, Belgium, Mexico, Ecuador, Japan, Ivory Coast and Russia entire squads combined! Quite remarkable...
As we look closely to this "Stay Sourced" infographic, there are a few other curiosities that immediately stand out. For a start, Ecuador comes out of Group E in first place, ahead of teams like France and Switzerland. In Group C, Japan and the Ivory Coast also surprise their opponents coming from Colombia and Greece, as they somehow manage to qualify and go through straight into the knockout stages. However, it's only afterwards that everything starts getting more interesting...
By continuing to always determine the winner of a match by simply checking which team has the greater amount of followers, Cristiano Ronaldo and his home nation Portugal make it all the way to the final, first eliminating Russia (last-16), then Ecuador (quarter-finals) and finally Brazil (semi-finals). They then face the reigning champions Spain, whom in their turn were forced to go past Mexico, England and Argentina in their trajectory to the final game that every footballer dreams of. The title then falls over into Spanish hands for a second straight time in 4 years, and this despite Ronaldo's 24 million Twitter followers representing close to 75% of the Spanish National Team combined Twitter fan base (32 million followers).
It's also interesting to verify that one of the most popular footballers that will land in Brazil next summer still doesn't have an official Twitter page. Due to unknown reasons, FC Barcelona and Argentina superstar Lionel Messi doesn't seem to rely much on Twitter these days and whoever manages his career has decided not to involve him with this highly popular social network. In the other hand and as we've already mentioned before, Cristiano Ronaldo was already counting with 24.1 million followers at the time this study was initially published (January of 2014). Roughly 5 months later, the Real Madrid's forward Twitter page has grown another 2 million fans (and has almost reached the 26-million followers mark, as of today).
Looking at the starting eleven from the 2014 Social World Cup winning team (Spain), we can easily spot out who are the two players who still don't own an official Twitter account: Xavi Hernandez and Sergio Busquets, both players from Barcelona. All the remaining 9 players seem to do their share of help by adding up some numbers to the team's combined fan base, even though most of it is undeniably coming from a set of 4 players: Iniesta (7.8 millions), Piqué (7.7 millions), Fabregas (6.1 millions) and Sergio Ramos (4 millions).
Similarly to what happens on the football pitches, if it happens that we look at things through a strictly "Twitter followers" criteria, no one even gets close to the amount of fans that Cristiano Ronaldo has obtained over the past years. The second player owning the biggest amount of Twitter fans and that will be present at this summer's World Cup is England and Manchester United's forward, Wayne Rooney. On January 24 of 2014, Rooney had 7.960.000 fans following him on his official Twitter account, a number that basically represents close to a third of what Ronaldo had at the time...
Cristiano Ronaldo next game for Real Madrid will be against Celta, for the Spanish League 'La Liga', on May 11 of 2014. You can watch Juventus live stream, Celta Vigo vs Real Madrid, Atletico Madrid vs Malaga, Man City vs West Ham, and Norwich vs Arsenal, all matches provided from our soccer streaming pages.
Real Madrid next game:
Celta vs Real Madrid kick-off time (11-05-2014):
Jakarta (Indonesia) | GMT+7: 00:00
Spain (Madrid) | GMT+2: 19:00
Portugal and England (Lisbon/London) | GMT+1: 18:00
Rio de Janeiro (Brazil) | GMT-3: 13:00
New York (United States) | GMT-4: 12:00
Los Angeles (United States) | GMT-7 09:00
Beijing (China) | GMT+8: 01:00
Sources: ronaldo7.net / dailymail.co.uk / about.com