06.05.2014 » Ancelotti: "Cristiano Ronaldo is a bit tired but he'll keep playing"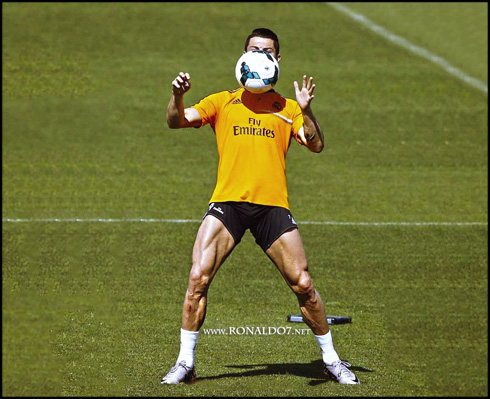 While previewing this Wednesady's game between Valladolid and Real Madrid, Carlo Ancelotti revealed that Cristiano Ronaldo will play, despite being a bit tired these last days. The Portuguese forward has recently scored his 50th goal for the club this season and doesn't seem to want to slow down in the upcoming games...


The Spanish League is coming to a close this year but before we get to the last two weekend fixtures, Real Madrid will still have to step onto the pitch this Wednesday night in order to take on Valladolid. The game concerns a postponed fixture, which was rescheduled to this week so that the Merengues could have had more time to prepare their Champions League semi-finals clash against Bayern Munich. Earlier today, Carlo Ancelotti met with the journalists to talk about his expectations about this encounter against Valladolid and the Italian manager didn't seem worried at all about needing to hide his game. He confirmed that both Gareth Bale and Carvajal won't be available to help the team, but in the other hand, he assured that Cristiano Ronaldo won't miss the game, despite having shown some signs of fatigue.
Carlo Ancelotti's press conference ahead of Valladolid vs Real Madrid:
Carlo Ancelotti: "This match against Valladolid must be regarded as our first final. It's going to be very important for both teams and because of that, I'm sure it won't be an easy game for us. Cristiano Ronaldo is a bit tired right now, but he will play tomorrow. Bale is not fit because he picked a small injury last Sunday, just as it happened with Carvajal", started by stating the former Chelsea FC manager, who hopes to get back to the winning track after the disappointing 2-2 draw against Valencia, earned in the past weekend.
With Carvajal unavailable and Arbeloa still recovering from an injury as well, the right full-back spot will have to be taken by some other defender, less used to perform in that position. The 54-year old manager seems to rely on his centre back Nacho to do the job though. Ancelotti: "Nacho is one of our squad players who hasn't been playing much, but everytime I needed him he responded well. He's important now and I'm sure he'll continue being a great asset for the club in the future..."
Even though the Merengues might not be in full force in their visit to Valladolid, they are naturally regarded as the main favorites to take the 3 points home. Real Madrid comes into this game with a payoff of 1.18 and nothing else but a win matters to them. Ancelotti: "We have to win not only tomorrow against Valladolid, but also against our next two opponents (Celta and Espanyol). If we slip again, our title hopes in La Liga will be lost", warned the former AC Milan coach.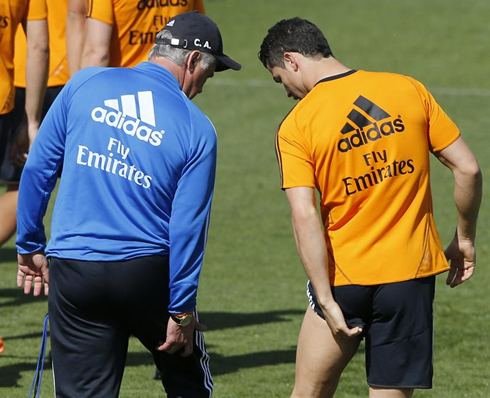 One of the biggest problems that the Real Madrid manager still has to solve before the Champions League final scheduled for next May 24 against Atletico Madrid, is to find the right replacement on the pitch for Xabi Alonso. The former Liverpool midfielder is suspended for the decisive game against the Colchoneros, and judging from Illarramendi's latest performance in Real Madrid 2-2 Valencia, it doesn't seem like he's the best candidate to fill in for Xabi.
Carlo Ancelotti: "Illarramendi can take Xabi Alonso's role whenever we see it fit and what happened last Sunday against Valencia doesn't change anything. It's also true that Khedira is coming back now and he might already play a few minutes tomorrow night... That being said, I still don't know if Illarramendi will be starting this Wednesday, since we also still have to make a decision about playing Luka Modric, who has been struggling with a muscular injury over the past few days", remarked Ancelotti.
As for the concerns about Barcelona deliberately losing against Atletico Madrid in the last league fixture in order to avoid seeing their arch-rivals clinching the title, Ancelotti affirmed that he doesn't believe in such scenario... Ancelotti: "Barça will play against Atletico Madrid in their full strength, just like they do in every competitiion. Moreover, all the fixtures will be played at the same time so I'm confident there's no reason to suspect that anything unusual will happen...", previewed the Merengues coach.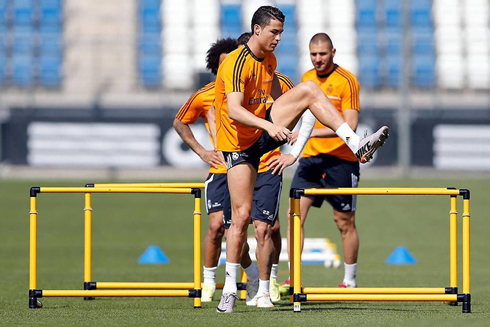 Cristiano Ronaldo next game for Real Madrid will be against Valladolid, for the Spanish League 'La Liga', on May 7 of 2014. You can watch Juventus live stream, Valladolid vs Real Madrid, Atletico Madrid vs Malaga, Manchester City vs Aston Villa, and Sunderland vs West Bromwich, all matches provided from our soccer streaming pages.
Real Madrid next game:
Valladolid vs Real Madrid kick-off time (07-05-2014):
Jakarta (Indonesia) | GMT+7: 02:00
Spain (Madrid) | GMT+2: 21:00
Portugal and England (Lisbon/London) | GMT+1: 20:00
Rio de Janeiro (Brazil) | GMT-3: 15:00
New York (United States) | GMT-4: 14:00
Los Angeles (United States) | GMT-7 11:00
Beijing (China) | GMT+8: 03:00
Sources: ronaldo7.net / realmadrid.com / marca.com / thenational.ae