10.04.2014 » Cristiano Ronaldo is set to miss the next 2 weeks due to injury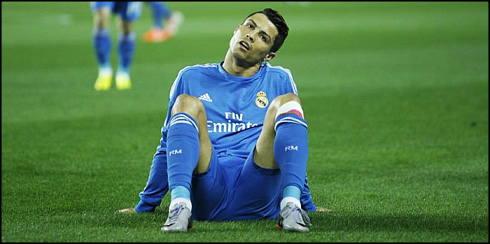 Fears were confirmed this Thursday morning, as Real Madrid revealed a medical update on Cristiano Ronaldo's physical state. The Spanish club stated that the Portuguese star has picked an injury on his left biceps femoris muscle, but didn't disclose any exact period for which Ronaldo will be sidelined. However, several others sources claim that in injuries of these kind, the stoppage time is usually set to be around 2 weeks...


The day couldn't have started in a worse way for the Merengues supporters, following an official announcement made by Real Madrid, confirming that Cristiano Ronaldo had gone through a physical examination and that his injury might be more serious than what was initially thought. The extremely short medical report was published in Real Madrid's official website and even though it only states that Ronaldo has suffered a left biceps femoris muscle injury, Sanitas (the medical company that works with Real Madrid) didn't risk throwing any prognosis in terms of the recovery period that is expected for CR7 to go through before coming back to the pitches. According to several other sources in Spain though, it's not likely that Ronaldo may be fit for any game within the next 2 weeks, which would mean he could miss the Clasico, in the Copa del Rey's final against Barcelona right next Wednesday and would also be in doubt for the UEFA Champions League semi-finals first leg, scheduled for April 22 or 23.
Real Madrid latest news: We've all seen how much Real Madrid recently struggled against Borussia Dortmund without Cristiano Ronaldo on the pitch. The bare idea of having to go through the upcoming weeks without the Portuguese star is definitely a troubling thought for everyone involved at the club, but unfortunately, there's not much left to be done now but to be patient and calmly wait for the return of the best player in the World. Real Madrid will be hosting Almería this Saturday night, but the 29-year old forward is not likely to even be called up for the game, even though he has been on the bench in Germany in mid-week. With this in mind it seems only plausible to infer that Ronaldo may have somehow aggravated his injury over the last days, either because he shouldn't even have participated in normal training sessions, or just because he didn't receive the proper treatment...
This take us to our point: Can Real Madrid be accused of having been careless in the way they conducted this whole injury process? Why has Ronaldo only gone through these more accurate physical examinations this past Wednesday (April 9), when everyone knew he had been struggling to be fully fit for quite a while already. Did the club overlook or ignore the potential of the true extent of the injury, because perhaps Ronaldo himself led them to think there shouldn't be a reason to be worried, or did this happen for any other particular reason?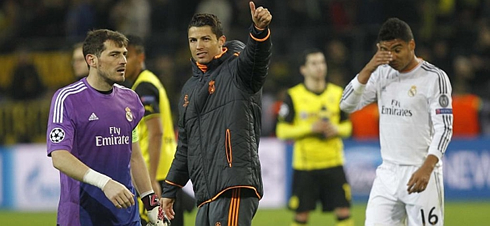 The first indications that Cristiano Ronaldo could have been playing with some pain and limitations in his left knee came out at the end of March, more precisely on March 26, when Real Madrid visited the Sánchez Pizjuán to face Sevilla. The Merengues ended up losing the game by 2-1, but right after that league fixture, the Spanish newspaper "AS" was the first to suggest that Ronaldo could be going through some physical problems located on his left knee. Carlo Ancelotti addressed those claims a couple days later and now that we look back at them, the theory that the club might have mishandled this whole situation becomes clearly stronger...
This was Carlo Ancelotti's statement to the press, on March 28. Ancelotti: "Cristiano Ronaldo has a minor injury, which is not bothering him at all. He has been training without limitations, at the same time he has been receiving the proper medical treatment he requires. We did think about resting him recently, but he doesn't need that at this stage. His knee is being treated and Ronaldo certainly doesn't regret to have played against Sevilla. Moreover, I'm sure that the problem will be solved in the next days..."
Roughly two weeks later from that day and the diagnosis is now completely different. Hopefully the injury is now being taken cared as it should have been right from the start, so that Ronaldo may fully recover not only for the decisive stages of Real Madrid season, but also for next Summer's FIFA World Cup in Brazil, where he'll definitely be Portugal's biggest hope to come home after a successful campaign.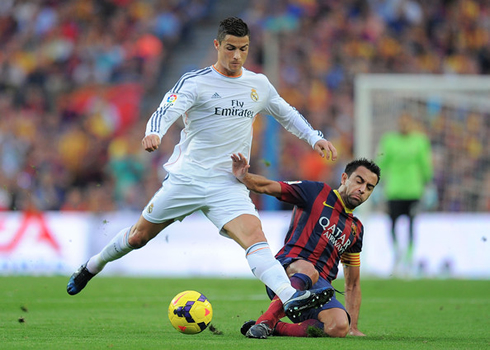 Cristiano Ronaldo next game for Real Madrid will be against Almeria for the Spanish League 'La Liga', on April 12, 2014. Even though Ronaldo is not expected to be playing, you can still watch Real Madrid vs Almeria with us, as well as Granada vs Barcelona, Liverpool vs Manchester City, and Wigan vs Arsenal, all games provided from our soccer live section.
Real Madrid next game:
Real Madrid vs Almeria kick-off time (12-04-2014):
Jakarta (Indonesia) | GMT+7: 03:00
Spain (Madrid) | GMT+2: 22:00
Portugal and England (Lisbon/London) | GMT+1: 21:00
Rio de Janeiro (Brazil) | GMT-3: 16:00
New York (United States) | GMT-4: 15:00
Los Angeles (United States) | GMT-7 12:00
Beijing (China) | GMT+8: 04:00
Sources: ronaldo7.net / realmadrid.com / as.com / zerozero.pt / marca.com