05.04.2014 » Real Sociedad 0-4 Real Madrid. Important win without Ronaldo!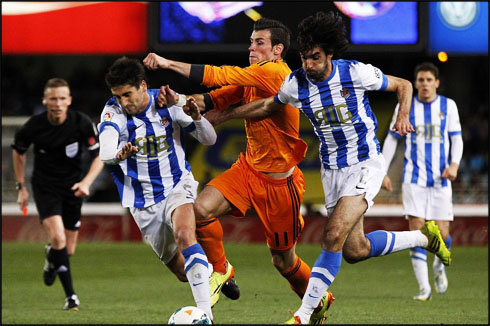 The race for La Liga's title is still on, after Atletico Madrid, Barça and Real Madrid all pulled off another series of wins. The Merengues visited the Anoeta to face Real Sociedad and surprisingly picked up the 3 points in a very easy way, thanks a comfortable 0-4 win. With Cristiano Ronaldo resting and unavailable to give his contribute in this game, it was up to Illarramendi, Bale, Pepe and Morata to step up and score the visitors' goals.


There were a lot of concerns about the possibility of Real Madrid dropping points in tonight's visit to San Sebastián and there were good reasons for that to happen. Somehow though, Carlo Ancelotti's men made a strong statement in regards to their intents of fighting for the Spanish League's title this season and annihilated Real Sociedad with a clear 0-4 win. The Merengues already knew they wouldn't be able to count with neither Cristiano Ronaldo nor Angel Di María, after hearing Ancelotti announcing his decision of resting the Portuguese forward for this weekend's fixture, following his physical problems in mid-week against Borussia Dortmund. Di María started the game on the bench since he's still coming off from a gastroentritis crisis, but he still got to join the match later in the second half. The goals came in from Illarramendi, Gareth Bale, Pepe and Morata, and have certainly helped making Ronaldo's absence go a bit unnoticed. This weekend's main action will still have two great matches in England tomorrow with an Everton vs Arsenal at the Goodison Park and a West Ham vs Liverpool in London, that can either confirm the "Reds" as a serious contender for the title this season or simply facilitate Manchester City's job to become the new Premier League champions.
Real Sociedad 0-4 Real Madrid goals and highlights video:
Due to the injuries mentioned above, Ancelotti was forced to introduce a few changes in the team ahead of this Saturday's La Liga fixture against Real Sociedad. Nacho was given the rare opportunity to start as left-back, while Pepe and Sergio Ramos formed the block in the centre, and Dani Carvajal was dropped to the right. Ahead of the defense, Xabi Alonso and Asier Illarramendi teamed up for the defensive tasks in midfield, releasing Modric for more creativity duties upfront. The attack was left to Isco, Gareth Bale and Karim Benzema, with the Spaniard obviously having a slightly different role than the one that Cristiano Ronaldo usually gets.
The first half of tonight's game was quite even actually, despite what the final score may indicate. The opener was definitely a game changing moment, not only because it arrived just 1 minute before half-time, but also because it allowed Real Madrid to settle in the game and start playing more comfortably. It all started in a play where Illarramendi decided to get involved in the attack and after he managed to get close to Real Sociedad's box, he released a short pass to Gareth Bale. The Welshman was quick to pass it to over to Benzema on the left, who had been waiting for the ball near the edge of the box, and the Frenchman cut inside as he looked to curl his shot into the far post. Claudio Bravo was well positioned though and managed to block it, sending the rebound straight to Asier Illarramendi, who then easily tapped it in to an empty net. Real Madrid was leaving to half-time with a 1-goal lead, even though neither of the teams had really outplayed the other until that point...
The second half brought us a totally different game. Real Madrid's passing game was a lot more fluid and the team managed to control every situation of this match at their will. The 0-2 arrived naturally, even though it came off a mistake made by Real Sociedad's goalkeeper, Claudio Bravo. The Chile international had the ball in his hands, but tried to go for a long pass with his right foot that would basically have to cross a dangerous zone of the pitch. Unfortunately for him, his pass was intercepted by Gareth Bale and the former Tottenham star immediately went for goal with a long range strike. His very strong and accurate shot only stopped at the back of the net, sending Real Madrid into a 2-goal lead. The game wasn't looking anywhere as dangerous as it had looked in the first half.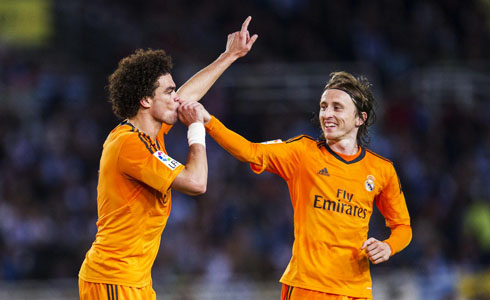 The third goal came from a corner-kick taken on the right by Angel Di María, who had just joined the game 5 minutes before. The Argentina international crossed the ball over to the far post, where Sergio Ramos managed to reach out to it and send it back to the middle of the box. It was then that Pepe showed his goalscoring instinct, and with a nice move he flicked the ball into the back of the net using his left-foot. At that point, Real Sociedad were already dragging around around the pitch and were only wanting that this game would come to an end...
The final goal of the night was scored just a couple minutes before we entered stoppage time, and once again it would be Angel Di María setting up one of his teammates with a good chance. The 26-year old winger made a terrific through pass into the back of Real Sociedad's defense, leaving Alvaro Morata with a lot of space in front of him to run with the ball and have a shot at the goal. The Canterano, who had also joined the game deep in the second half, didn't waste that golden opportunity and beat Bravo for the 4th time in the night. This was Morata's 6th goal in the season, his 5th in La Liga.
After tonight's win, Real Madrid made sure that the league standings will stay the same, with Atletico Madrid still on top with 79 points, Barcelona right behind with 78 and Real Madrid in third with 76. The UEFA Champions League quarter-finals will bring us a very interesting Atletico Madrid vs Barcelona second leg right next week though, and whoever gets through may very well earn an important boost for what's left to be played this season. Real Madrid will have in hands a far easier task, as they travel to Germany to lock horns with Borussia Dortmund, but carrying a 3-0 advantage from the first leg. Cristiano Ronaldo is already expected to make his return to the team on that night.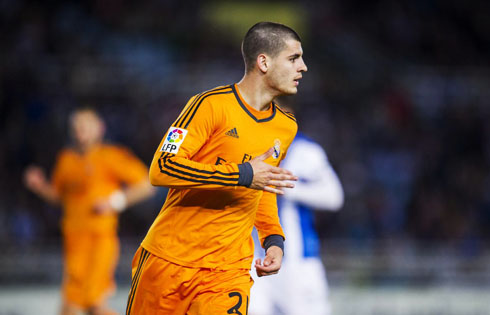 Real Madrid line-up vs Real Sociedad:
Goalkeeper: Diego López
Defenders: Nacho, Sergio Ramos, Pepe, Carvajal
Midfielders: Xabi Alonso, Illarramendi, Modric
Attackers: Gareth Bale, Isco, Karim Benzema.
Match stats provided by www.ronaldo7.net

0

Goals

4

11

Shots

22

3

Shots on goal

9

8

Corner kicks

7

13

Fouls commited

10

3

Yellow cards

3

0

Red cards

0

43%

Ball possession

57%
Cristiano Ronaldo next game for Real Madrid will be against Real Sociedad for La Liga, on April 5, 2014. You can watch Juventus live stream, Borussia Dortmund vs Real Madrid, Atletico Madrid vs Barcelona, West Ham vs Liverpool, and Everton vs Arsenal, all matches provided from our football live streaming pages.
Real Madrid next game:
Borussia Dortmund vs Real Madrid kick-off time (08-04-2014):
Jakarta (Indonesia) | GMT+7: 02:45
Spain (Madrid) | GMT+1: 20:45
Portugal and England (Lisbon/London) | GMT+0: 19:45
Rio de Janeiro (Brazil) | GMT-2: 12:45
New York (United States) | GMT-5: 14:45
Los Angeles (United States) | GMT-8: 11:45
Beijing (China) | GMT+8: 03:45
Sources: ronaldo7.net / realmadrid.com / goal.com / lequipe.fr / elgoldigital.com