09.01.2014 » Real Madrid 2-0 Osasuna. Half of the job done at the Bernabéu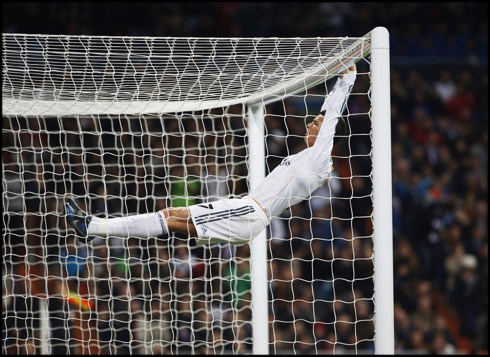 Real Madrid came out victorious of the Copa del Rey's first leg, after defeating Osasuna by 2-0 at the Santiago Bernabéu. The goals got scored by Benzema (19') and Jesé Rodríguez (60'), but it was Luka Modric who earned our MVP title for this match. Cristiano Ronaldo didn't score and actually had a quite weak game to his own standards, but even in a bad day, he still managed to assist Jesé for the Merengues' second goal.


There were no surprises at the Santiago Bernabéu this Thursday night, as Real Madrid got the better of Osasuna through an easy 2-0 win. The visitors have never been capable of presenting a real menace to Iker Casillas goal and the Merengues managed to score two important goals without needing to push too hard. The opener was scored by Karim Benzema still inside the first 20 minutes of the game, while the second came on later in the 2nd half, with Jesé Rodríguez finishing off a good assist from Cristiano Ronaldo. Real Madrid will now visit Espanyol next Sunday for another La Liga fixture, while the big game of the weekend will take place at the Vicente Calderón, in a thrilling Atletico Madrid vs Barcelona that will most likely decide which team is in better form in Spain right now.
Cristiano Ronaldo game photos in Real Madrid vs Osasuna
Real Madrid 2-0 Osasuna goals and highlights video:
All Cristiano Ronaldo actions vs Osasuna:
Real Madrid's line-up against Osasuna might have seemed a bit awkward for many of us, as Ancelotti sent in Jesé Rodríguez, Gareth Bale, Ronaldo and Benzema all at once, leaving most of the midfield tasks for Illarramendi and Luka Modric. The Croatia international would end up being the best player on the field, extending a series of games where he has been excelling pretty much everyone around him. Modric has been outstanding in the past few months, as not only he dictates the tempo when he has the ball close to his feet, but he also tracks back numerous times when helping out his teammates at the back.
After a very calm first quarter of an hour, it was Karim Benzema who got the honors to break the deadlock at the Bernabéu, by the time we were entering the 20th minute of the first half. Luka Modric took a free-kick on the left attacking side, crossed it with the perfect weight to the heart of Osasuna's box, and Benzema rose higher than everyone else to head it past Riesgo and make it 1-0 to Real Madrid. Right behind Benzema and also ready to pull the trigger was Cristiano Ronaldo, but the Frenchman took his chance and made sure that the hosts would take the lead before half-time at the Bernabéu.
The first half wouldn't end before we got to see Jesé Rodríguez falling inside Osasuna's box, as well as the referee pointing to the penalty-kick spot. However, the referee would reverse his call a few seconds later, right after hearing what one of his assistants had to say. Then, he even booked Jesé with a yellow card for diving, in a play where the Canterano had no choice to avoid the contact and go down inside the box. Two bad decisions in less than a minute, first for making the wrong call by pointing to the penalty-kick mark on a clean tackle from Osasuna's goalkeeper and then for booking Jesé when there was no reason for it.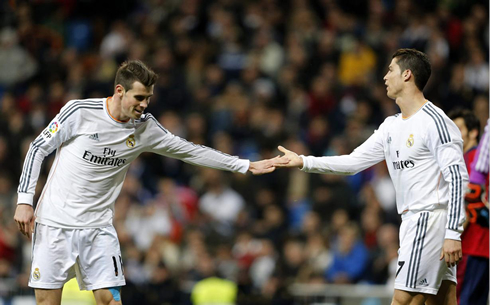 The second half came on and Ancelotti had decided not to bring any changes to his team just yet. The Merengues were controlling the game and it seemed as if Osasuna wasn't going to risk much more either. The second goal would arrive naturally, on a play where Osasuna's right-back, Oier, made a capital mistake by passing the ball backwards to one of his opponents. The visitor didn't check his back before making the pass and ended up delivering the ball to Karim Benzema, who then rotated on himself and left it over to Cristiano Ronaldo. The Portuguese forward could have tried his luck from the position where he picked the ball, but preferred to assist Jesé on his right, since the 21-year forward was indeed in a better position to score. Jesé chased the ball a few meters to his side and then easily finished it off to extend Real Madrid's lead to 2 goals.
Ancelotti then started implementing a few changes on the hosts' side, and brought in Isco, Morata and Casemiro. None of them had a really particular big impact in the game and we reached the final whistle with the same 2-0 result that had already been set by Jesé, around the 60th minute of the game. Cristiano Ronaldo didn't produce a great game for his own standards, as he wasted a few chances that he would have easily scored in any other day. Anyway, if there's anyone out there who deserves a day off, that someone has to be Ronaldo.
Next weekend we'll get tons of new excitement in La Liga, as not only we'll get to see an Espanyol vs Real Madrid clash on Sunday, but before that, on Saturday evening we'll have a highly anticipated Atletico Madrid vs Barcelona live from the Vicente Calderón. In a league where so few points are being dropped by the main contenders, that game can actually be one of those where the winner does take it all at the end...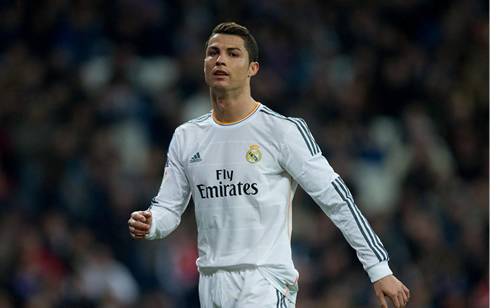 Real Madrid line-up vs Osasuna:
Goalkeeper: Iker Casillas
Defenders: Marcelo, Sergio Ramos, Pepe, Arbeloa
Midfielders: Illarramendi, Modric
Attackers: Jesé, Gareth Bale, Cristiano Ronaldo, Karim Benzema.
Match stats provided by www.ronaldo7.net

2

Goals

0

20

Shots

6

4

Shots on goal

1

6

Corner kicks

3

12

Fouls commited

12

1

Yellow cards

2

0

Red cards

0

62%

Ball possession

38%
Cristiano Ronaldo next game for Real Madrid will be against Espanyol, for La Liga (January 12, 2014). You can watch Juventus live stream, Espanyol vs Real Madrid, Atletico Madrid vs Barcelona, Hull City vs Chelsea and Tottenham vs Crystal Palace, all matches provided from our live streaming section.
Real Madrid next game:
Espanyol vs Real Madrid kick-off time (12-01-2014):
Jakarta (Indonesia) | GMT+7: 01:00
Spain (Madrid) | GMT+1: 19:00
Portugal and England (Lisbon/London) | GMT+0: 18:00
Rio de Janeiro (Brazil) | GMT-2: 16:00
New York (United States) | GMT-5: 13:00
Los Angeles (United States) | GMT-8: 10:00
Beijing (China) | GMT+8: 02:00
Sources: ronaldo7.net / realmadrid.com / yahoo.com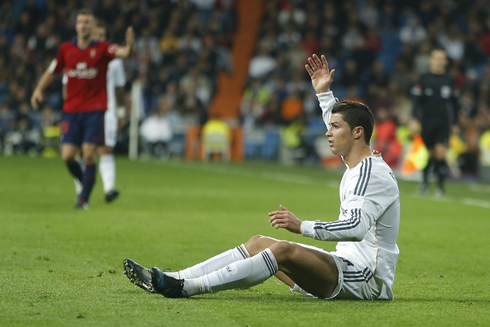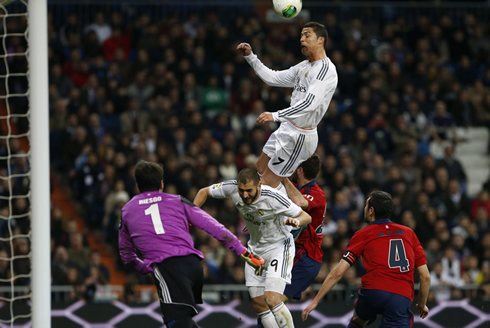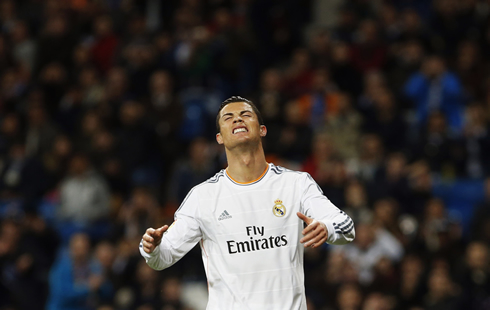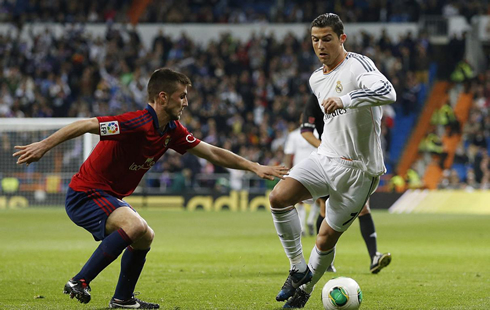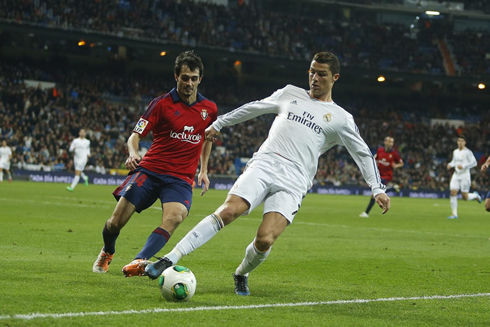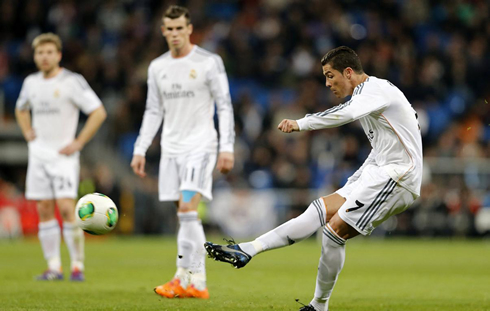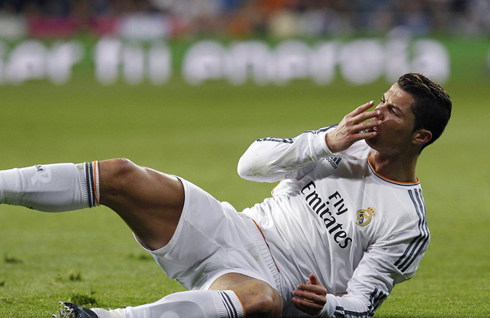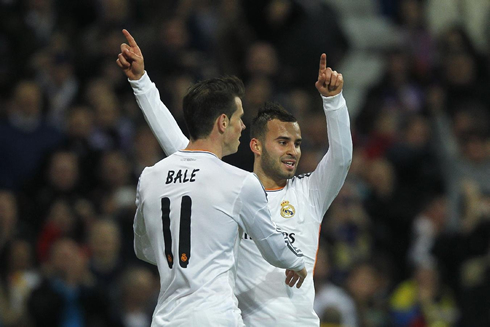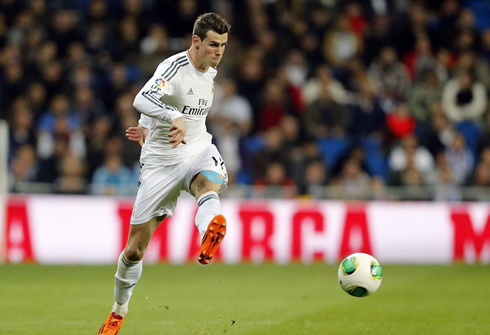 [ Ronaldo photos in Real Madrid vs Osasuna / Back to News Index ]

comments powered by