01.10.2013 » Ancelotti's X-ray after his first 100 days at the helm of Real Madrid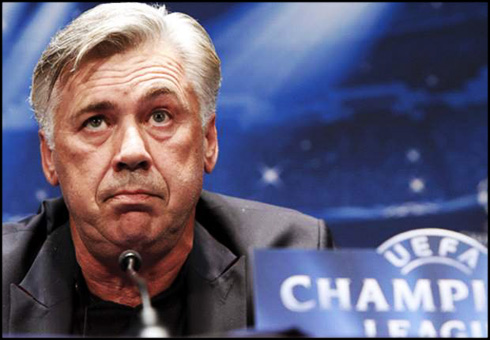 We're still quite in the beginning of the season but so far, things don't seem to have been going the way most of the fans had expected. A few important players left, while a few others were brought in a desperate attempt to strengthen the team and attack this season in all fronts. It may still be too soon to judge Ancelotti's work in a very deep way, but with 100 days of service in Real Madrid, it seems more than fair to at least make a few remarks on the current situation...


Let's start by revive a few Cristiano Ronaldo words, who right after last Saturday's night game against Atletico Madrid, has rushed to claim that the loss had been mainly the players' fault and that there is no reason to be over dramatic on Real Madrid's current form. The Merengues have dropped points in 2 of their 7 games in La Liga (1 draw against Villarreal and a defeat against Atletico), while they have won their only game in the Champions League so far. On a first glance, it doesn't seem like a very sloppy start, but the main reasons behind the Madridismo's discontentment go way beyond the 5 points dropped in the Spanish League.
Cristiano Ronaldo - 2013-2014:
The following analysis was originally drafted by Marca in Spain and we'll simply attempt go through several of their observations one by one, making our own remarks. More than a review on Ancelotti's performance so far, it's a quick look at everything that has been happening in Madrid over the past weeks.
::: This Ancelotti's Real Madrid is yet to have established a clear tactical system. The team doesn't seem to be capable of assuming if they want to either control the game or simply win it by playing on counter-attack.
::: The lack of intensity when defending has been blatantly obvious. Out of the 7 fixtures played in La Liga, Real Madrid has conceded in 6 of those. The Merengues have allowed a total of 79 shots to their goal, a number way excessive for a team who aspires to fight for the title. Pepe is clearly in a bad moment and Varane's absence due to injury problems has been felt a lot more than what it was supposed to...
::: The Diego López vs Iker Casillas "dossier" is far from being settled. Carlo Ancelotti attempted to please "greeks and trojans", by announcing that Lopez would play in the league games and Iker Casillas in the Champions League. Is this really the smart choice to make on a team with Real Madrid's ambition and where there's so much at stake in every single game? Won't this unusual rotational approach for a goalkeeper position just end up delaying a more permanent decision that has to be made sooner or later?
::: Florentino Pérez decision of selling Mesut Ozil is still being highly criticized by many Madrid fans and football pundits from all around the world. The German had been the team's playmaker for the past 3 seasons, was certainly one of the most admired and esteemed players in the club, and was together with Cristiano Ronaldo one of the key players in this squad. It's also true that Ancelotti should be accounted for his share on this outcome, as he did play his part on everything that ended up leading to Ozil signing for Arsenal in the last day of the transfer window. The Italian manager substituted him twice over the first two fixtures in La Liga and has relegated him to the bench in the game against Athletic Bilbao. No one can argue that those decisions made Ozil feel that he wasn't a vital piece in Madrid's team anymore...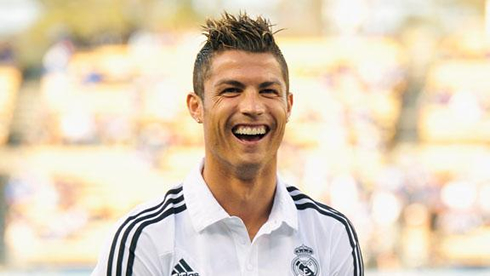 ::: Ancelotti's choices for the line-ups as well as the substitutions he has been making during the games played so far, have also been under the scope of much criticism. The lack of playing time given to Álvaro Morata, who has been on the pitch only in the last minutes of Madrid's games while Benzema keeps getting called for the starting eleven regardless of how well or bad he performs, is certainly driving a few sectors of the Bernabéu a bit desperate and frustrated. Moreover, the Italian manager keeps doings systematic over-defensive changes in close games and that's something which isn't very appreciated by Real Madrid fans.
::: Several players have already been showing some physical deficiencies this early in the season. In a year where there were no European or World Cups taking place, most of the group got to gather in due time and there's no excuse for several players to show a significant drop in their physical levels right on September. Moreover, this will be a very long season, especially with the 2014 FIFA World Cup taking place in Brazil next June.
::: The indefinition on where to play Cristiano Ronaldo on the pitch is not helping anyone, except eventually Real Madrid opponents of course. The Portuguese forward now seems to play closer to Benzema upfront and that ends up leading to him having a smaller influence in Madrid's game. Nevertheless, Ronaldo has scored 9 goals in 8 games so far...
::: Without Xabi Alonso available due to injury, Ancelotti doesn't seem to have decided for the best alternative to take the former Liverpool's player role on the pitch. Illarramendi was signed with that purpose, but he just seems way too green to become Xabi's worthy replacement for now and Casemiro wasn't quite given many opportunities, even after the superb impact he had on the team during the pre-season games.
::: The team seems to be starting the games a bit sleepy and playing too soft. Ancelotti may have a strategical intention of calming down his players ahead of every match, but sometimes (and not to say in almost every occasion), it's better to have your team hyped up and with an aggressive and competitive mindset, rather than have everyone over-relaxed and simply waiting for their talent to win them the games sooner or later.
As for the near future, the Merengues will have an expected easy home fixture for the UEFA Champions League this Wednesday, in a Real Madrid vs Copenhagen encounter that is set to be played at the Santiago Bernabéu. Before that, Celtic vs Barcelona will draw most of the attention in Scotland, while Arsenal vs Napoli in England is sure to be a cracking game as well. Still this Tuesday, Steaua vs Chelsea will represent a golden chance for José Mourinho to get his club back on track in this Champions League edition, as he certainly expects nothing but a victory in Romanian lands.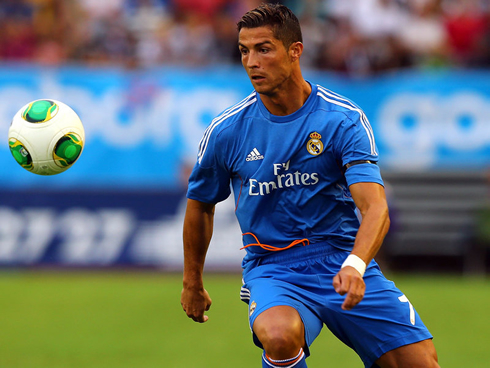 Cristiano Ronaldo next game for Real Madrid will be for the UEFA Champions League, this Wednesday (October 2, 2013), against Copenhagen. You can watch Juventus live stream, Real Madrid vs Copenhagen live, Celtic vs Barcelona streaming, Steaua Bucuresti vs Chelsea online and Arsenal vs Napoli live streaming, all matches provided from our football streaming section.
Real Madrid next game:
Real Madrid vs Copenhagen kick-off time (02-10-2013):
Jakarta (Indonesia) | GMT+7: 01:45
Spain (Madrid) | GMT+2: 20:45
Portugal and England (Lisbon/London) | GMT+1: 19:45
Rio de Janeiro (Brazil) | GMT-3: 15:45
New York (United States) | GMT-4: 14:45
Los Angeles (United States) | GMT-7: 11:45
Beijing (China) | GMT+8: 02:45
Sources: ronaldo7.net / marca.com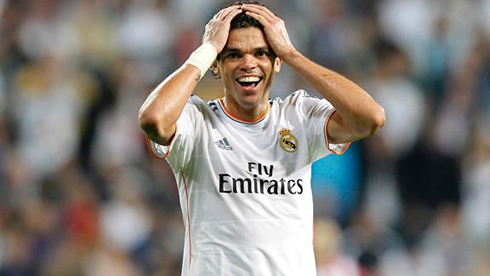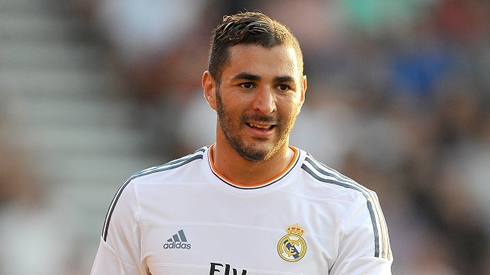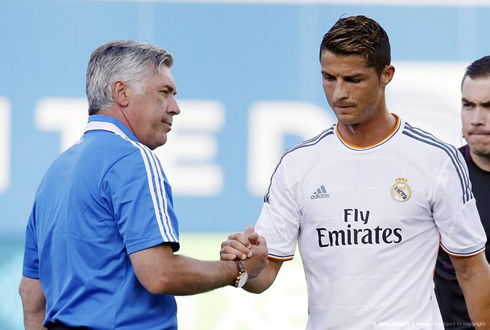 comments powered by