06.09.2013 » Northern Ireland 2-4 Portugal. Ronaldo dazzles with his first hat-trick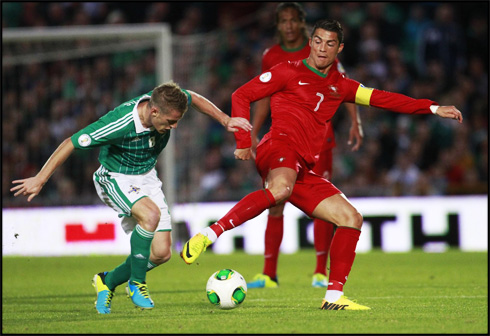 Portugal rescued the 3 points from Northern Ireland this Friday night, mostly thanks to a highly inspired performance from Cristiano Ronaldo. The Real Madrid forward scored his first hat-trick for Portugal and ended up being decisive in turning a game around that got very close to be lost.


The Portuguese National Team pulled off a vital 2-4 win against Northern Ireland at the Windsor Park this Friday, in a game that was far from being an easy mission for Paulo Bento's men. To overcome the Irish resistance on a night where everything seemed to be going against them, Portugal relied on their biggest star Cristiano Ronaldo, who got score a hat-trick for his home country for the first time in his career. The referee sent off 3 players throughout the game, the first being Hélder Postiga just before the break and then 2 Irish players during the second half. Fortunately for the Portugal and their aspirations to reach Brazil's 2014 FIFA World Cup, Ronaldo kept the calm and carried the team on his shoulders, proving his lifetime detractors wrong once again.
Cristiano Ronaldo game photos in Northern Ireland vs Portugal
Northern Ireland 2-4 Portugal goals and highlights:
The 2014 Brazil World Cup qualifying stage could have easily gotten a lot more complicated for Portugal after tonight's game, but the team's belief and Ronaldo talent ended up coming to the surface when it was most needed. The Portuguese forward reached the 43-goal mark with his first hat-trick while playing for Portugal, got past Eusébio (41) on 2nd place as the highest goalscorer ever in the Portuguese National Team (he's only behind Pauleta now, who still leads the table with 47 goals) and at the end, he decided to dedicate this victory to his beloved father, who passed away exactly 8 years ago...
Bruno Alves scored the opener with 21 minutes played in the first half, after showing off a great shooting technique on a rebound that came from a João Moutinho corner on the right. The Fenerbahce defender read the deflection on the first post perfectly and got to strike the ball with his right-foot by resorting to a sort of a footvolley technique. Roy Carrol still stretched his body, but Alves shot had just been too precise and far from the goalkeeper's reach.
Northern Ireland equalised 15 minutes later and also from a play that started in a corner-kick. West Bromwich Albion defender Gareth McAuley rose in the near post to head the cross past Sporting CP goalkeeper Rui Patrício and all of a sudden the game was put back into square one. The Irish centre defender got the better off the Portuguese National Team zone marking inside the area and scored his 4th goal for his country.
With the game tied, no one would expect what was about to happen before the break. Hélder Postiga had a small misunderstanding with Northern Ireland's centre defender McAuley and literally went head to head for a split second with his opponent. The Dutch referee took it as an over aggressive attitude and immediately showed the red card to the Valencia forward, leaving the Portuguese National Team with 10-men on the pitch from that point onwards. The decision might have been too harsh on Postiga, but he's experienced enough to know he should have known better and avoided those kind of situations, especially on such a critical game for his country.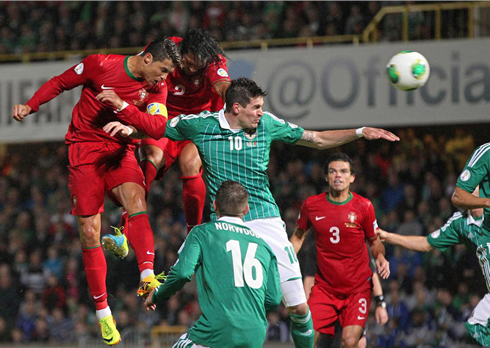 As if things couldn't get any worse, Northern Ireland jumped to the lead shortly after the game restarted in the second half. Another corner-kick on the right side of the attack and this time a first header on the near post resulted in an assist to Jamie Ward, who got to score by pushing the ball on his own clumsy way. The goal should have been disallowed though, since at the time of the pass, Ward was clearly offside and behind the whole Portuguese team, including the goalkeeper Rui Patrício. One man down and trailing by one on a hostile ground, was surely a scenario that the Portuguese had never even thought of ahead of this match.
On the 61st minute the referee levelled forces on the pitch, after showing the second yellow card to Chris Brunt, following a reckless tackle against João Pereira. Seven minutes later, Ronaldo decided to put on another gear and started his own show. Similarly to what had happened in the first goal, João Moutinho took the corner and this time Ronaldo got to elevate more than everyone else in the penalty area to beat Roy Caroll with a powerful header. Terrific goal from the Real Madrid forward and what a great way to start the comeback.
As the 77th minute was going by, Fábio Coentrão executed a perfect long cross to the far post, aiming for Cristiano Ronaldo who was completely unmarked. The 28-year old superstar kept his composure and headed the ball into the back of the net for his second of the night and put Portugal in the lead as we were entering the final 10 minutes of the game.
Kyle Lafferty got sent off a few minutes later, once again after a very harsh foul on Valencia's João Pereira and things just became easier for Paulo Bento's men. Cristiano Ronaldo still had one more word to say in the game though and got to score his first treble on a national level after he beat Carroll for the third time on the night, now from a free-kick near the penalty area. It was Ronaldo's 43rd goal for Portugal, which allowed him to pass Eusébio (41) and get closer to the Portuguese National Team highest goalscorer of all-time, Pauleta, who still holds the record with 47 goals.
This result allows Portugal to stay 2 points ahead of Russia in the 2014 World Cup qualifiers standings in Group F, even though the Russians still have one game less. They'll be playing that game precisely next Tuesday, when they host Israel in St. Petersburg. Only the group winner will earn a direct ticket to Brazil's 2014 FIFA World Cup and the best that the 2nd-place will allow is an entrance to a final playoff round that will be played next year. Portugal will now travel to Boston to face Brazil on a friendly match next Tuesday night, but Cristiano Ronaldo won't make his appearance there, as he will return immediately to Madrid to start recovering from a small tendinitis injury that he picked over this past week.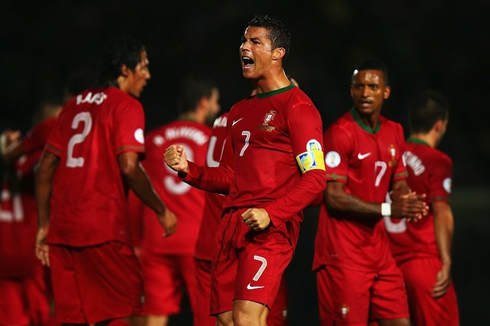 Portugal line-up vs Northern Ireland:
Goalkeeper: Rui Patrício
Defenders: Fábio Coentrão, Pepe, Bruno Alves, João Pereira
Midfielders: Miguel Veloso, João Moutinho, Raúl Meireles
Attackers: Vieirinha, Cristiano Ronaldo, Hélder Postiga

Match stats provided by www.ronaldo7.net

2

Goals

4

-

Shots

-

-

Shots on goal

-

-

Corner kicks

-

-

Fouls commited

-

-

Yellow cards

-

2

Red cards

1

-

Ball possession

-
Cristiano Ronaldo next game for Portugal will be for FIFA 2014 World Cup qualifiers against Northern Ireland, this next Friday (September 6, 2013) at the Windsor Park. You can watch Juventus live stream, Northern Ireland vs Portugal, Finland vs Spain, England vs Moldova and Germany vs Austria, all matches provided from our football live streaming section.
Portugal next game:
Brazil vs Portugal kick-off time (11-09-2013):
Jakarta (Indonesia) | GMT+7: 09:00
Spain (Madrid) | GMT+2: 04:00
Portugal and England (Lisbon/London) | GMT+1: 03:00
Rio de Janeiro (Brazil) | GMT-3: 23:00
New York (United States) | GMT-4: 22:00
Los Angeles (United States) | GMT-7: 19:00
Beijing (China) | GMT+8: 10:00
Sources: ronaldo7.net / fifa.com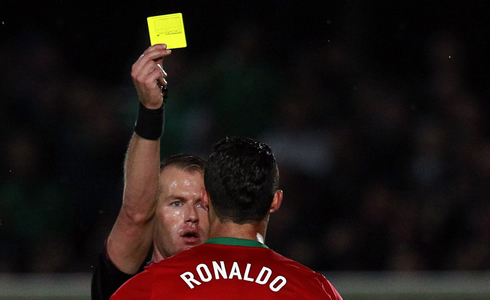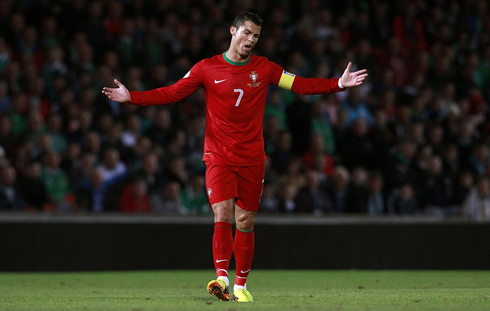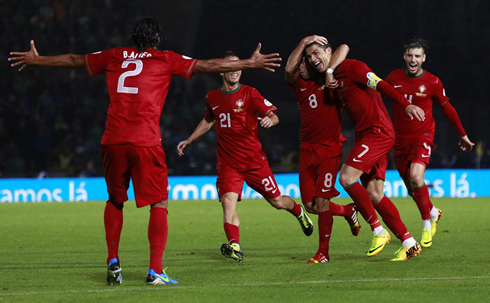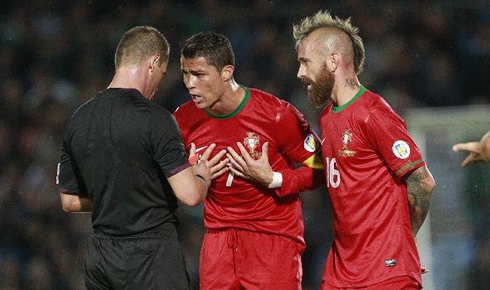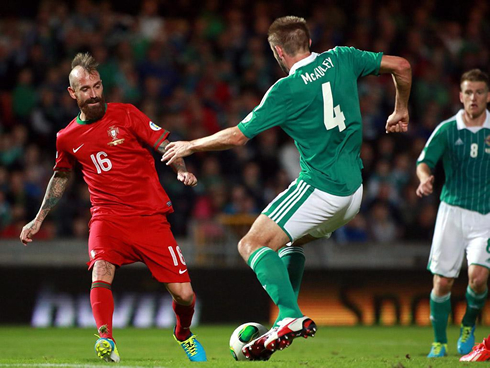 [ More Ronaldo photos from this game / Back to News Index ]

comments powered by