11.05.2013 » Espanyol 1-1 Real Madrid. End of the road in the Spanish League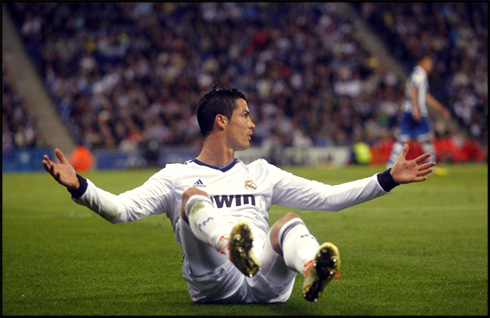 Real Madrid didn't get more than a 1-1 draw against Espanyol last night in the Estadi Cornellà-El Prat and with this result, Barcelona are now officially the Spanish League champions in 2012-2013. Cristiano Ronaldo only joined the game during the 2nd half, but still in time to see the equalizer being scored by Gonzalo Higuaín, in a nice header responding to a Luka Modric cross.


Barcelona are now mathematically the Spanish champions this season, after last night's 1-1 draw between Real Madrid and Espanyol. With one eye on the Copa del Rey final (scheduled for next Friday), José Mourinho rested several key players as he went ahead into this game and the Merengues failed to respond the way they should have. Cristiano Ronaldo stepped in only in the 56th minute, exactly two minutes before Gonzalo Higuaín managed to tie the game at 1. The next challenge for Real Madrid goes by the name of Atletico Madrid, with a Copa del Rey title on the line. A Merengues victory could very well ease things for José Mourinho's side, especially after the troubled times that are being lived in Madrid in the past weeks and months.
Cristiano Ronaldo photos in Espanyol vs Real Madrid
Espanyol 1-1 Real Madrid goals and highlights:
From a Real Madrid fan perspective, there surely isn't much left to fight for this season. Delaying Barcelona's title party in La Liga was working as a sort of consolation prize for the past few weeks, but we all knew it would only be a matter of time until things got settled for good. The league was lost right in the beginning of the season, when Real Madrid allowed Barça to take off in the standings and becoming almost unreachable already by Christmas. Since that point onwards, it has been a "walk in the park" for the Blaugrana, which now culminates in mid May, with both Real and Barça already at half gas...
Espanyol is ranked 11th in La Liga standings and that fact single-handedly allowed the home side to never feel any kind of extra pressure to pull off a good result against the Merengues. However, they would be the ones breaking the deadlock in the first half, when a corner kick on the right allowed for Stuani to struck the ball past Diego Lopez. As seen in multiple occasions throughout the season, Real Madrid were beaten from a set-pieces play and the passiveness shown when defending corner kicks clearly remains being one of the biggest flaws of this team.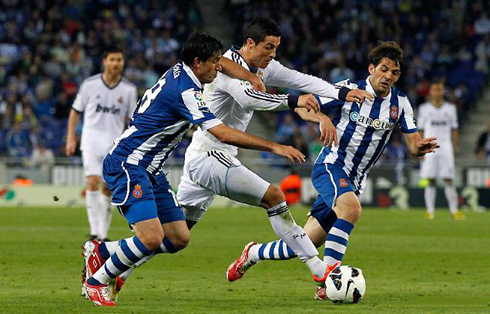 José Mourinho had decided to leave Cristiano Ronaldo on the bench in the beginning of the game, but as time passed and Real Madrid kept trailing, the chances for the Portuguese star to join the match were definitely raising. After Varane's injury in the first half (the Frenchman is expected to be out for roughly 4 weeks and therefore, he'll miss the Copa del Rey final) and Xabi Alonso coming in to replace him, Mourinho had 2 more subs left to play with for the rest of the game. He sent in Benzema to replace Morata right after the break and Cristiano Ronaldo for Kaká, in the 56th minute. The Merengues would react just a couple minutes later...
Luka Modric got in charge of taking a free-kick on the left attacking side, curled a perfect cross into the box and Gonzalo Higuaín limited himself to slightly deflect it with the top of his head. That small touch was more than enough to trick Espanyol's goalkeeper Francisco Casilla and Real Madrid was back in the game with still plenty of time left to chase the winning goal. Unfortunately, that second goal never arrived and the 1-1 result would drag until the end. Barcelona were given the chance to celebrate the Spanish title without even stepping in to the pitch, as they are only facing Atletico Madrid this Sunday night.
There are now 3 games left in Real Madrid schedule for this season, two for La Liga and the Copa del Rey final against Atletico Madrid, right next Friday (May 17). Whoever wins it will also secure their right to challenge Barcelona in August, for the Spanish Super Cup title decision, a trophy played in a 2-game tie. Whether both José Mourinho and Cristiano Ronaldo will still be in Real Madrid's ranks by then is surely something quite uncertain by now...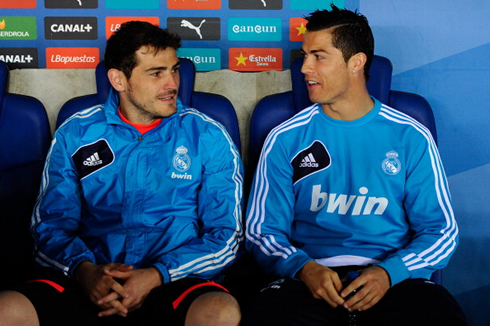 Real Madrid line-up vs Espanyol:
Goalkeeper: Diego López
Defenders: Nacho, Albiol, Ricardo Carvalho, Varane
Midfielders: Modric, Essien, Kaká
Attackers: Di María, Morata and Higuaín

Match stats provided by www.ronaldo7.net

1

Goals

1

6

Shots

12

4

Shots on goal

4

8

Corner kicks

3

13

Fouls commited

17

5

Yellow cards

6

1

Red cards

0

30%

Ball possession

70%
Cristiano Ronaldo next game for Real Madrid will be against Atletico Madrid for the Copa del Rey Final, on May 17, 2013. You can watch Juventus live stream, Real Madrid vs Atletico Madrid, Atletico Madrid vs Barcelona, Reading vs Manchester City and Arsenal vs Wigan, all matches provided from our soccer live streamings section.
Real Madrid next game:
Real Madrid vs Atletico Madrid kick-off time (17-05-2013):
Jakarta (Indonesia) | GMT+7: 03:30
Spain (Madrid) | GMT+1: 21:30
Portugal and England (Lisbon/London) | GMT+0: 20:30
Rio de Janeiro (Brazil) | GMT-3: 17:30
New York (United States) | GMT-4: 16:30
Los Angeles (United States) | GMT-7: 13:30
Beijing (China) | GMT+8: 04:30
Sources: ronaldo7.net / realmadrid.com / guardian.co.uk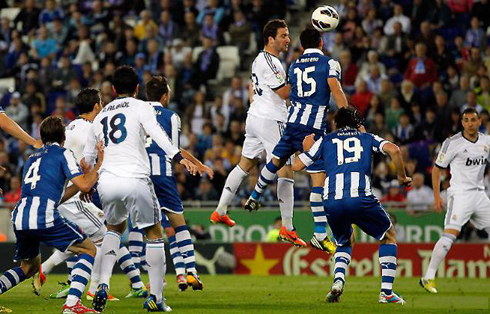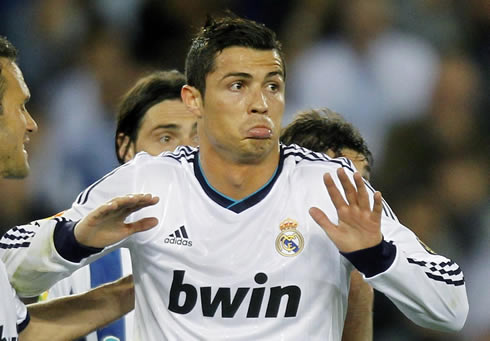 [ More Ronaldo photos / Back to News Index ]

comments powered by