09.04.2013 » Galatasaray 3-2 Real Madrid. Never take anything for granted!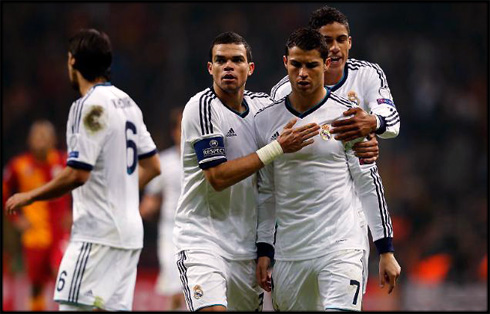 Who would say that Real Madrid was still to be sent against the ropes in Turkey? The Merengues lost 3-2 against Galatasaray this Tuesday night, but advanced into the Champions League semi-finals, thanks to the 3-0 home win from last week and a final 3-5 result on aggregate. To Real Madrid rescue came once again Cristiano Ronaldo, as he was the one scoring the two goals for the Spanish side.


It has been on a true thrilling UEFA Champions League night that Real Madrid confirmed their presence in the competition's semi-finals. The Merengues got defeated by 3-2 by Galatasaray at the Turk Telekom Arena, but will move on to the next stage with a favorable 3-5 aggregate result. A first goal from Cristiano Ronaldo still inside the 10 minutes of the first half seemed to have sealed the deal for good very early in the game, but Galatasaray's reaction in the second half turned things around and forced Real Madrid to wake up to survive. José Mourinho's men thought it was all over at half-time and probably learned a valuable lesson for the future, as they should never take anything for granted, especially in a UEFA Champions League quarter-finals stage. Ronaldo responded to the three Turkish goals (from Eboué, Sneijder and Drogba) with a late strike and made sure that Real Madrid will take one of the four semi-finalist spots by right, for the 3rd year in a row...
Cristiano Ronaldo photos in Galatasaray vs Real Madrid
Galatasaray 3-2 Real Madrid goals and highlights:
The atmosphere at the Turk Telekom Arena didn't let anyone down and these are the kind of stages and nights that no football player involved in the game will surely forget. More than 50,000 people attended this Tuesday's night match and witnessed in first hand to another Cristiano Ronaldo opener, right around the 8th minute of the game. Mesut Ozil's short pass met Khedira on the right, and the German "Panzer" didn't lose much time to cross it into the middle for Cristiano Ronaldo to flick it into the back of the net.
With that first goal in the game, Real Madrid knew only a calamity would prevent them from moving on to the Champions League semi-finals. From that moment onwards, Galatasaray was forced to score 5 goals without conceding any other, that is, if they were still wanting to be taken serious about advancing into the competition's next stage. The last time the Merengues had suffered 5 goals in an official game was against Barcelona, on that famous 5-0 night at the Camp Nou.
The first-half would carry on without any other goals taking place and with a 0-4 on aggregate established at half-time, not even the most devoted Galatasaray fans believed there was still a chance for their side to get back in the series' discussion. However, Fatih Terim seemed to have motivated his boys quite well during the break and a stunning reaction from the Turkish team in the following minutes has almost been enough to put Real Madrid's season down the drain...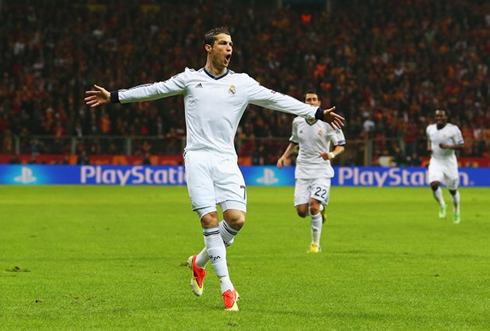 In the 57th minute of the match, the former Arsenal F.C. player Emmanuel Eboué scored the equaliser that would spark and ignite the Turkish reaction. Wesley Sneijder sent in a low cross from the left, right to the entrance of the Merengues' penalty area. The Ivorian Coast defender then appeared like a bullet to blast a powerful shot into the top-right corner, leaving Diego López stuck to the ground, as he had absolutely nothing he could have done to stop it. 1-1 on the scoredboard and still more than half an hour left to be played...
Thirteen minutes later, it was time for Wesley Sneijder himself to leave his mark in the game. The former Ajax and Inter Milan attacking midfielder, got rid of Varane with a brilliant nutme, and finished his play with class when he had only Diego López in front of him. The Dutch footballer certainly knew better than most of the players on the pitch what it takes to win the Champions League, as he has won the trophy back in 2010, in a period where José Mourinho was his coach at Inter Milan. The game was far from being over...
And if Sneijder has already tasted the feeling of lifting a Champions League trophy, the exact same thing can be said about the following goalscorer. The Chelsea F.C. legend Didier Drogba seemed to have been pumped up with the Turkish "remontada" and pulled off a superb backheel touch for another memorable goal in his career. Raphael Varane was marking him closely on his back, but the Ivorian Coast striker showed everyone once again, why he he has been regarded as one of the most dangerous players in the game when he was on his prime. Absolutely vintage Drogba and Real Madrid needed to wake up fast if they wanted to avoid one of the biggest comebacks in the Champions League history. However, there were still two goals left setting Galatasaray apart from the most epic night they could have ever thought of...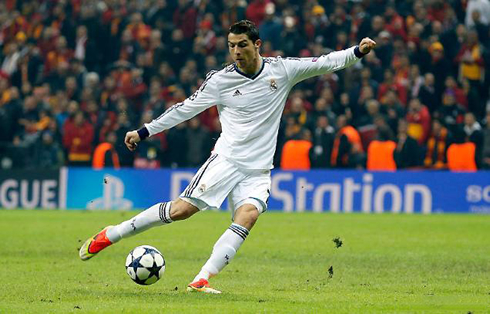 Those last 20 minutes of the game suddendly gained a whole new meaning. It was no longer a matter of letting the time go by and simply wait for the final whistle, but it was rather a period where everyone had to realize the need of giving their all once again, as if their attitude could be turned on and off like a normal switch. Alvaro Arbeloa was shown a double yellow card in the 90th minute of the game, in a totally avoidable incident, but that event single-handedly didn't prevent Cristiano Ronaldo from giving the final blow to Galatasaray and establishing the final result in 3-2 (3-5 on aggregate). Real Madrid move on and so does Borussia Dortmund, who knocked out Malaga in the dying minutes of their game, with two goals in added time. This Wednesday night, we'll get to know who will join them in the semi-finals draw, but my money will be on Barcelona (vs PSG) and Bayern Munich (vs Juventus).
As for Cristiano Ronaldo, his contribution to the team is just beyond words and there's not much we can say to really make justice to how important he is for Real Madrid these days. If there's a "Messi-dependency" in Barcelona, then there's surely a "Ronaldo-dependency" in Real Madrid. The Portuguese forward is the Champions League top goalscorer, with 10 games played and 11 goals on his tally. As for the all competitions in the whole season, Ronaldo now has 48 goals in 47 games. Quite simply out of this world!
Real Madrid line-up vs Galatasaray:
Goalkeeper: Diego López
Defenders: Fábio Coentrão, Pepe, Varane, Essien
Midfielders: Khedira, Modric, Ozil
Attackers: Di María, Cristiano Ronaldo and Benzema

Match stats provided by www.ronaldo7.net

3

Goals

2

13

Shots

9

5

Shots on goal

5

4

Corner kicks

3

21

Fouls commited

15

3

Yellow cards

2

0

Red cards

1

60%

Ball possession

40%
Cristiano Ronaldo next game for Real Madrid will be an away one, against Athletic Bilbao, on April 14, 2013, for the Spanish League. You can watch Juventus live stream, Athletic Bilbao vs Real Madrid, Barcelona vs PSG, Juventus vs Bayern Munich and Basel vs Tottenham, all matches provided from our soccer live section.
Real Madrid next game:
Athletic Bilbao vs Real Madrid kick-off time (14-04-2013):
Jakarta (Indonesia) | GMT+7: 03:00
Spain (Madrid) | GMT+1: 21:00
Portugal and England (Lisbon/London) | GMT+0: 20:00
Rio de Janeiro (Brazil) | GMT-3: 17:00
New York (United States) | GMT-4: 16:00
Los Angeles (United States) | GMT-7: 13:00
Beijing (China) | GMT+8: 04:00
Sources: ronaldo7.net / bostonherald.com / dailymail.co.uk / yahoo.com / realmadrid.com / thescore.com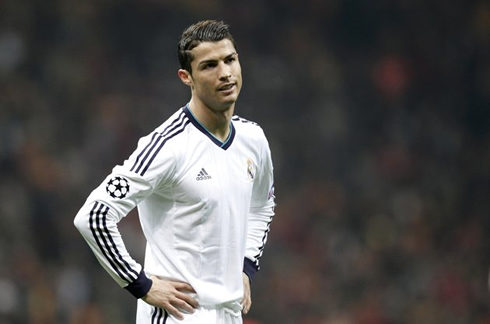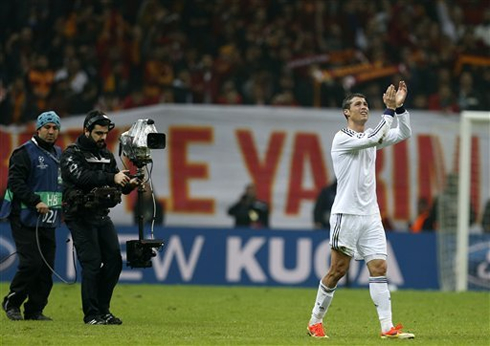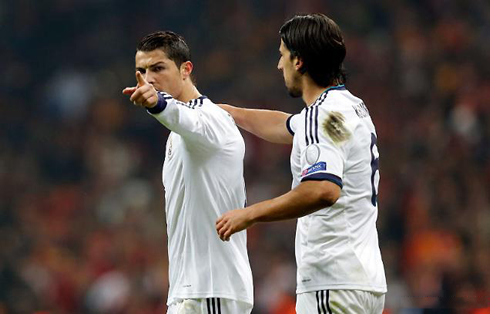 [ More Ronaldo photos / Back to News Index ]

comments powered by