01.04.2013 » What's happening with Higuaín and Benzema?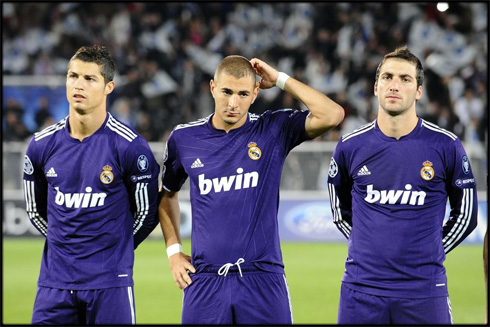 Real Madrid has been struggling in quite a few areas this season, but one of the biggest unpuzzled mysteries lies precisely in the attacking department, where Gonzalo Higuaín and Karim Benzema have been far from delivering what is expected from both of them. At this point of Real Madrid's campaign, it urges to ask ourselves what has really changed from last season that could help explaining such a big difference on these two players...


While Cristiano Ronaldo keeps raising the standard on his Real Madrid journey, other players seem to have slowed down considerably from last season to this one. The most prominent cases have necessarily to do with Karim Benzema and Gonzalo Higuaín's disappointing form this year, which has been forcing the Merengues to depend massively on Ronaldo's superb goal-scoring capabilities. So far, most of the consequences have only been visible in Real Madrid's poor campaign in La Liga, precisely the competition where consistency and regularity are key factors for achieving success. The UEFA Champions League quarter-finals are right around the corner and even though half world expects for Ronaldo to put his name on the scoresheet against Galatasaray, Higuaín or Benzema's contribution with goals, can very well turn out to be decisive.
Ronaldo, Higuaín and Benzema - Magic trio: 118 goals in 2011-2012:
Last season, Cristiano Ronaldo (60), Benzema (32) and Higuaín (26) combined, scored an incredible amount of 118 goals across all competitions. This season, with 9 games left in La Liga, 1 for the Copa del Rey and around 2 to 5 in the Champions League, we have a total of 12-15 games left to be played. The goalscoring tally is quite different and immediatly also speaks for itself: Ronaldo has 44 (out of 44 games), Benzema 15 (37 games) and Higuaín 12 (31 games), making a current total of 71 goals. The French and Argentinian strikers have less than half of the goals they have scored last season, and we're already jumping into the final stage of the 2012-2013 campaign...
At the same time the squad has barely changed from last season, José Mourinho also didn't exactly switched much in the the way the team plays this year. In most games, it's either Higuaín or Benzema who take the center forward spot in the line-up, in order to partner up with Cristiano Ronaldo and Angel Di María/Callejón. The attacking dynamic is therefore pretty much the same, but something appears not to be working quite as expected, at least for both Benzema and Higuaín.
Some might suggest that it may not necessarily be these two players' fault and attempt to spot something different in Cristiano Ronaldo's game for example. We all know how the Portuguese star enjoys assuming the center role in any team he plays and that sometimes, his attitude may lead to some sort of selfish decisions on the pitch. Is Ronaldo taking too many shots on average per game, and therefore not assisting his teammates in the right occasions? Is it even fair to point out that a player as influential as Ronaldo might be acting selfish on the pitch, when all he might be doing is stepping up when no one else does it? In either case, it doesn't even seem plausible to think that this Ronaldo's so called "selfish-behavior" may have increased from last season. It should be unanimous that CR7 is far from being the problem behind Benzema and Higuaín under-performance issue.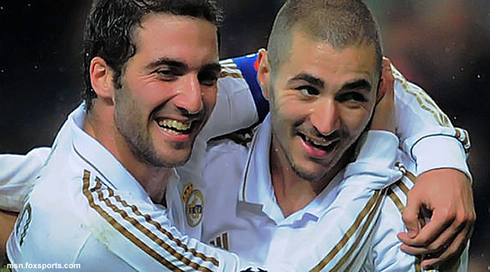 Mourinho is well aware of the challenge he has ahead and he has already issued a confidence vote to the two strikers. The Portuguese coach addressed the fact that Real Madrid is not scoring as much as they did last season, and started by pointing fingers to Benzema and Higuaín, for not being able to live up to the expectations so far. The low scoring-rate that the Merengues have on this Spanish League campaign was actually the main reason Mourinho found to explain the huge points difference to Barcelona in the league standings. However, the "Special One" trusts that his center forwards will soon pick their form back up and start joining Ronaldo in the scoresheet more often.
The timing is critical though, as Real Madrid will take on Galatasaray right next Wednesday, for the Champions League quarter-finals first leg. Benzema will most likely take his spot in the starting line-up, as he has already scored 3 goals in the competition so far, while Higuaín is yet to score his first, even though he already counts with 5 appearances. If by any chance Real Madrid falls short in getting through into the Champions League semi-finals and if that does happen after witnessing Benzema or Higuaín underperforming against the Turkish side, then I would say we're very likely to finally see some surprising moves in next Summer's transfer window, with Florentino Pérez bringing a different attacking partner for Cristiano Ronaldo. For now, make sure you won't miss a piece of the live action of Real Madrid vs Galatasaray, coming up next Wednesday night.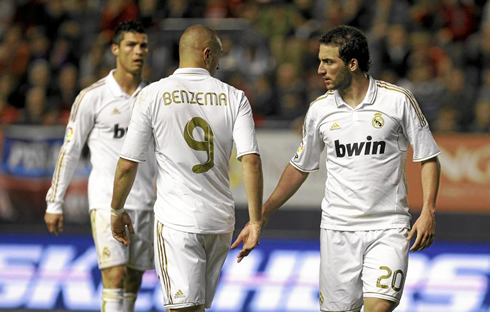 Cristiano Ronaldo next game for Real Madrid will be against Galatasaray, on April 3, 2013, for the UEFA Champions League. You can watch Juventus live stream, Real Madrid vs Galatasaray, PSG vs Barcelona, Chelsea vs Manchester United and Bayern Munich vs Juventus, all matches provided from our soccer live section.
Real Madrid next game:
Real Madrid vs Galatasaray kick-off time (03-04-2013):
Jakarta (Indonesia) | GMT+7: 02:45
Spain (Madrid) | GMT+1: 20:45
Portugal and England (Lisbon/London) | GMT+0: 19:45
Rio de Janeiro (Brazil) | GMT-3: 16:45
New York (United States) | GMT-4: 15:45
Los Angeles (United States) | GMT-7: 12:45
Beijing (China) | GMT+8: 03:45
Sources: ronaldo7.net / realmadrid.com / marca.com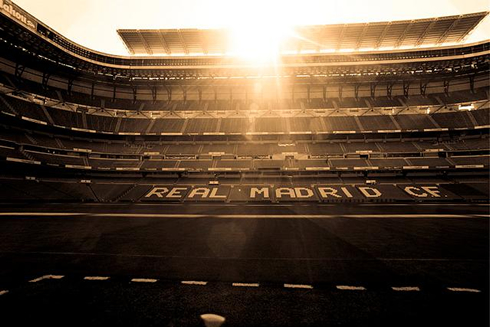 comments powered by