12.02.2013 » Merengues vs Red Devils - The game we've all been waiting for!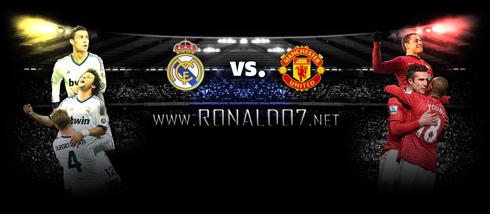 The day has finally arrived, as Real Madrid and Manchester United prepare to clash at the Santiago Bernabéu, for the first leg of the UEFA Champions League last-16 round. Cristiano Ronaldo will meet again with Sir Alex Ferguson and his former teammates, in one of those games where all eyes will surely be turned on him.


Can you all hear the drums beating? The time has come and no football fan will dare to miss the Real Madrid vs Manchester United clash at the Bernabéu, this Wednesday night. The stage is set for one of the most exciting games of the year, as Cristiano Ronaldo will be more than ever in the center of the spotlight, when he steps up to the pitch to face his former and still beloved club, Manchester United. The game will hold an highly emotional charge for the Portuguese superstar and that seems to be a fact that no one even attempted to deny over the last days, regardless of the person being a Merengues or Red Devils fan. Will all this attention and pressure towards Ronaldo end up playing a positive effect on his performance or is it simply too much for a single player to bear?
Real Madrid vs Manchester United - The game of the year: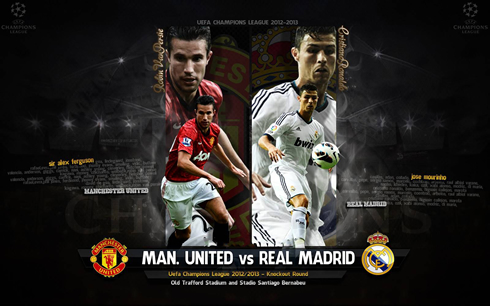 Manchester United and Real Madrid have won 12 European Cups combined (original name of the competition, since now it's simply known as UEFA Champions League), with three of those belonging to the Old Trafford club and the remaining nine to the Merengues. Alongside with Barcelona, a clash between Real Madrid and the Red Devils puts us in front of the most mediatic football clubs in the World in the current days. It will be a titanic battle, fought both in and outside the football pitch, as it usual happens when Sir Alex Ferguson and José Mourinho go head to head. It simply doesn't get any better than this...
The last time Real Madrid lifted the Champions League was in 2002, which basically means that more than 10 years have already passed! As for Manchester United, the English side found European glory for the last time in 2008, in a season where they still counted with Cristiano Ronaldo in their ranks. This Wednesday night, both clubs hope to initiate their journey towards the 2013 Champions League Wembley Final, but no one from either side surely expects an easy challenge ahead of this super clash, drawn at such an early stage of the competition.
So what kind of tactical approaches and gameplans can we expect for José Mourinho and Sir Alex Ferguson to go with, this Wednesday night? Real Madrid will most likely present their classic starting eleven for this season, with the exception of Iker Casillas (still injured) and Marcelo (far from his best form after coming back from a recent injury). Scoring an early goal can be decisive and no one should be admired if we see Mourinho's men pushing forward with high intensity right in the first minutes of the game. Here's the Merengues probable line-up to face Manchester United at the Santiago Bernabéu:
Goalkeeper: Diego López
Defenders: Arbeloa, Sergio Ramos, Pepe, Fábio Coentrão
Midfielders: Xabi Alonso, Sami Khedira, Mesut Ozil
Forwards: Angel Di María, Cristiano Ronaldo and Karim Benzema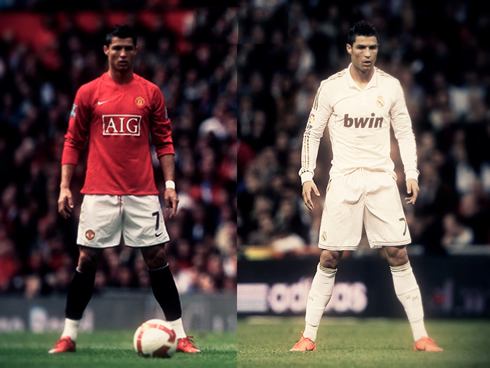 As for Manchester United, Sir Alex Ferguson is well aware of the danger of coming to the Santiago Bernabéu with an excessive defensive approach, so the Red Devils are expected to attempt to fight for the ball possession and midfield will naturaly be the key. Bringing in players like Valencia, Kagawa or Phil Jones into the midfield battle, as they are undoubtedly more than capable of increasing the team's defensive work rate whenever it's needed, is something that Sir Alex Ferguson will keep in mind when picking his starting line-up. The attack should be handed to Rooney and Robin van Persie as usual, while the defence isn't missing any key units and is also expected to be solid and tight. Here's the Red Devils probable line-up for the 1st leg of the Champions League encounter with Real Madrid:
Goalkeeper: De Gea
Defenders: Rafael da Silva, Vidic, Rio Ferdinand, Patrice Evra
Midfielders: Michael Carrick, Tom Cleverley, Antonio Valencia, Shinji Kagawa
Forwards: Wayne Rooney, Robin van Persie
It's hard to predict how much of an impact all this tension and attention will produce on Cristiano Ronaldo. If every football fan across the World is excited about this game, one can only imagine how the 28-years old is living these days ahead of this Real Madrid vs Man Utd game. Everyone involved in this match, from players to coaches, that have been anticipating this clash over the last days, have made remarks on Cristiano Ronaldo and it seems only legit to wonder if all this buzz about his reencounter with the Red Devils will affect CR7's performance on Wednesday. Below, we compiled a few statements made strictly over the past days, just to give an idea of what others have been saying about Ronaldo and to prove why it seems to be all about the Portuguese player...
- José Mourinho: "Cristiano Ronaldo is the most fantastic player I've ever coached."
(12-02-2013)
- Sir Alex Ferguson: "Cristiano Ronaldo is the one to worry about."
(12-02-2013)
- Gary Neville: "Emotions might get to Ronaldo."
(12-02-2013)
- Wayne Rooney: "Can't wait for tomorrow night. It will be nice to see Ronnie again."
(12-02-2013)
- Rio Ferdinand: "Emotional return will be too much for Ronaldo to handle."
(11-02-2013)
- Rafael da Silva: "I'm sure Ronaldo will get a good reception in Old Trafford. It will be massive."
(12-02-2013)
- Patrice Evra: "It will be emotional for Ronaldo, because he loves Man Utd."
(10-02-2013)
- De Gea: "Cristiano Ronaldo is unique in the way he strikes the ball."
(12-02-2013)
- Michael Carrick: "We need three players to mark Cristiano Ronaldo."
(12-02-2013)
- Michael Essien: "Cristiano Ronaldo is excited and he wants to play right now."
(12-02-2013)
Below you can also find a detailed infographic work published by kitbag, previewing the Real Madrid vs Manchester United live game. Stats from both clubs and a head-to-head analysis between Cristiano Ronaldo and Robin van Persie are just part of the data being provided:

Cristiano Ronaldo next game for Real Madrid will be an emotional match against his former club Manchester United, on February 13, 2013. You can watch Juventus live stream, Real Madrid vs Manchester United, Valencia vs PSG, Shakhtar Donetsk vs Borussia Dortmund and Tottenham vs Lyon, all matches provided from our soccer live section.
Real Madrid next game:
Real Madrid vs Manchester United kick-off time (13-02-2013):
Jakarta (Indonesia) | GMT+8: 02:45
Spain (Madrid) | GMT+2: 20:45
Portugal and England (Lisbon/London) | GMT+1: 19:45
Rio de Janeiro (Brazil) | GMT-1: 17:45
New York (United States) | GMT-4: 14:45
Los Angeles (United States) | GMT-7: 11:45
Beijing (China) | GMT-7: 11:45
Sources: ronaldo7.net / goal.com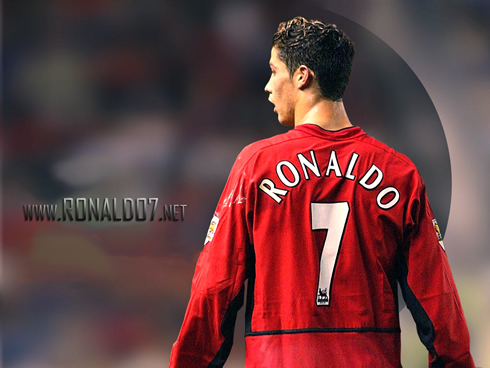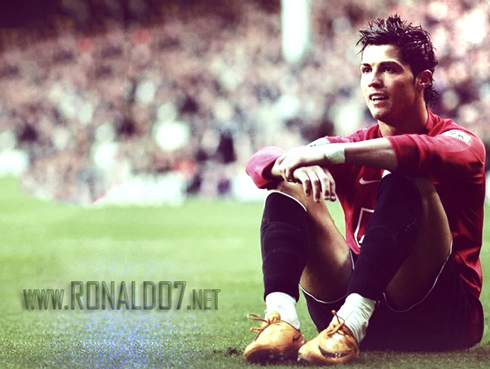 comments powered by