09.02.2013 » Real Madrid 4-1 Sevilla. Ronaldo pulls off another hat-trick show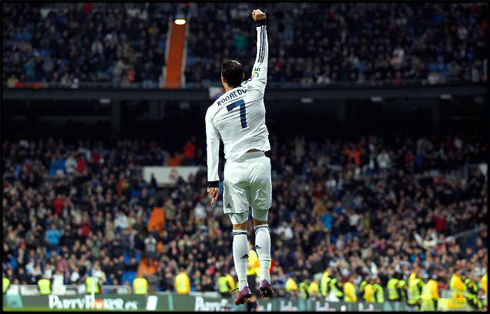 With the clash against Manchester United scheduled for next Wednesday, there were some legit concerns about Real Madrid's focus for this home game against Sevilla. However and against several critics' expectations, Merengues preferred to send out a message to their next opponents, as they ran over Sevilla at the Santiago Bernabéu, in a 4-1 win. Once again, Cristiano Ronaldo made the difference, with another brilliant hat-trick display that allowed him to earn a truly deserved standing ovation from the home fans.


Sevilla visited the Santiago Bernabéu this Saturday night, but were forced to bow down towards the Spanish champions, as Cristiano Ronaldo netted another hat-trick and the Merengues defeated the visitors by 4-1. If there were still any doubts about Real Madrid's Champions League priority this season, then José Mourinho quickly made sure that there was no more question marks on that topic, as not only he left Mesut Ozil and Sami Khedira on the bench, but also substituted Ronaldo on the 63rd minute of the game, just a few minutes after the Portuguese completed his hat-trick. The next opponent goes by the name of Manchester United and the two European giants will collide at the Santiago Bernabéu, this Wednesday night. You can watch Juventus live stream, Real Madrid vs Manchester United live, at our game streaming page.
Cristiano Ronaldo photos in Real Madrid vs Sevilla
Real Madrid 4-1 Sevilla goals and highlights:
The Merengues knew it would be extremely important to reach the opener as soon as possible, in order to avoid risking a stressful and exhausting match just a few days before hosting Manchester United for the UEFA Champions League first leg, at the last-16 round. Fortunately, the first goal arrived near the 17th minute, after a long pass from Sergio Ramos allowed Ronaldo to chase the ball as he was entering Sevilla's penalty area and just before he put in a strong and low cross into a very dangerous area right in front of the goalkeeper's intervention zone. Sevilla's defender Navarro, went for the ball making a sliding tackle, but saw that same ball being deflected on his own face and actually set Karim Benzema with an easy goal, as the Frenchman was left with the easy task of simply pushing the ball into an empty net.
Eight minutes after the first goal, Cristiano Ronaldo decided to start stealing the show and scored one of his best goals this season so far. The Portuguese superstar picked the ball deep in Sevilla's half, pulled of a very quick dribble to get some space inside and fired a rocket from a long distance with his left foot, that would only stop at the back of the net. Another tremendous goal from Cristiano Ronaldo this season and which at that time, gave Real Madrid a two goal lead and the opportunity to control the game with less pressure from that point onwards.
There were no more goals left in the first half, but as soon as things kicked off again for the remaining 45 minutes, Real Madrid extended their lead to 3 goals. Exactly 30 seconds after the game had restarted, Arbeloa headed a ball forward coming from a long clearance by Sevilla's goalkeeper, Beto, and Cristiano Ronaldo didn't hesitate in running for it, exploiting a lack of concentration from the defenders. The 28-years old forward easily outran his opponents and struck the ball with his left foot, scoring the second on the night.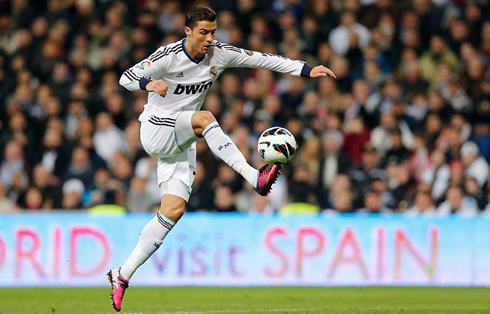 With 59 minutes on the clock, Ronaldo showed up again, this time in one of those lightning counter-attacks that only Real Madrid is capable of. The former Manchester United winger picked the ball just a few meters ahead of Real Madrid's penalty area, and immediatly sprinted with it for nearly 50 or 60 meters. He then passed the ball to Gonzalo Higuaín, but didn't stay still, and kept running into Sevilla's penalty area. The Argentinian respected his teammate's movement and sent a low cross into the far post, where Ronaldo appeared still in time to push it into the back of the net, completing his 5th hat-trick of the season for Real Madrid.
The Portuguese star was substituted four minutes later and saw the Santiago Bernabéu fans granting him another standing ovation, which can be especially important now that we're only a few days behind one of the most important games of the season, with the Real Madrid vs Manchester United clash boiling up for next Wednesday. With Ronaldo out and Higuaín being sent off shortly after thanks to a second yellow card, Sevilla managed to come up with a lonely goal, in a good finish provided by Del Moral that finally beat Real Madrid's goalkeeper, Diego López.
With this 4-1 victory, Real Madrid momentarily closes the gap to Barcelona to 13 points, but the Blaugrana will play for La Liga this Sunday morning, as they host Getafe at the Camp Nou. Cristiano Ronaldo confirmed his hot streak, scoring his 36th goal in the season (24 in La Liga) and will certainly look forward to be at his best next Wednesday, when Real Madrid faces Man Utd at the Santiago Bernabéu, for the Champions League 1st leg.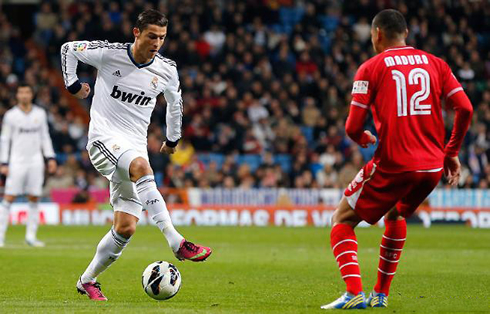 Real Madrid line-up vs Sevilla:
Goalkeeper: Diego López
Defenders: Arbeloa, Raul Albiol, Sergio Ramos, Fábio Coentrão
Midfielders: Essien, Modric, Kaká
Attackers: Higuaín, Cristiano Ronaldo and Benzema

Match stats provided by www.ronaldo7.net

4

Goals

1

5

Shots

17

18

Shots on goal

12

5

Corner kicks

9

19

Fouls commited

19

6

Yellow cards

3

1

Red cards

1

58%

Ball possession

42%
Cristiano Ronaldo next game for Real Madrid will be a special one against his former club, Manchester United, on February 13, 2013. You can watch Juventus live stream, Real Madrid vs Manchester United, Barcelona vs Getafe, Manchester United vs Everton and Aston Villa vs West Ham, all matches provided from our soccer streaming page.
Real Madrid next game:
Real Madrid vs Manchester United kick-off time (13-02-2013):
Jakarta (Indonesia) | GMT+8: 02:45
Spain (Madrid) | GMT+2: 20:45
Portugal and England (Lisbon/London) | GMT+1: 19:45
Rio de Janeiro (Brazil) | GMT-1: 17:45
New York (United States) | GMT-4: 14:45
Los Angeles (United States) | GMT-7: 11:45
Beijing (China) | GMT-7: 11:45
Sources: ronaldo7.net / dailytelegraph.com.au / marca.com / realmadrid.com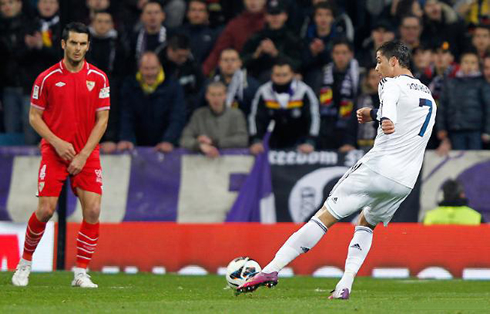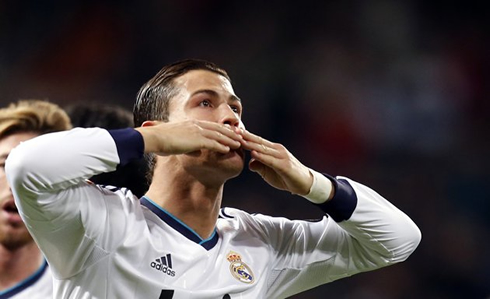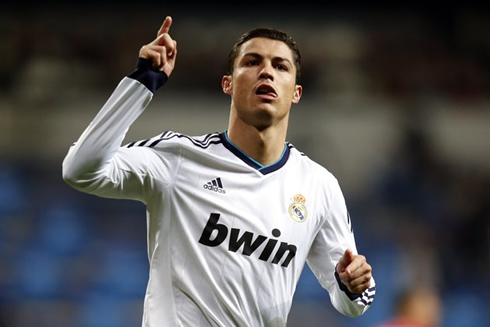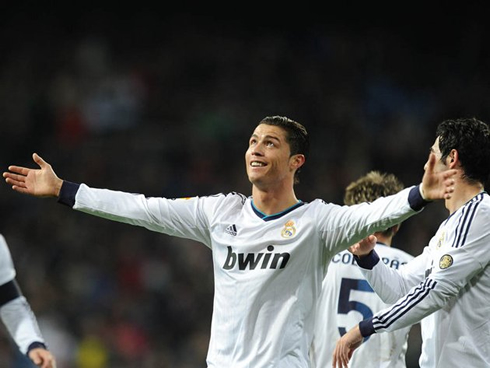 comments powered by