27.12.2012 » Crisis in Madrid. Who's to blame for La Liga failure?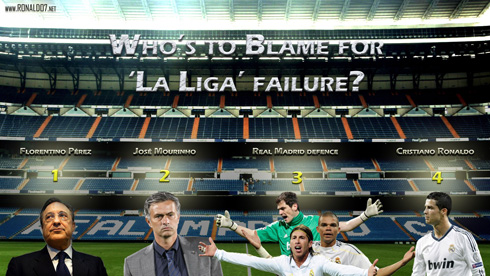 Who would have thought during the beginning of the current season, that Real Madrid had already lost their hopes of winning the Spanish League by the Christmas break? Not many people for sure, but that's pretty much the scenario we have in front of us, with a 16 points gap setting apart Real Madrid and La Liga leaders Barcelona. What could be the reasons behind such a big disappointment? Let's find out...


The alarm sirens went on in the Spanish capital last week, after another distressing loss suffered in La Liga, this time against Malaga. We promoted a quick debate on this topic at our Facebook page just a few days ago, where we have pointed in several directions that could help explaining what exactly has led to this unusual situation, where the still Spanish champions have gone out of the title race so soon in the season. Real Madrid will end the 2012 year on 3rd place and 16 points adrift of the Spanish League leaders Barcelona, and at this stage, only the over-optmistic Merengues fans can actually think there are still any chances of turning things around. Who's really to blame for La Liga's flop? Florentino Pérez? José Mourinho? Real Madrid defence? Cristiano Ronaldo?! We'll attempt to analyze this problematic more thoroughly on this article...
Real Madrid - We believe:
If we rewind the tape just a few months back, we would see a Real Madrid team clinching La Liga title and setting a new all-time record after an impressive campaign with 100 points and 121 goals. No one could predict such a decline this season and there are surely many theories that can be drawn to justify the current situation the club has gone into. We compiled a shortlist with several possible reasons, which we'll briefly dissect in the paragraphs below.
Reason 1: Florentino Pérez (Transfer policy)
Reason 2: José Mourinho (Lost of the dressing room)
Reason 3: Real Madrid defence (Too many goals conceded)
Reason 4: Cristiano Ronaldo (Recent form decline)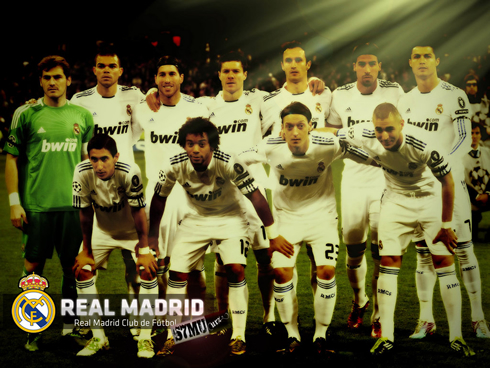 Reason 1: Florentino Pérez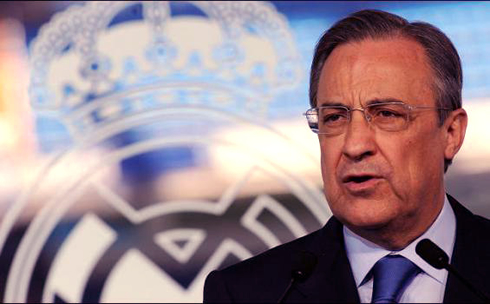 Florentino Pérez has been running the club's fate since 2009, just a few months before he brought Cristiano Ronaldo to the Santiago Bernabéu in a world-record transfer fee of 94 million euros. This is actually the Spanish businessman second presidential term, as he has already been in charge of the Merengues between 2000 and 2006, during the first "Galacticos" era, where he stirred football fans across the World with several big name signings such as the ones of Luís Figo in 2000 (58.5 million euros transfer fee, from the arch-rivals Barcelona), Zinedine Zidane in 2001 (76 million euros transfer fee from Juventus), Ronaldo in 2002 (43 million euros transfer fee from Inter Milan) and David Beckham in 2003 (35.1 million euros transfer fee from Manchester United).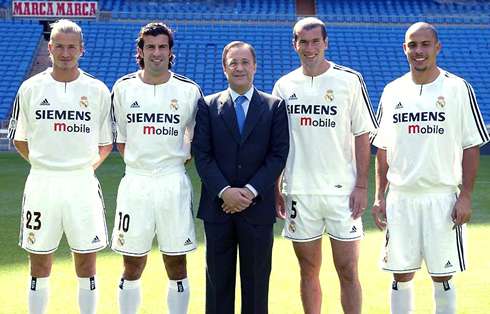 Since his second landing in Madrid, most of Florentino Pérez biggest spendings took place precisely in that 2009 summer, when the likes of Cristiano Ronaldo (€94M), Kaká (€65.8M), Xabi Alonso (€35.4M) and Karim Benzema (€35M) signed for the Merengues. Even though Luka Modric has recently signed for 42 million euros during the past month of August, there seems to have been a clear strategy inversion in respect to the "Galacticos" policy. Real Madrid stopped chasing the big names in the market for a while now and it seems only fair to say that some of the "big star" players brought, like Kaká, have never lived up to the expectations.
Is Real Madrid's problem really related to the lack of quality/quantity of the recent signings? Nuri Sahin (2011), Fábio Coentrão (2011) and Modric (2012) were the last "big" 3 signings joining the club since 2011 and none of them really impressed so far, despite the 82 million euros amount that the club has spent on them. There's also still no proper answer in the team for the right-back position for quite a while and many continue claiming that Cristiano Ronaldo needs another big star to help him tearing defences apart, as well as for sharing the responsability of deciding games, week after week.
Reason 2: José Mourinho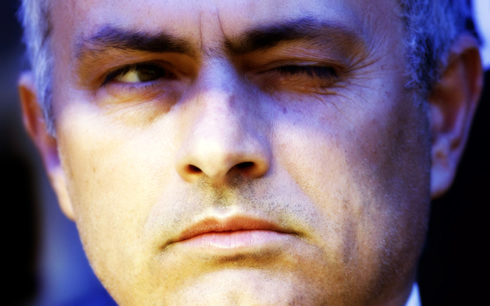 The Portuguese coach is probably going through one of his darkest moments in respect to his football career. He has never been so contested as he is today, with many individualities that are strongly linked to Real Madrid, as well as several sources from the Spanish press like "Marca" newpaper, claiming for José Mourinho's head. The 16 points difference to Barcelona in La Liga table has sent an high amount of pressure towards the "Special One", even though this season he has already won the Spanish Super Cup in August, qualified the team for the UEFA Champions League last 16 stage and remains with good chances of getting through at the Copa del Rey last-16 round.
So certainly, one must ask what has gone so wrong at this season's campaign in La Liga. In Mourinho's defense, let's start by pointing out that Real Madrid has been hit with several injuries since the beginning of the season, which may have very well led to a significant impact in the way the team plays. Players like Marcelo, Fábio Coentrão, Gonzalo Higuaín or Karim Benzema have been unavailable to play for a good amount of time by now (the first three still are) and the team might be suffering too much when that happens. The most proeminent and worrying case seems to be coming from Marcelo, since without the Brazilian left-back on the pitch, Real Madrid has lost most of its attacking power that usually came from his overlaps close to the sideline. A player like Arbeloa can't simply do anything close to that, so with Marcelo and Fábio Coentrão out of the action, the team simple lacks depth in the wings. José Mourinho has been trying many different solutions for the right/left back positions, as it was the case of Essien, Callejón, Nacho, Sergio Ramos and Varane, but none of those names can really perform at the demanded level that the team needs, at least for such a vital position in a 4-3-3 tactical system.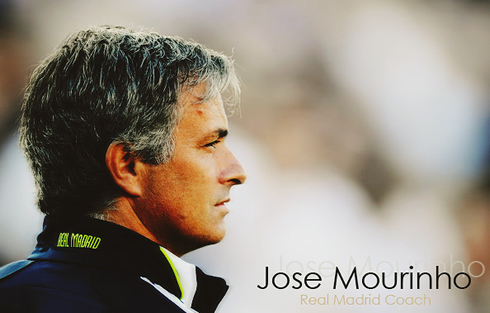 José Mourinho's choices in Real Madrid lineups have been criticized several times this season, but that's more than natural to happen in any football club in the World when several bad results come to the surface. Some pundits claim that Kaká should have already gotten more opportunities to play as a starter in past games, while others prefer to draw attentions to the fact that Real Madrid's midfield is simply not working, either due to the high rotation of the players being picked for those positions, or simply because the tactical system is not adjusted for the team anymore.
However, one of the biggest critics Mourinho has been receiving lately doesn't has to do with his tactical approaches anymore, but rather with the conflicts and divisions that seem to be affecting Real Madrid's dressing room. Many stories and rumors have appearently leaked out from inside the club, indicating that José Mourinho now has several personal problems with more than one "heavyweight" player at the club. There was the "Sergio Ramos case" back in September (the Spanish defender got benched against Manchester City, in a UEFA Champions League home game) and more recently it happened again, but this time with one of the club's biggest symbols, Iker Casillas. The Spanish goalkeeper lost his spot on the line-up in La Liga's last game against Malaga and naturally everyone came up suggesting again, that there is something wrong inside Real Madrid's dressing room. Has Mourinho really lost the control over several of his key players? If so, can this situation still be reversible or heads will end up rolling, from either one or another of the factions that are dividing the group?
Reason 3: Real Madrid defence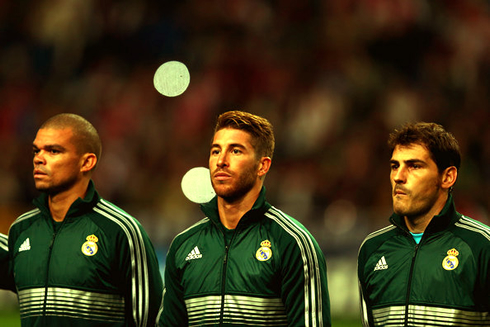 When we look back at most of Real Madrid games this season, one of the team's biggest weaknesses seems to be related to their defence. There are no doubts that Pepe and Sergio Ramos are two world-class defenders and that they do make one of the best defensive partnerships in the game. It's also true that in any given team the defenders are not exactly the only potential guilty players to point the fingers at, when goals are being conceded far too easily. However, Pepe, Sergio Ramos, Iker Casillas and Arbeloa are indeed the Merengues defensive players with more minutes on their legs and all of them have already made several mistakes that compromised the team's winning chances in several games.
One of the biggest flaws of this team continues being how they defend from set-pieces plays. There were way too many points dropped in La Liga throughout this season, coming from goals that were conceded either from corner-kicks or side free-kicks crosses. José Mourinho has assured he has been on top of this problem, but at the same time, he also claims he can't do much more, since he prepares every single player in the most detailed way possible. The team doesn't seem to respond as expected though and opponents keep finding their gold when they get those set-pieces (corners and free-kicks), close to the Real Madrid penalty area.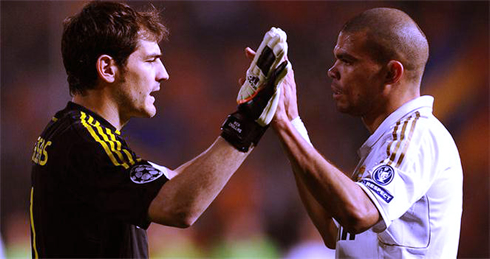 However, if we look at La Liga stats this season, there are a couple remarks that immediate must stand out and might suggest that the defence is actually not the main problem. Real Madrid has conceded exactly 17 goals our of 17 games so far, which makes them tie with Atletico Madrid as the league's second less beaten defence (Malaga is 1st, with only 12 goals conceded). The other curious fact is that Barcelona has conceded two more goals than Real Madrid so far (19 goals against 17) and that it didn't got in their way into achieveing an almost perfect record so far, with 17 games played and 16 wins earned. Could the problem be on the attack instead then? Probably not as well, since Real Madrid is 2nd in the league on that parameter, with 41 goals in 17 games (16 less than Barcelona though, who have already scored an impressive amount of 57 goals).
Reason 4: Cristiano Ronaldo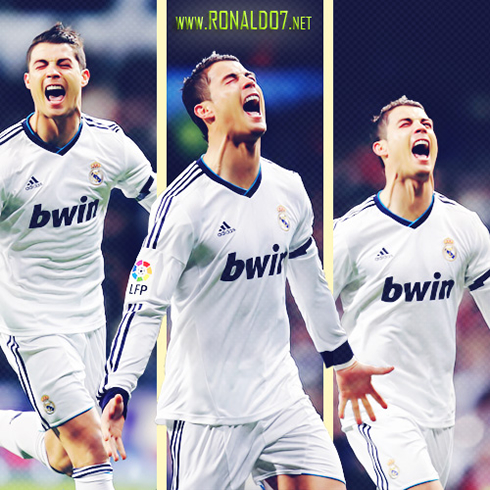 Now that must sound odd for most of you... Why would we even suggest that Real Madrid's problem in La Liga this season could lie on Cristiano Ronaldo? The Portuguese ace is the team's highest goalscorer, with a total of 26 appearances and 23 goals for the Merengues (from which 17 games and 14 goals are in La Liga). Nevertheless, Ronaldo is this team's flagship and everytime a boat appears to be sinking, the crew captain tends to be one of the suspects. Not that Ronaldo is the team's captain, because he isn't, but it seems plausible to assume that there's a correlation between his form and the team's success/failure.
If we look into Cristiano Ronaldo stats in La Liga 2012-2013, there's a visible pattern that stands out and that could possibly explain (or not), why Real Madrid has been dropping so many points over the last fixtures. During the first 9 fixtures of La Liga this season, Ronaldo has scored in 11 occasions, whereas in the last 8 games he has only found the back of the net for 3 times (First 9 games: 11 goals vs Last 8 games: 3 goals). As we pointed out before, as the season started to unfold and Marcelo got injured, the team started to struggle in terms of finding their typical depth in the wings, which just turns everything more predictable and harder for the Real Madrid attacking players. Ronaldo keeps on scoring several vital and winning goals for his side, but it's also true that his form has declined over the last two months, regardless of the reasons behind it, which probably don't even have much to do directly with him.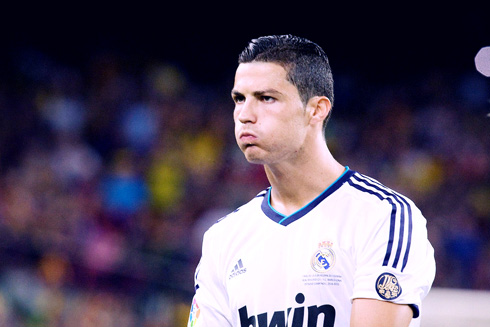 Cristiano Ronaldo next game for Real Madrid will be against Malaga, for the Spanish League 'La Liga', next Saturday (December 22, 2012). You can watch Juventus live stream, Real Madrid vs Real Sociedad live, Barcelona vs Espanyol live, Manchester United vs WBA and Arsenal vs Newcastle, all matches provided from our football live section.
Real Madrid next game:
Real Madrid vs Real Sociedad kick-off time (06-01-2013):
Jakarta (Indonesia) | GMT+8: 00:00
Spain (Madrid) | GMT+2: 18:00
Portugal and England (Lisbon/London) | GMT+1: 17:00
Rio de Janeiro (Brazil) | GMT-1: 15:00
New York (United States) | GMT-4: 12:00
Los Angeles (United States) | GMT-7: 09:00
Beijing (China) | GMT-7: 09:00
Sources: ronaldo7.net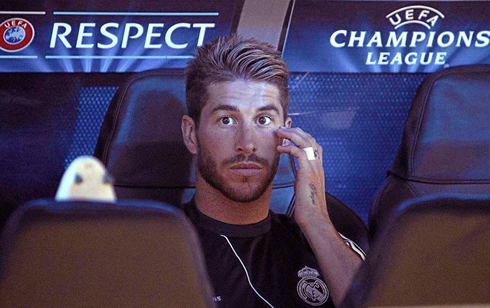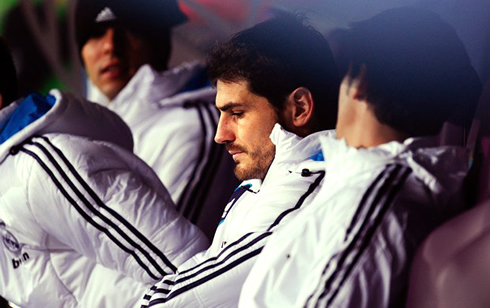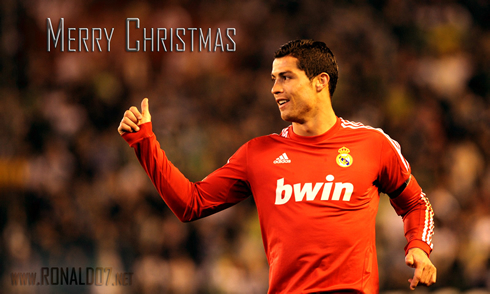 comments powered by