29.08.2012 » Real Madrid 2-1 Barcelona. Back to the winning track!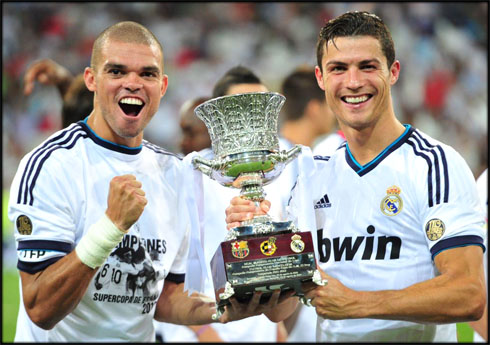 Real Madrid's slow start this season didn't allow for a big part of the Madridismo to be very optmistic before tonight's game against the mighty Barcelona. Fortunately, José Mourinho and his men seem to have approached this Clasico with the right attitude and dominated the Blaugrana during most of the first half. Higuaín and Cristiano Ronaldo granted the Merengues with a 2 goals lead, but saw Messi cutting distances between the two sides, still before half-time. Real Madrid came back more cautious after the break and resisted until the end, allowing José Mourinho and Ronaldo to celebrate their first Spanish Supercup trophy.


Real Madrid has won the Spanish Supercup 2012, after beating Barcelona at the Santiago Bernabéu by 2-1. Higuaín and Ronaldo scored the Merengues goals before the first half an hour of the game, while Lionel Messi answered for Barça, just one minute before the break. The Spanish champions started the game at full throttle, creating an unusual amount of goalscoring chances, especially if we have in mind who was on the opposite side. However, Madrid struggled to bury most of their chances and even a 2-0 at half-time would have been a flattering result for Barcelona. The second half was clearly played at a slower pace, with a 10-men Barça side never giving up and putting Real Madrid against the ropes right until the final whistle. The Merengues held on to the precious lead and were crowned the Spanish Supercup champions at the end (3-3 on aggregate), thanks to having scored more goals than Barça in the visitor side role. Those who may have thought about placing their money on Real Madrid last night probably had a high profits night, just like those who tried the online betting at topbet, as there was a wide diversity of opportunities to explore within the college football sports market.
Cristiano Ronaldo game photos in Real Madrid vs Barcelona
Real Madrid 2-1 Barcelona goals and highlights:
Real Madrid's bad start this season has left plenty of supporters pessimistic for this second leg "Clasico" against Barça, especially after the Blaugrana's perfect season kickoff, with three wins out of three games. José Mourinho had confessed to be worried with the team's performance after last Sunday's game against Getafe (2-1 loss), but also assured that his side would show a totally different attitude for this Wednesday's night clash. The "Special One" was certainly right about that, as we've seen a very aggressive and attacking Real Madrid side stepping up to the Santiago Bernabéu, dominating Barcelona and creating countless goalscoring chances during the first 45 minutes of the game. It has probably been of the most impressive first halfs that Real Madrid has pulled off against Barça, since the Pep Guardiola's reign that started in 2008.
A 1-0 result would be enough for Real Madrid to win the Spanish Supercup, but the Merengues soon showed that they were not willing to wait too much time and charged strongly against Barcelona right from the start. Gonzalo Higuaín missed his first good chance near the 7th minute, but just four minutes later he would not miss it again. It all started in a long clearance from Pepe, which Mascherano failed to intercept, allowing Higuaín to run forward without any opposition and strike the ball between Victor Valdés legs. Great atmosphere at the Bernabéu and the first Merengues goal just helped proving that the fans are behind the team, no matter how bad the start of the season may have been until that point.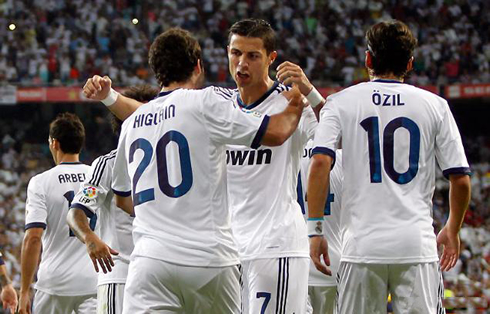 With only 19 minutes on the clock, Cristiano Ronaldo decided it was time for him to also leave his mark on the game, as he extended Real Madrid lead to 2-0 in a brilliant play. Khedira made a long pass to Gerard Piqué's back, allowing Ronaldo to reach the ball before the Spanish defender and lob it over him with a terrific backheel touch. The Portuguese forward then lost a few seconds controlling the ball, but still in time to prepare a strong right shot that Valdés failed to block efficiently. Real had achieved a two goals lead but opportunities to score more kept coming in, one after another.
At the 28th minute of the game, Cristiano Ronaldo dribbled Barcelona's defender, Adriano and as he started sprinting towards Valdés for a 1-on-1 goalscoring chance, the Brazilian pulled him and sent him down. The referee spotted it and showed Adriano a straight red card, leaving Barcelona with the hard task to play at the Bernabéu for nearly 60 minutes with only 10 men on the pitch.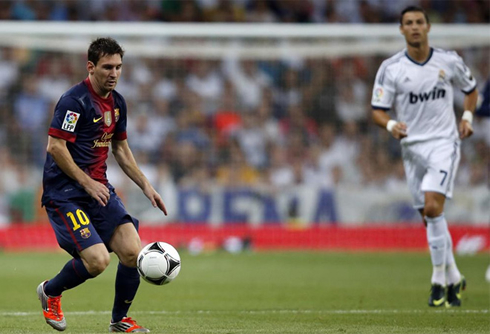 Against the trend of the game, Barcelona shortened the lead to a 1 goal difference, from a brilliant free-kick taken by Lionel Messi, around the 44th minute of the first half. The Argentinian curled the ball around Real Madrid's wall and despite Iker Casillas attempt to reach it, the shot was very strong and precise, not giving many chances for the Merengues' captain to save it. The goal revitalized Barcelona and forced Real Madrid to engage into the second half with a highly cautious attitude and approach.
The following half of the match was played at a slower rhythm, with Barcelona doing their usual game of patience, as they were perfectly aware that another goal would give them the advantage in this final. Even though Real Madrid was one man up, it was Barça who started controlling and dictating the tempo of the game. The Blaugrana improved significantly and were very close to score what could have been a decisive goal. Fortunately, Real Madrid didn't concede any more goals and held on to the 2-1 result until the end of the match. Cristiano Ronaldo scored his 5th goal against Barcelona from his last 5 Clasicos and celebrated with José Mourinho the first Spanish Supercup of their career.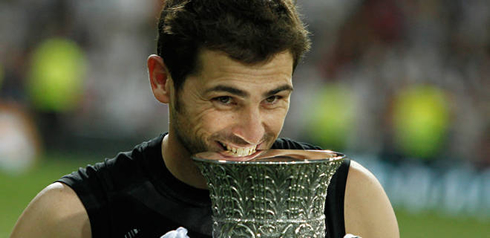 Real Madrid line-up vs Barcelona:
Goalkeeper: Iker Casillas
Defenders: Marcelo, Pepe, Sergio Ramos, Arbeloa
Midfielders: Khedira, Xabi Alonso, Ozil
Attackers: Di María, Cristiano Ronaldo and Gonzalo Higuaín

Match stats provided by www.ronaldo7.net

2

Goals

1

-

Shots

-

-

Shots on goal

-

-

Corner kicks

-

-

Fouls commited

-

-

Yellow cards

-

-

Red cards

-

-

Ball possession

-
Real Madrid will now face Getafe for the Spanish League next Sunday, on the 26th of August, 2012. You can watch Chelsea vs Atletico Madrid, Barcelona vs Valencia, Manchester City vs QPR and Tottenham vs Norwich from our football live streams section.
Sources: ronaldo7.net / foxsports.com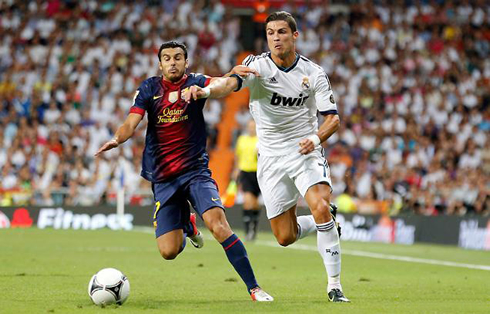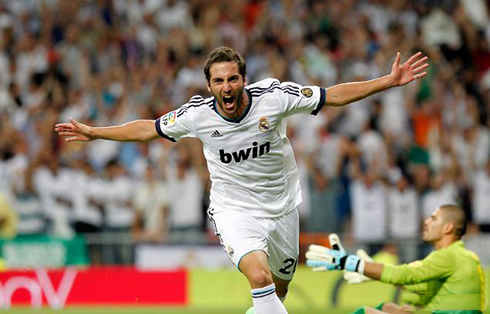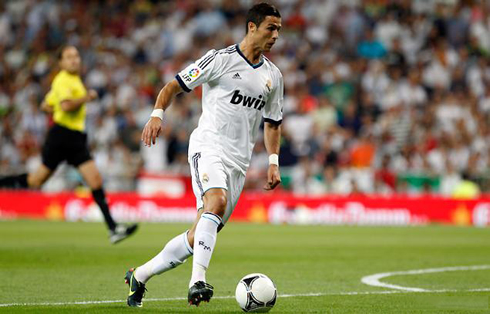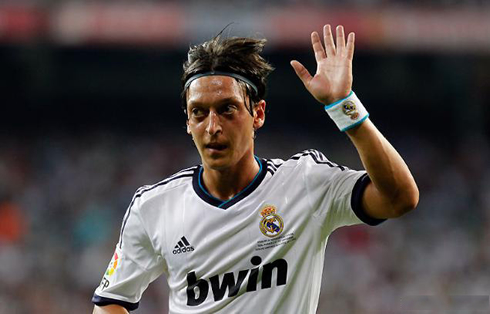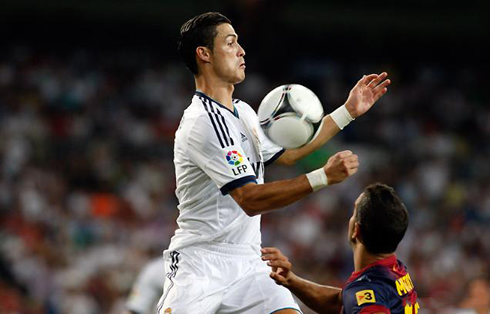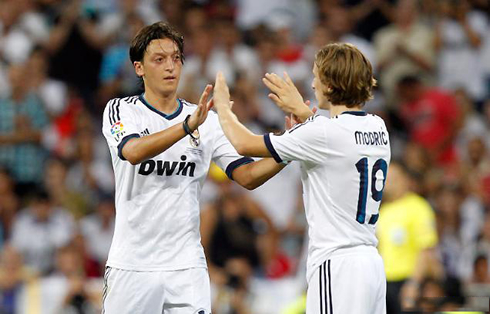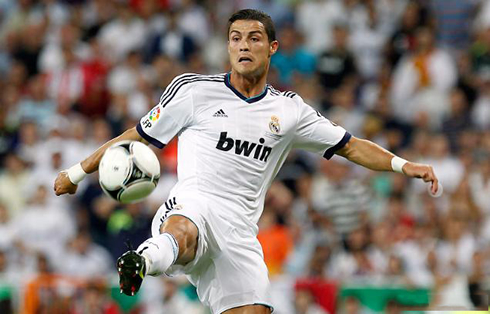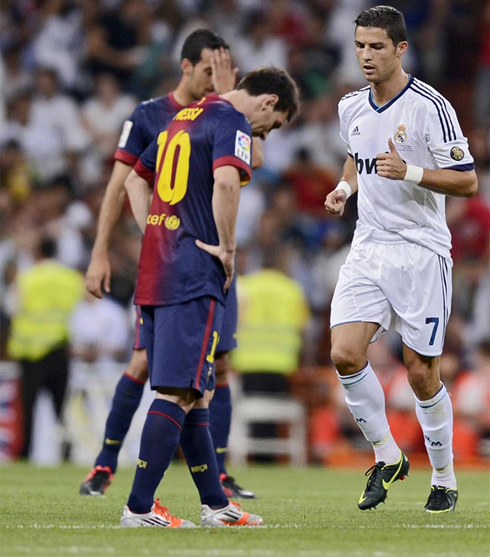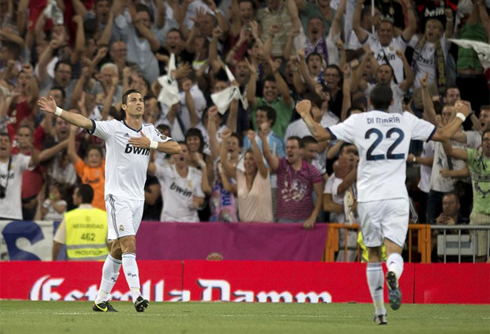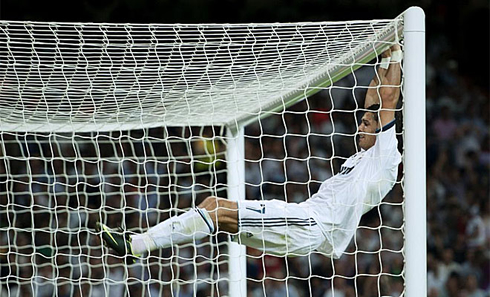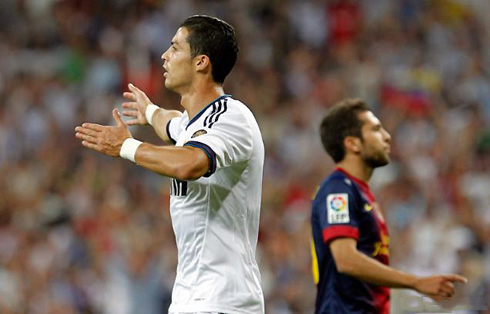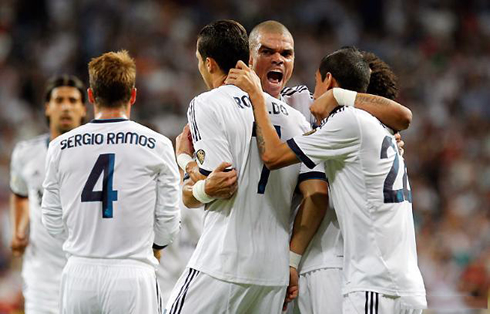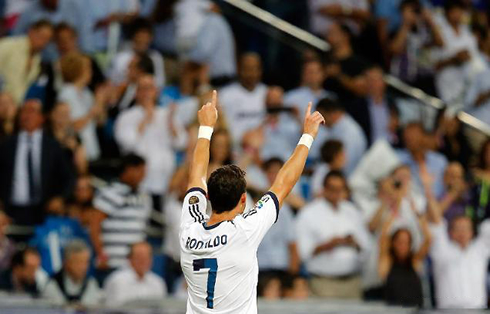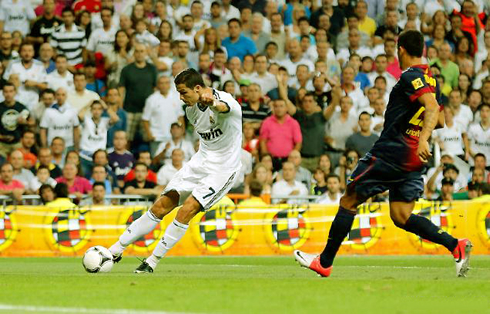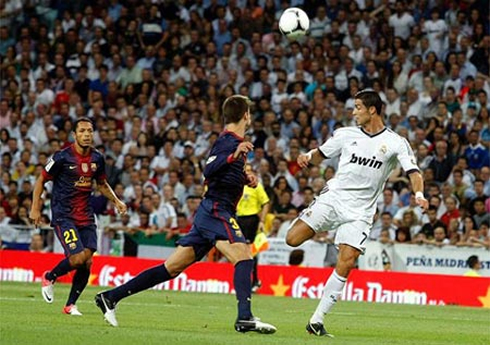 comments powered by