11.08.2012 » Real Madrid 2-0 Celtic. Let the real games begin!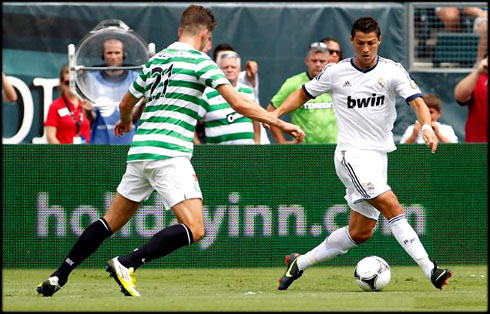 Real Madrid completed their United States pre-season tour with another win, after beating the Scottish champions, Celtic FC, by 2-0. Cristiano Ronaldo started the game and played for almost 60 minutes before getting subbed, but unlike the previous match against AC Milan, the Portuguese star didn't score any goal in this game. Callejón and Karim Benzema stepped up and assured that Real Madrid would leave the United States with a perfect winning record.


Real Madrid defeated Celtic by 2-0 last night in Philadelphia, getting their fourth win out of four friendly matches, at the United States pre-season tour 2012/13. Just one week away from La Liga's official kickoff, Real Madrid appears to be ready to undertake the challeges this new season holds for them, even though there wasn't any signing announced yet. Cristiano Ronaldo played roughly for one hour, just before he got subbed by José Mourinho, in a clear attempt to not risk that the Portuguese forward would pick any kind of injury. As for the goals, Callejón scored the first still before the break and Benzema sealed the deal during the second half, with a great left-foot strike.
Cristiano Ronaldo game photos in Real Madrid vs Celtic
Real Madrid 2-0 Celtic goals and highlights: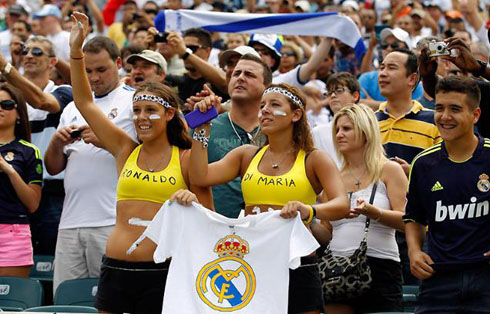 In any pre-season preparation, we all know that avoiding physical injuries and getting players at the best possible shape comes on the top of the priorities list. However, in a club like Real Madrid, winning is also a must, no matter if the match is a friendly or a cup final. This competitive spirit is perfectly embraced by José Mourinho and therefore, the United States pre-season tour balance has to be considered as extremely positive, having in mind the four-winning streak achieved by the Merengues.
The Lincoln Financial Field in Philadelphia was the stage picked to host this last pre-season match between the Spanish and Scottish champions and the Merengues proved to be ready and prepared to start taking more serious opponents, as it will be the case of Valencia CF (next weekend) and Barcelona (on the 23rd of August). Close to 34.000 fans watched the game in the crowd and like most of the Americans soccer fans, they will now have to wait for roughly one year to watch Real Madrid playing again in American soil.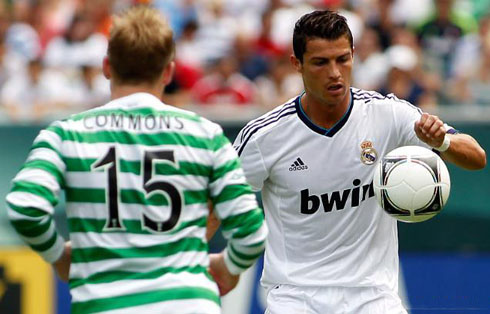 Real Madrid dominated this Saturday's night game against Celtic, imposing the tempo they wanted throughout the entire game and not forcing too much, physically speaking. It took 22 minutes for the first goal to appear and it was mostly due to a great from Xabi Alonso. The Spanish midfielder found a breach in Celtic's defense and assisted Gonzalo Higuaín with a low but strong pass. However, Pipita failed to control the ball and it ended fumbling to Callejón feet. The Merengues winger smoothly lobbed the ball over Celtic's goalkeeper and then easily pushed it to an empty goal. Real Madrid had gotten the lead and there were no signs of Celtic showing enough strenghts to create difficulties to the Spanish champions.
The half-time arrived with the score still in favor of Real Madrid and the second half wasn't much different from the first period. The Merengues kept controlling most of the game and reached their 2nd goal close to the 67th minute, in a stage of the game where Cristiano Ronaldo had already left the pitch to be replaced by Mesut Ozil. It was actually the German midfielder who brilliantly assisted Karim Benzema for the goal, as his pass granted him enough space to take on a defender on the left attacking side and fire a crossed shot to the far post, which Lukasz Zaluska simply couldn't stop.
No more goals were scored from that point onwards, but an unfortunate incident happened near the last quarter of the game, when Nuri Sahin and Dylan McGeough jumped to win a ball in the air. The Real Madrid player unintentionally hit his opponent on the jaw with his left shoulder, putting him unconscious as he was falling to the ground. McGeough was medically assisted for a few minutes, while still lied down on the pitch without making any movement. He was then carried away to the hospital, after another medical team of stretchers helped with the task. According to the latest reports gathered tonight, McGeough has a broken jaw and is very likely to need a surgery to repair it. Let's hope he recovers fast and returns to the pitches as soon as possible!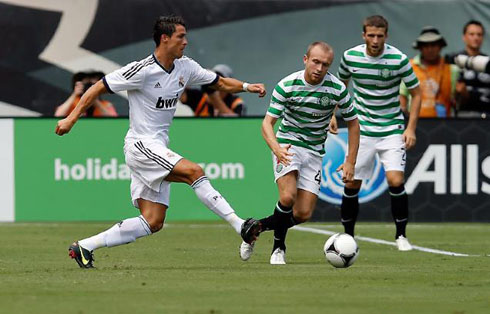 Real Madrid line-up vs Celtic:
Goalkeeper: Adán
Defenders: Fábio Coentrão, Raul Albiol, Sergio Ramos, Arbeloa
Midfielders: Xabi Alonso, Khedira, Kaká
Attackers: Callejón, Cristiano Ronaldo and Higuaín

Match stats provided by www.ronaldo7.net

2

Goals

0

-

Shots

-

-

Shots on goal

-

-

Corner kicks

-

-

Fouls commited

-

-

Yellow cards

-

-

Red cards

-

-

Ball possession

-
Real Madrid have just concluded their pre-season tour. Cristiano Ronaldo will now join the Portuguese squad in mid-week, to play in a friendly between Portugal and Panama. In the meanwhile, you can watch Liverpool vs Bayer Leverkusen, Cologne vs Arsenal, Chelsea vs Manchester City and Mexico vs USA from our football live streams section.
Sources: ronaldo7.net / yahoo.com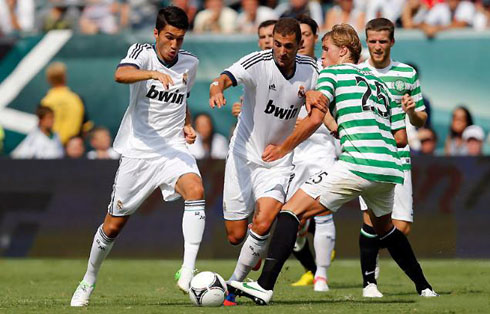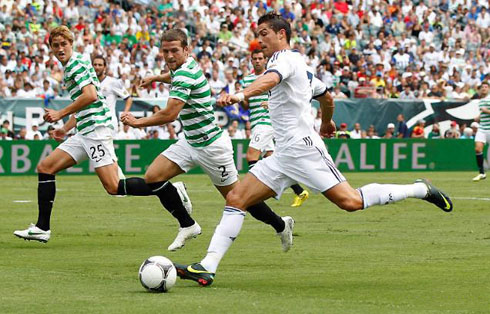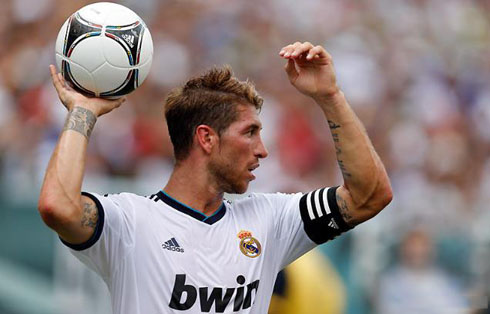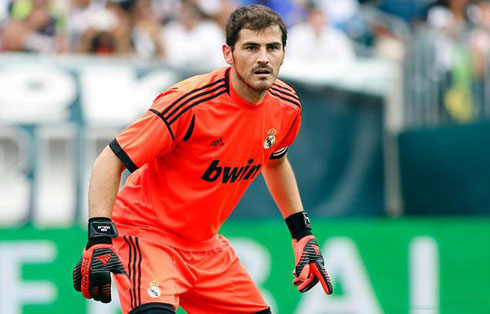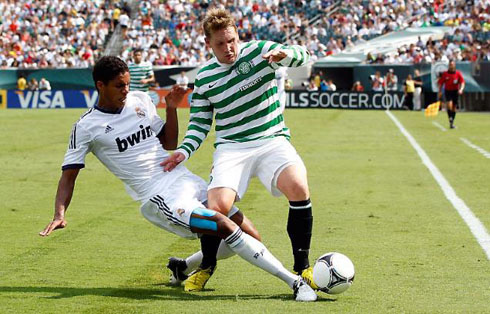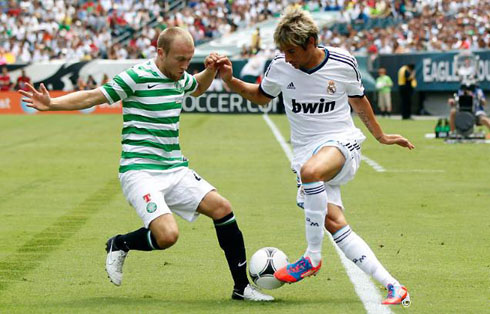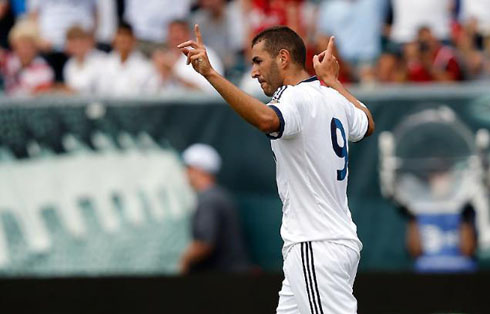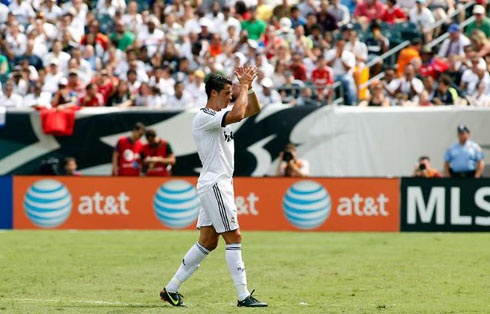 comments powered by