05.05.2012 » Granada 1-2 Real Madrid. Weak team performance and a late victory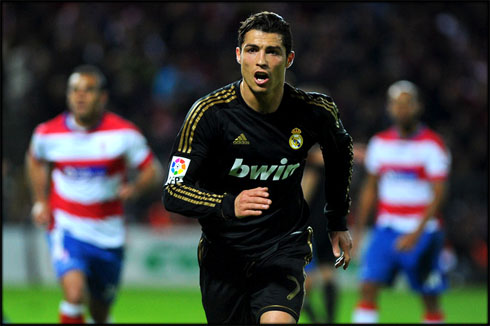 Real Madrid defeated Granada this Saturday night by 1-2, but there shouldn't be many reasons to be happy, at least in what concerns the team's performance. Granada clearly outplayed Real Madrid specially during the first half and only a late reaction from a Ronaldo goal and fortunate own-goal allowed the Merengues to bring the 3 points to Madrid. As for the Pichichi fight, Cristiano Ronaldo scored his 45th goal in the league this season, but Lionel Messi decided to take the rivalry to another level, scoring 4 goals against Espanyol and reaching the 50 goals mark in La Liga!


After clinching the title last Wednesday, Real Madrid seems to have taken the rest of the week to celebrate and was close to compromise the three points this Saturday night. The Whites conceded an early goal, right on the 5th minute of the game and never seemed to be able to display their best football througout the entire game, specially over the first half. A Cristiano Ronaldo goal from the penalty-kick spot around the 81th minute and an own-goal already in during added time period, allowed Real Madrid to complete a remontada and beat Granada by 1-2. With this victory, José Mourinho's men keep feeding hopes of reaching the 100 points in La Liga this season, which would break the previous record set by Barcelona in the 2009-10 campaign, when the Blaugrana ended with 99 points. With 97 points assured already, all it takes now is that Real Madrid gets past Mallorca next weekend, at the Santiago Bernabéu.
Cristiano Ronaldo game photos in Granada vs Real Madrid
Granada 1-2 Real Madrid goals and highlights:
José Mourinho did several changes on the line-up, which was in fact predictable, after having won the league in mid-week and in order to give other players the opportunity to gain more confidence, as well as getting more playing minutes for Real Madrid. Therefore, players such as Adán, Albiol, Varane, Granero, Ricardo Carvalho and Nuri Sahin were starters last night, but the truth is that the Merengues weren't able to play at the level they've used the public over the last months. Mourinho felt forced to do some changes at half-time, bringing players like Xabi Alonso and Higuaín into the pitch and the team finally started to impose their game by pushing Granada back. This allowed a late remontada to be achieved, thanks to an (un)fortunate own goal in added time, but here's how this game's story unfolds...
Granada started the match at full throttle and it didn't take them too long to open hostilities in the "Los Carménes" stadium. With just 5 minutes gone, Marcelo lost the ball with the team already positioned for attacking and allowed his direct opponent, Franco Jara, to make a 40 yards run and beat Iker Casillas with a crossed strike. Real Madrid had started with the left foot and Granada's lead would just be a sign of what could have come next.
Granada's Portuguese midfielder, Carlos Martins, was dictating his team's tempo with ease and Real Madrid kept struggling to hold their opponent in their half, throughout the entire first half. Without never finding a way to connect the teams' sectors, Real Madrid barely created any dangerous play over the first 45 minutes, while Granada in the other hand, was granted with several big goal scoring chances. Fortunately, Abel Resino's side failed to extend the lead and Real Madrid would end making them pay, late in the second half.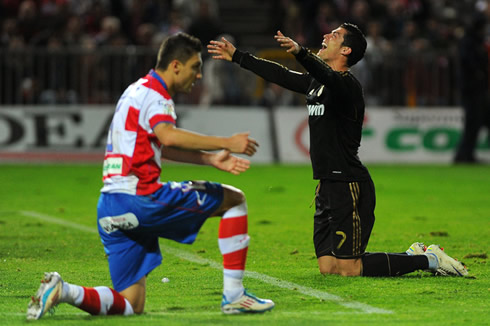 When the referee whistled for half-time, everyone could witness how unpleased José Mourinho was, as he headed to the locker rooms. Therefore, it wasn't surprising that changes would be made and the Portuguese coach sent in Xabi Alonso and Higuaín immediatly after the break, hoping that the team would still find bits of what has been their trademark attacking playing style, shown weekend after weekend throughout this season.
Things got slightly better and Real Madrid started putting Granada into trouble in several attacks, even though they didn't get the early equaliser they were looking for in the second half. With much more at stake for Granada than Real Madrid, since Abel Resino's side is still on the relegation fight in the Spanish League, the Merengues knew they would have to do a lot better to get past this resilient opponent they had upon.
However, it took almost 81 minutes for Real Madrid to reach their first goal and it only happened from the penalty-kick spot, after Cristiano Ronaldo got clearly blocked inside the area, as he attempted to get to the ball after a corner kick was taken. The Portuguese had missed his last two attempts from the spot, first in the penalty shootout against Bayern Munich and recently in this last Wednesday against Athletic Bilbao, but this time he didn't tremble and got the equaliser for his side. With still roughly 10 minutes left to be played on the clock, there was still time for both teams to go after the victory...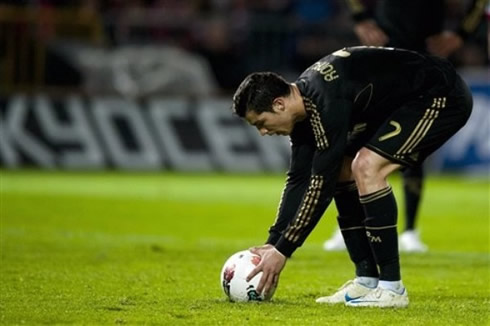 And it was Real Madrid who got the win, from an unfortunate Granada own-goal, in the 93th minute of the game. With both teams pushing forward in an attempt to get that precious winning goal, Real Madrid caught Granada off guard in a late counter-attack, as Karim Benzema made a low cross from the right that ended being poorly deflected by Cortés, into his own net. There was no time left to react and losing the game in such an inglorious way made several Granada players lose their temper at the end of the game, charging over the referee and seeing three of their usual starters being sent off all of a sudden.
Regarding the Pichichi fight between Ronaldo and Messi, it seems to have been virtually sealed after the Argentinian scored a poker (4 goals) against Espanyol last night. This allows Messi to reach the impressive amount of 50 goals in La Liga this season, 5 more than Ronaldo, who now has 45 goals. There's still one more fixture left in the Spanish League this year, but the gap is now huge and certainly almost impossible to close.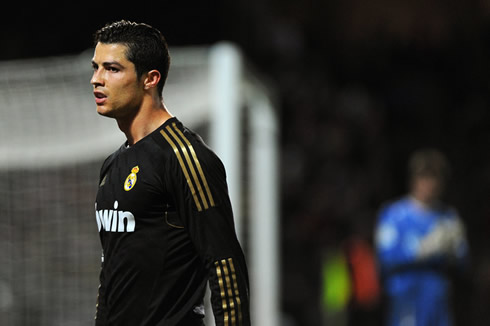 Real Madrid line-up vs Granada:
Goalkeeper: Adán
Defenders: Marcelo, Ricardo Carvalho, Varane, Raul Albiol
Midfielders: Granero, Nuri Sahin
Attackers: Kaká, Di María, Cristiano Ronaldo and Benzema

Match stats provided by www.ronaldo7.net

1

Goals

2

12

Shots

14

5

Shots on goal

3

4

Corner kicks

6

13

Fouls commited

14

5

Yellow cards

4

3

Red cards

0

34%

Ball possession

66%
Real Madrid next and final game for La Liga is against Mallorca, next weekend, on Sunday (13-05-2012). You can watch Juventus live stream, Real Madrid vs Mallorca, Newcastle vs Manchester City, Manchester United vs Swansea and Inter Milan vs AC Milan, all from our soccer live streams section. Cristiano Ronaldo will most likely be on the line-up, when Real Madrid hosts Mallorca.
Real Madrid vs Mallorca kick-off time (13-05-2012):
Jakarta (Indonesia) | GMT+8: 23:00
Spain (Madrid) | GMT+2: 17:00
Portugal and England (Lisbon/London) | GMT+1: 16:00
Rio de Janeiro (Brazil) | GMT-1: 14:00
New York (United States) | GMT-4: 11:00
Los Angeles (United States) | GMT-7: 08:00
Beijing (China) | GMT-7: 08:00

Sources: ronaldo7.net / realmadrid.com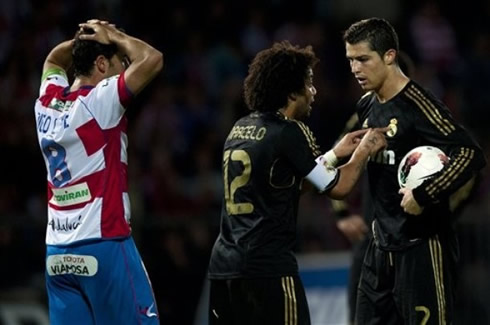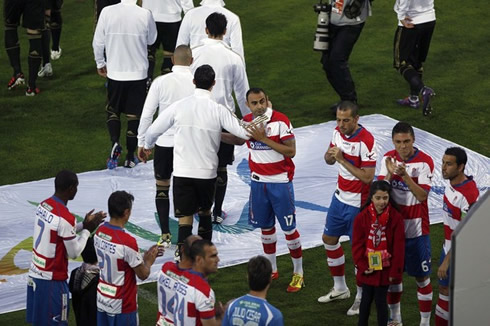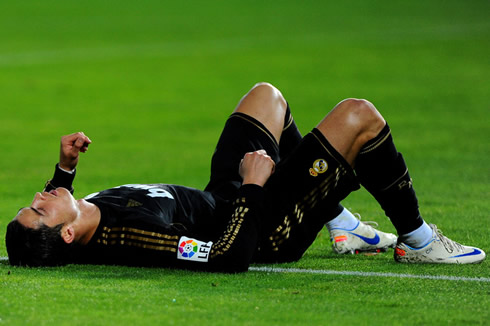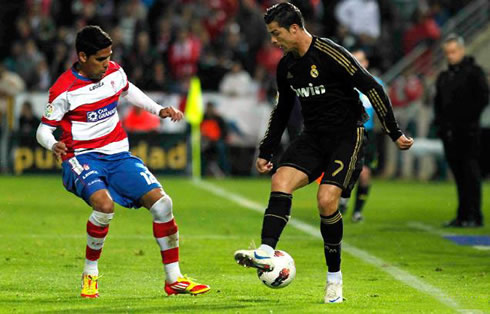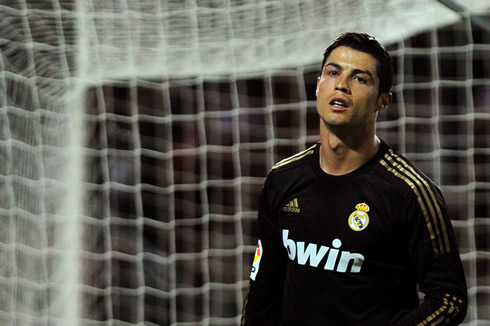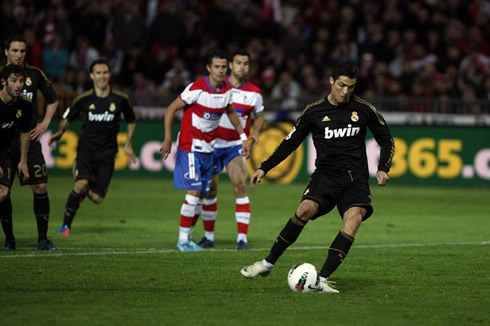 comments powered by