12.02.2012 » Real Madrid 4-2 Levante. Ronaldo hat-trick puts Barça in "checkmate"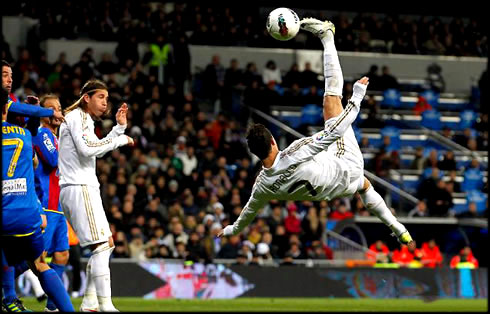 Cristiano Ronaldo helped Real Madrid getting past Levante last night, as he scored another hat-trick, in a 4-2 home win. Now being 10 points above Barça, Real Madrid are the main favorites to lift the trophy at the end of the season and with this, finally end Guardiola's men hegemony.


Real Madrid bagged another win at the Santiago Bernabéu, after defeating Levante by 4-2. With this victory and even though there are still 16 games to be played in La Liga, Real Madrid has now extended the distance to Barcelona into a 10 points gap difference, after the Blaugrana dropped another 3 points in their visit to Osasuna, this last Saturday. The Merengues are now in a very comfortable position to finally win the Spanish League title and it's fair to say that this weekend, José Mourinho has probably put Barcelona into checkmate. Cristiano Ronaldo made his 6th hat-trick of the season, but his third goal, besides being truly impressive, also had a special meaning as it was the 4000th Real Madrid goal scored at the Santiago Bernabéu, for La Liga.
Cristiano Ronaldo game photos in Real Madrid vs Levante
Real Madrid 4-2 Levante goals and highlights:
As already seen in several games during this season, Real Madrid allowed their opponents to get an early lead. Last night, Levante managed to hit the back of the net with only 5 minutes played, from a side free-kick that Sergio Ramos poorly deflected with his head, allowing Cabral to score the opener. Casillas was left with no chance, since the header was already made in a very close-range and it was Cristiano Ronaldo who immediatly showed his disgust, for his team conceding such an early goal from a set-pieces play.
The goal had arrived without Levante making much to earn it and Real Madrid knew they were going to need to push forward with all they had, in order to put their opponents against the ropes as soon as possible. However, Levante showed that they aren't in La Liga's 4th place by accident and they held on to the 1 goal advantage for as long as they could. The Merengues managed to create a few good goalscoring chances, specially in the minutes after they conceded the goal, but as time passed, Levante started to defend more efficiently.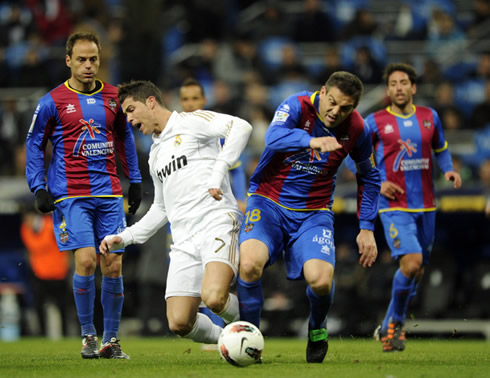 Around the 43th minute, Levante's number 10, Iborra, made a hand-ball inside the penalty area, leaving no other choice to the referee but to point to the penalty spot and show him the 2nd yellow card. This has most likely been the key moment of the game, as it would not only allow Cristiano Ronaldo to make the equalizer but also left Levante with a 10-men task for the 2nd half. Ronaldo had no problems in making his first goal of the night, despite Levante's goalkeeper new approach into this penalty-kick, by giving too much space to his right-side as if he was inviting the Portuguese player to shoot to that side. However, his attempt to distract Ronaldo didn't work and CR7 scored by blasting the ball to the goalkeeper's left side.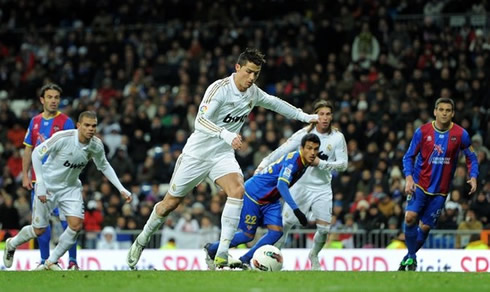 Half-time reached and Real Madrid wouldn't waste too much time to gain the lead in the 2nd period. Near the 50th minute, Gonzalo Higuaín found some space after fooling a defender and made a timely cross into Levante's area and which Cristiano Ronaldo seized to head to the back of the net, completing the remontada. With the 2-1 in the scoreline and being one man up, Real Madrid controlled the ball possession and dictated a more slow tempo into the game.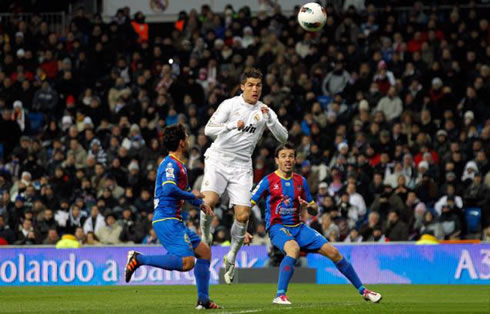 However, here were still a few chapters left on this game to be written. Around the 57th minute, Cristiano Ronaldo scored his hat-trick, from a long-range impressive shot, after cutting inside from the left. The Portuguese player had tried this kind of shot for several times on his past games, but last night, everything went well as he scored a truly remarkable screamer. Besides being most likely one of the best Ronaldo goals in his career, it has also been the 4000th Real Madrid goal in La Liga at the Santiago Bernabéu. What a way to mark the occasion! (Watch the goal in the video below:)
Cristiano Ronaldo 3rd goal (hat-trick) in Real Madrid vs Levante, La Liga 2012: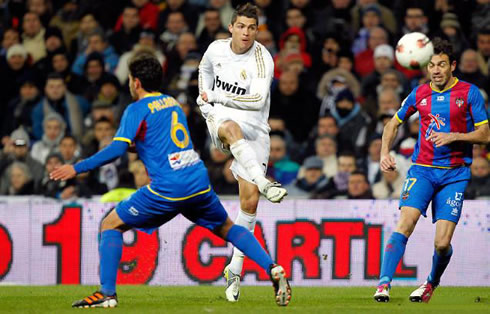 Unexpectedly, Levante still had strenghts to fight back and reduced the Merengues lead to 3-2, in the 63th minute. This time, Real Madrid defense got caught in a fast counter-attack play and Koné finished a great cross with an easy header, that once again, left Iker Casillas with no chances to stop it.
Real Madrid reacted almost immediatly and near the 66th minute, Karim Benzema also found an opportunity to shine, after being assisted by Cristiano Ronaldo. The French forward dribbled inside and made a world-class curled shot to the far post, which would set the final score of the game into 4-2. The importance of this victory goes beyond the simple 3 points earned, since it also allows Real Madrid to extend the lead over Barcelona, to a 10 points gap. There's still much to be played in the major Spanish competition (16 fixtures left), but this significant point difference will most likely be enough for José Mourinho to avoid letting the trophy slipping away!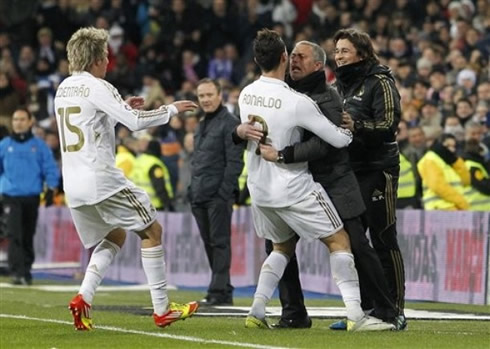 Real Madrid line-up vs Levante:
Goalkeeper: Casillas
Defenders: Fábio Coentrão, Sergio Ramos, Pepe, Arbeloa
Midfielders: Xabi Alonso, Granero, Ozil
Attackers: Higuaín, Cristiano Ronaldo and Benzema

Match stats provided by www.ronaldo7.net

4

Goals

2

2

Assists

2

26

Shots

5

9

Shots on goal

3

14

Corner kicks

1

16

Fouls commited

9

3

Yellow cards

2

0

Red cards

1

80%

Ball possession

20%
Real Madrid next game will be against Racing Santander for La Liga, next Saturday (18-02-2012). In the meanwhile, you can watch AC Milan vs Arsenal, but also Bayer Leverkusen vs Barcelona and Lyon vs Apoel Nicosialive for the UEFA Champions League, from our football live streams section. Cristiano Ronaldo is expected to be on the line-up against Racing, in the next weekend fixture.
Real Madrid vs Racing Santander kick-off time (18-02-2012):
Jakarta (Indonesia) | GMT+7: 02:00
Spain (Madrid) | GMT+1: 20:00
Portugal and England (Lisbon/London) | GMT+0: 19:00
Rio de Janeiro (Brazil) | GMT-2: 17:00
New York (United States) | GMT-5: 14:00
Los Angeles (United States) | GMT-8: 11:00
Beijing (China) | GMT-8: 11:00

Sources: ronaldo7.net / espn.com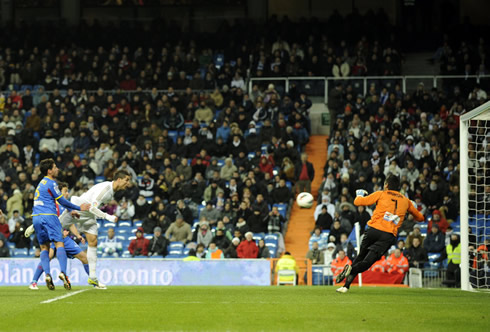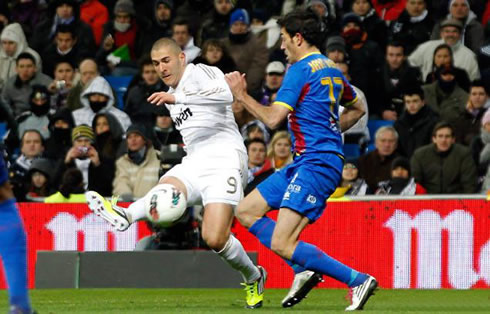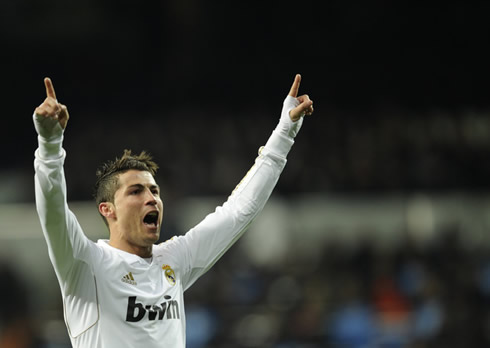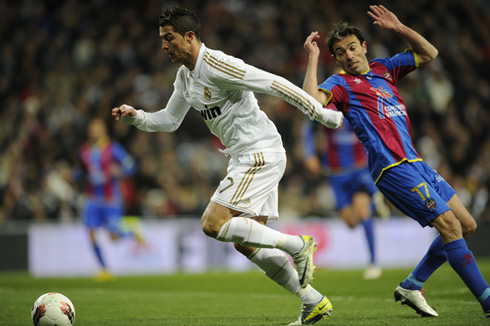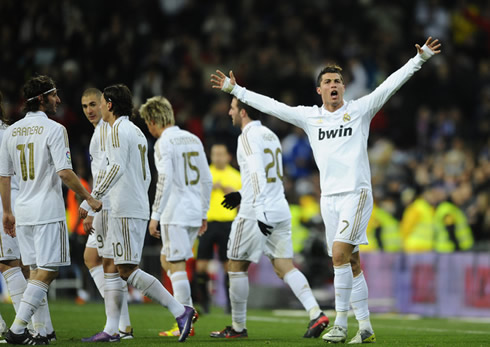 comments powered by