28.01.2012 » Real Madrid 3-1 Zaragoza. No surprises allowed at the Bernabéu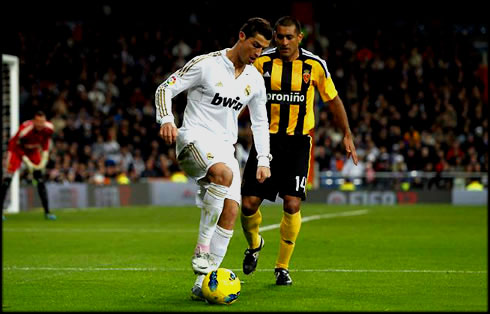 This match had a bit of a "David vs Goliath" taste, as La Liga leaders, Real Madrid, were put against Zaragoza, the worst team in the Spanish League so far. The Merengues didn't offer their fans a great performance, but still, they beat Zaragoza by 3-1, with Kaká, Cristiano Ronaldo and Ozil scoring the goals that allowed the "remontada".


A victory may always be worth the exact same 3 points, but getting it after a tough loss against Barça, suffered just a few days before, was actually crucial for Real Madrid. The Merengues defeated Zaragoza at home, by 3-1, even though José Mourinho's men conceded an early goal in the 1st half. The remontada would happen naturally with goals from Kaká, Cristiano Ronaldo and Mesut Ozil, who surprisingly only now scored his first goal in La Liga this season. Real Madrid now extends their lead over Barcelona to a 7 points gap, after the Blaugrana failed to pull off a win at Villarreal and being forced to come out with a goalless draw.
Cristiano Ronaldo game photos in Real Madrid vs Zaragoza
Real Madrid 3-1 Zaragoza goals and highlights:
Still recovering from that intense clash against Barcelona in the mid-week, Real Madrid returned to the Bernabéu for another La Liga fixture, this time to take Zaragoza, the team with the worst record in the league so far, with only 2 wins and 6 draws obtained. With Barça stepping up only 2 hours later in Villarreal, José Mourinho knew how important it would be to leave no room for the Blaugrana to get an extra-motivation reason, concerning a potential shortening of the gap between the two clubs. That being said, Real Madrid did what was enough to beat Zaragoza and came out with the 3 points. Later on, the Merengues would be rewarded after witnessing Barcelona letting slip away 2 points in a goalless draw against Villarreal, forcing Guardiola squad to now chase Real Madrid while being 7 points behind.
However, the game at the Bernabéu didn't turn out to be as easy as everyone expected. Real Madrid conceded an early goal around the 11th minute of the match, from a free kick quickly taken that exploited a worrying lack of attention in the Merengues defense. Zaragoza attacking midfielder, Lafita, simply had to tap-in a low cross and beat Iker Casillas for the opener in the Bernabéu. With this goal, Casillas now compete a 10-game streak where he always concede at least one goal in the Santiago Bernabéu.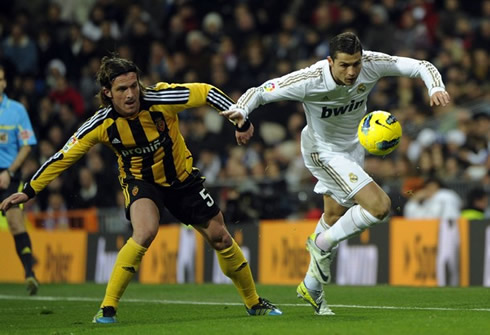 Real Madrid reaction was expected to arrive right after, but once again, things were slightly different from what everyone thought. The Merengues were creating some good chances even before they got behind in the scoreline, as it was the case of a Benzema missed header in the 8th minute, after a great cross by Cristiano Ronaldo. The equalizer would however take place still in the 1st half, near the 32th minute and originated in a through pass made by Ricardo Carvalho to Kaká, which the Brazilian finished with a right-foot strike. Real Madrid didn't accelerate much the tempo of the game and things would remain tied until half-time.
The second half would start with Real Madrid rushing things in order to take the lead and assure the 3 points as soon as possible. And that's precisely what happened, as in the 49th minute, a good Merengues team play ended up with a low cross by Mesut Ozil that Cristiano Ronaldo finished easily, making his 24th goal in La Liga this season, which also puts him 2 goals ahead of Lionel Messi in the run for the Pichichi trophy. The "remontada" was obtained, but a single goal advantage is never safe enough, so the "Whites" went after another.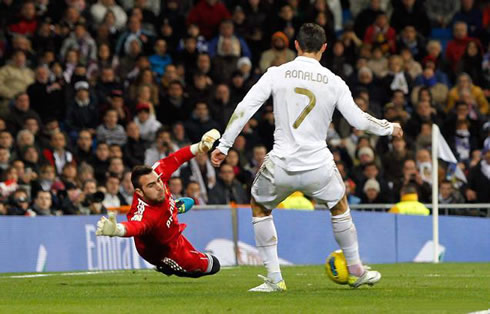 The third goal wouldn't take much time to arrive and near the 56th minute, Mesut Ozil, who was actually being one of the best players on the field, got assisted by Kaká and finished the play with a strong left-foot shot. Surprisingly, this has only been the 1st goal by the German player in La Liga this season, what somehow explains some of the critics he has received in the last months, about his performance levels not being at what it is expected from him. Tonight, and extending his truly impressive performance against Barça last Wednesday, Mesut Ozil showed clear signs of being close to his best shape and ready to assume a more important role in the team.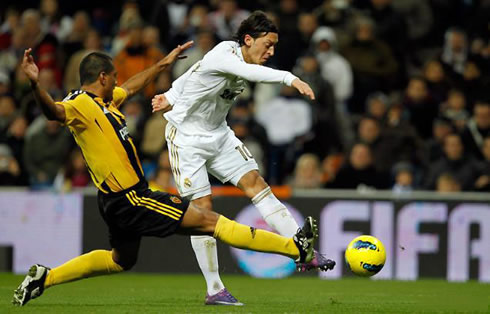 With the 3-1 obtained so early in the 2nd half, Real Madrid relaxed and slowly reduced the intensity levels of the game. From that point on, a few more goalscoring chances would still took place until the final whistle, but the game had already been decided with the Merengues third goal, leaving Zaragoza without any chance to fight for a positive result in the Bernabéu. Real Madrid did their job by assuring the 3 points at home and later that night, Barcelona couldn't get more than a draw when playing against Villarreal, which now gives José Mourinho's side, a 7 points lead over the Blaugrana, with still 18 games to be played in La Liga.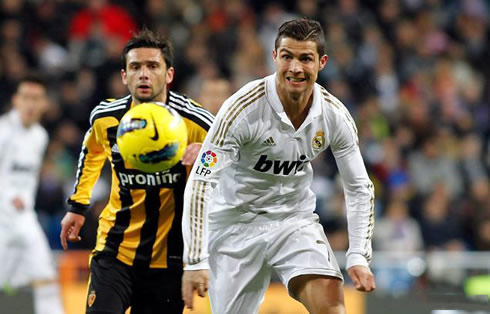 Real Madrid line-up vs Zaragoza:
Goalkeeper: Casillas
Defenders: Marcelo, Ricardo Carvalho, Pepe, Altintop
Midfielders: Xabi Alonso, Granero, Ozil
Attackers: Kaká, Cristiano Ronaldo and Benzema

Match stats provided by www.ronaldo7.net

3

Goals

1

3

Assists

1

18

Shots

10

6

Shots on goal

3

3

Corner kicks

4

9

Fouls commited

12

1

Yellow cards

2

0

Red cards

0

72%

Ball possession

28%
Real Madrid bounced back from the loss against Barça, by beating Zaragoza at home. The Merengues next game will now be against Getafe, this weekend. In the meanwhile, you can watch Everton vs Manchester City, but also Wolves vs Liverpool and Arsenal vs Aston Villa from our football live streams section. Cristiano Ronaldo is expected to be on the line-up against Getafe, in the next weekend.
Real Madrid vs Getafe kick-off time (04-02-2012):
Jakarta (Indonesia) | GMT+7: 02:00
Spain (Madrid) | GMT+1: 20:00
Portugal and England (Lisbon/London) | GMT+0: 19:00
Rio de Janeiro (Brazil) | GMT-2: 17:00
New York (United States) | GMT-5: 14:00
Los Angeles (United States) | GMT-8: 11:00
Beijing (China) | GMT-8: 11:00

Sources: ronaldo7.net / record.pt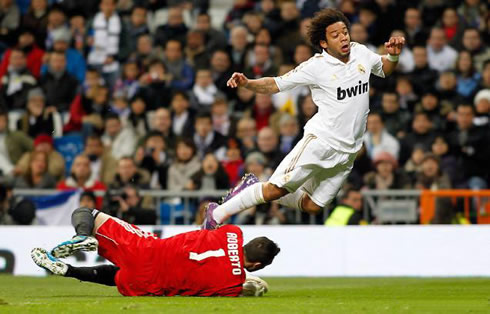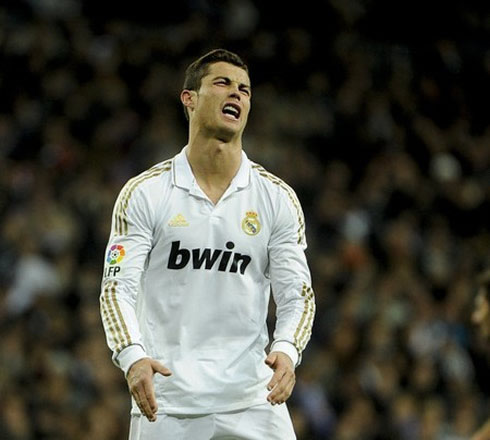 comments powered by